Easy and affordable DIY tips for staging your home to sell
By emily.bailey
Adding even a few smart home products is the single easiest way to boost your home's value. Here's what you need to know before you buy or sell a home with smart home tech.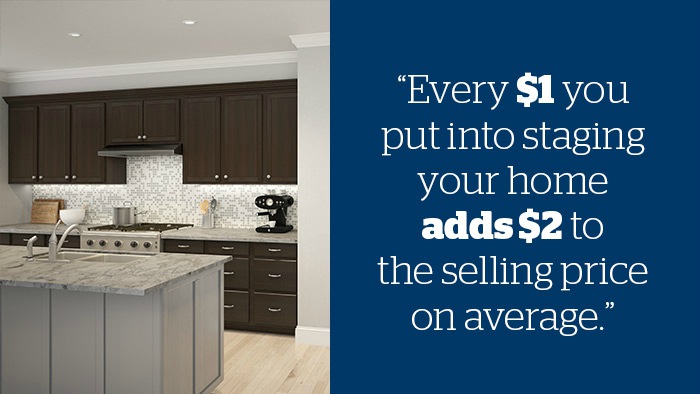 Every dollar you invest in properly preparing and staging your home for sale adds about $2 to the selling price on average. There are a few simple and affordable DIY projects you can do to add even more value, giving you a better chance to get your asking price – or more. The best part? Most of these will cost you little more than some spare time.
With some prior planning and a little DIY know-how and ingenuity, your home sale can be a pleasant and rewarding experience.
Five steps to selling for more
Here are five simple rules when staging your home to sell. Other handy links throughout, like this one to Realtor Mag, will take you to even more in-depth explorations.
1. Depersonalize:
Potential buyers want to see themselves in your home. Removing photographs and other personal items that reflect specifically on you, your family and your interests allow for buyers to fill in the blanks with imaginings from their own lives. Removing such items, packing them up and investing in a small self-storage unit will pay huge dividends for a relatively small investment.
At the same time, set the dining room table as if you were expecting friends over for dinner, set up your front porch for entertaining and clean off the back patio or deck and stage it for a barbeque or garden party. You want your guests to see themselves living there. And loving it.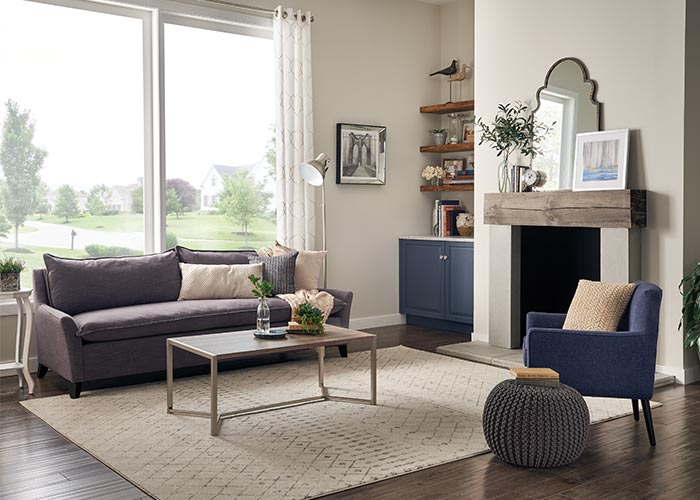 2. Maximize:
You'll want to make your home feel as expansive and livable as possible. Start by decluttering – a self-storage unit can help with this, too. From cleaning out closets, cabinets and drawers (buyers will snoop), to removing throw rugs from your bathroom, living room and kitchen, there are lots of little things you can do to make your space seem larger than life.
Open up the curtains and let the sun shine in. Replace old, worn window treatments with inexpensive yet stylish new shades, curtains or shutters. Get things up and off the floor and out to storage. Remove excess furniture. Add mirrors for style and openness. Make every room big, bright, open and inviting.
3. Sanitize:
Your home can't be clean enough. A spotlessly clean home tells a bigger story about just how much you cared for and maintained your home. Perception is reality. Scour the bathrooms and the kitchen, using water and bleach to remove mold and mildew. Really work to clean every nook and cranny. Scrub and polish floors, vacuum and shampoo carpets and any rugs you decide to leave about. Wash your windows. Clean and polish appliances (inside and out). Dust and wax furniture and bookcases. We're talking a deep clean here.
You might consider a bonded and insured professional cleaning service that is experienced in cleaning for home sellers. This is where your realtor can come in, so don't hesitate to use him or her as a resource for finding anything you might need. Here are some additional suggestions from Angie's list.
4. Neutralize:
In the continuing effort to let the buyer envision themselves living in your home, think neutral when styling and staging. Repaint key rooms in neutral colors. Decorate with monochromatic hues (for instance, using fresh, white towels in the bathroom instead of bright colors and replacing window treatments with clean, white curtains and shades). Declutter bookcases and replace half of your books with strategically placed pieces of art, vases or other simple, unobtrusive touches. These all serve to invite potential buyers to imagine your home as theirs.
Keeping things simple and clean – and reducing clutter – are among the easiest and least expensive ways to prepare your home for sale.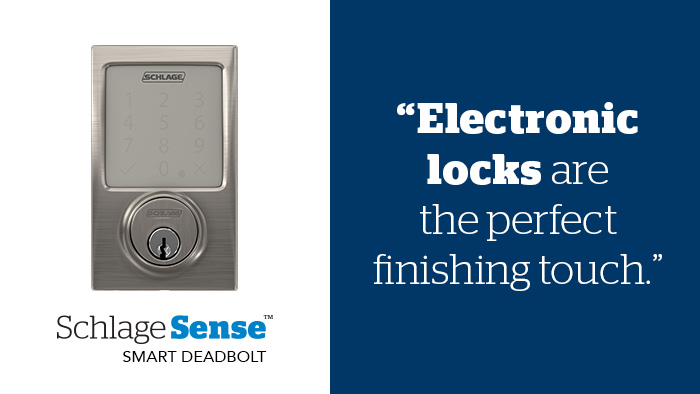 5. Modernize:
Projects you invest in to modernize your home will more than pay for themselves when you sell it. Don't be afraid to replace old kitchen appliances. Re-paint or stain old kitchen cabinets. Replace outdated cabinet hardware and plumbing fixtures. Replace that old vanity in the bathroom with a new pedestal sink. These kinds of simple upgrades – many of them weekend DIY projects or a short jaunt to Lowe's away – will work wonders.
Another simple update that pays big dividends is replacing your old front door lock with a keyless electronic lock. Instead of having a realtor's lockbox or spare housekeys floating around out there, you can program up to 30 individual security codes depending up on the lock type you select. Codes can be activated, de-activated and replaced as often as you see fit. And with some of today's locks, you can program them from anywhere, using your smartphone.
A new lock with a stylish new handleset is the perfect finishing touch to that front-porch refurbishing project. It adds curb appeal, convenience and next-level security – and affordably. It also makes a great first impression when prospective buyers come calling.
Schlage electronic locks
Schlage offers a wide selection of keyless options from which to choose. The Schlage Connect™ Smart Deadbolt, Schlage Sense™ Smart Deadbolt and Schlage Encode™ Smart WiFi Deadbolt allow easier home access using your smartphone all while improving security. These are all reflective of a heritage of innovation and style that dates back to our company's founding when Walter Schlage first patented a door lock that also turned on a home's lights.
Schlage electronic locks are the ideal DIY project. They are easy to install, requiring only a screwdriver and a little free time. They're available in a wide selection of styles and finishes. And they add peace of mind that's very welcome among the stresses and anxiety that come with selling a home and planning a move.
Is your home ready to sell? Think depersonalize, maximize, sanitize, neutralize and modernize and you'll be well on your way.