9 "home" movies for when you've already binged everything else.
By emily.bailey
When it's time to relax, or if you've already run out of shows to binge on Netflix, try these movies about homes and the bizarre things people do to them.
Staying at home doesn't have to be boring. It doesn't have to be filled with chores and projects, either. When it's time to relax, or if you've already run out of shows to binge on Netflix, try these movies about homes and the bizarre things people do to them.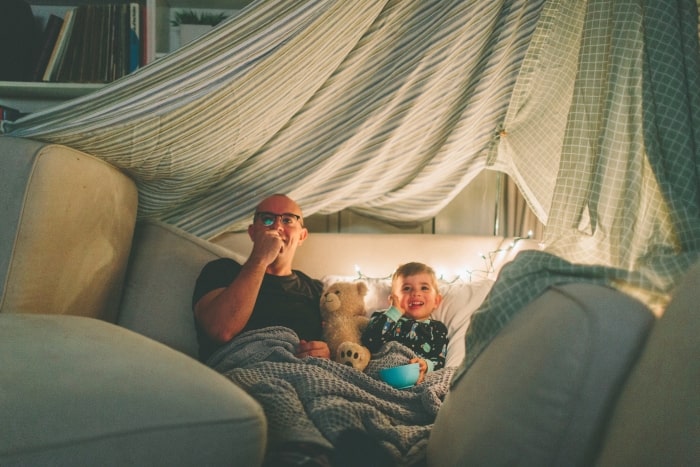 1. Swiss Family Robinson
Home is where the heart is. Even in the face of being shipwrecked, staring down pirates and countless other dramatic moments, the Robinsons banded together as a family, built a pretty awesome treehouse and showed that home is what you make of it. Grab a fruity drink and prepare for adventure on a tropical island.
2. Under the Tuscan Sun
If there's a movie that romanticizes home improvement more enticingly than Under the Tuscan Sun, we don't know what it is. The beauty and sense of adventure far outweigh the headaches of fixing up a rundown Italian villa. Make yourself a nice meal of gnocchi, scoop up some gelato and enjoy.
3. Pride and Prejudice
"Netherfield Park is let at last!" Jane Austen and her peers placed great importance on their characters' homes and with good reason. To have a home like Pemberley or Netherfield Park was the ultimate sign of security and stability, not to mention how many pounds per year you had. Pride and Prejudice has been made and remade countless times, even with zombies if that's up your alley. Pick your favorite (this writer controversially prefers the 2005 version over the 1995 BBC's) or watch them all.
4. The Holiday
A change of scenery leads to life-changing moments in The Holiday. Being able to set up in someone else's home was just what characters Iris and Amanda needed when love and career got them down. When you can't house-swap with someone in Los Angeles or quaint rural England, live vicariously with this rom-com.
5. The Notebook
Most of us immediately think of that scene in the rainstorm, but remember that Noah is trying to win his love's heart by building her dream house. This is the perfect movie for when you need a good cry. No one's around to judge your puffy eyes and runny nose, after all. And even though they say they don't, guys like this movie, too. Grab the box of tissues and just let it all out.
6. Karate Kid
To teach Daniel the movements of karate, Mr. Miyagi tasks him with home improvement projects – sanding decks, painting the fence, washing cars. Wax on, wax off, right? Daniel wasn't particularly thrilled about this at first, but he ultimately learned that fixing up his sensei's house taught him the skills and discipline needed to win the fight and get the girl. Use this one as motivation to tackle those projects you've been putting off.
8. The Money Pit
Sometimes with home renos, you have to laugh to keep from crying. You might do a bit of both with this Tom Hanks and Shelley Long classic. If nothing else, The Money Pit might be a good lesson in what not to do on your next home-buying or improvement endeavor. Just sit back with this movie and thank your lucky stars it isn't you.
9. Home Alone
This one might be a bit of a stretch, but hear us out. At Schlage, we often talk about fixing up your home to make it fit your needs. That is exactly what Kevin did in Home Alone. Faced with potential thieves, he completed a renovation of sorts to protect himself and his home. There are easier ways to secure what matters most to you, but to each his own. Don't wait until Christmas to enjoy this one, and when you finish the original, remember that there are three others in the series, too.