DIY, kids! Teach the little ones home improvement skills.
By emily.bailey
It's never too early to get your kids in on the home improvement game. Here are six DIY projects to get them started.
It's never too early to get your little ones in on the DIY game. Now, with many schools extending spring break indefinitely or asking families to homeschool for the rest of the year, you may be wondering what educational activities you can do with your kids. We think teaching them about tools and home improvement is the way to go. Here are six DIY projects to get them started. Class is in session.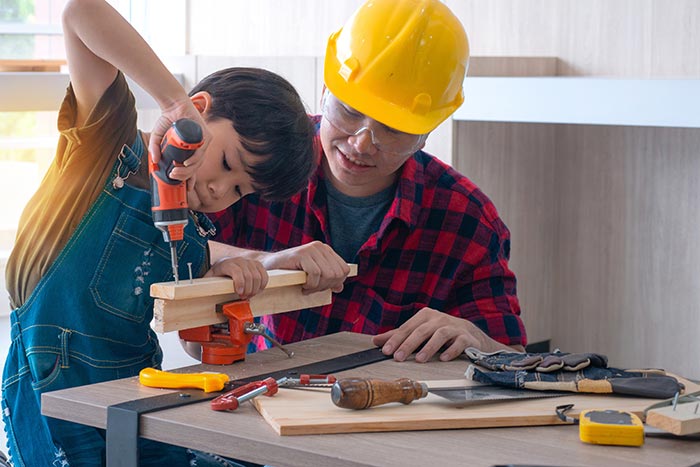 1. Teach them tool safety
The obvious lessons are how to safely use power tools and keep fingers out of the way of a saw blade. Less obvious, but just as important, is teaching them about gear that will keep them safe – goggles, appropriate clothing, keeping hair pulled back and out of harm's way, and protective gloves, for example.
Learning to be safe around tools doesn't have to be all lecture, however. Let them practice under supervision. Try giving them a mallet to pound away on some bubble wrap. Or build a bolt board. They'll gain some DIY know-how and test their fine motor skills at the same time.
2. Let them "repair" broken things
Older kids and those who always want to know how things work will appreciate this. Give them old or unwanted items – a chair with a busted leg, an obsolete electronic – and let them tinker away. They can practice their repair skills and if things go awry, you won't miss something that didn't work in the first place. With electronics especially, just make sure there are no dangerous parts or currents that could shock them.
3. Teach them how to measure
Measure twice, cut once is a lesson we all need reminding of from time to time. Break out the measuring tape and start instilling that lesson now. For even tougher math lessons, have them figure out how much tile you would need to purchase to redo the kitchen backsplash or how much paint to buy to update the living room.
4. Get painting
Painting is a great way to stir the creative juices and teach a valuable skill. Older kids might be able to handle a roller and help you redo a room. For the younger set, stick with smaller projects. Whether it's furniture or an art project, a little paint and a smock and you're well on your way to a beautiful sense of accomplishment and maybe a lesson about colors and shapes.
5. Break out the sewing machine
The great thing about sewing projects is that there's something for almost any age and skill level. If they aren't ready for the sewing machine yet, stick with hand stitching. Either way, you can give them a scrap of material to simply practice on or graduate to larger projects. Help them make curtains, slipcovers or pillowcases. A homemade apron or tool belt could come in handy for future projects.
6. Hand them a shovel
When you're ready to get outside but are still trying to keep your distance from others, some yardwork is just what the doctor ordered. Hand trowels work best for smaller assistants when teaching them to get their hands dirty. Gardening projects for kids could be as simple as weeding, preparing the yard for the next planting or teaching them about the plants you already have in the ground.