Homes of the Century: 100 years of porches and outdoor living.
By emily.bailey
In this installment of Homes of the Century, we take a look at the many ways porches have impacted our lives in the last 100 years.
Schlage often talks about how to take advantage of your front porch for maximum curb appeal. Whether you're trying to entice potential homebuyers or want to welcome guests with a cheery holiday wreath, porches can be things of beauty. It's strange to think of them, then, as inventions of necessity. In this installment of Homes of the Century, we take a look at the many ways porches have impacted our lives in the last 100 years.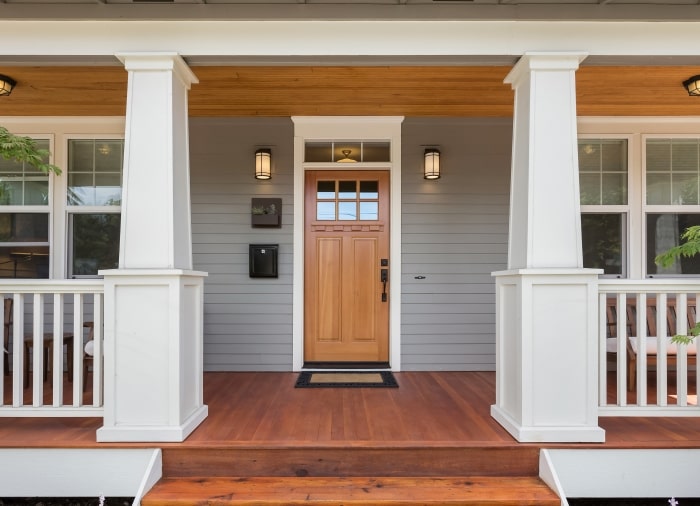 From their earliest days, dating back to the post-Revolutionary War era, porches served a very clear function: They helped us to escape the heat. Air conditioning wasn't common in homes until the 1970s, meaning that if you wanted to catch a cool breeze, artificial or otherwise, you needed to head outdoors.
Then as the United States became more urban. The 1920 census showed that, for the first time in history, more than half the nation's population lived in cities1, so houses were constructed closer together. More people living in closer proximity to each other turned the porch into a gathering place.
"Sitting on the porch gave everyone a bird's eye view of everything that went on around him or her," North Carolinian, Glenn Chavis, wrote in the News & Record, recalling his childhood in the 1940s. Kids sat on the porch and listened to the adults talk, you learned the goings on of the neighborhood and you might even have done a bit of romancing. "Those of us older than 50," said Chavis, "can remember courting on the front porch. … Remember stealing that kiss on the front porch and hoping the neighbors didn't see you or the light wouldn't come on?"
From social porch to sleeping porch
Popularity of front porches eventually began to decline as more cars took to the road in the 1920s and 30s. Suddenly, traffic made sitting on the stoop a dirtier, noisier endeavor. And as telephones became more common, we no longer relied on porch-to-porch communication. But that didn't necessarily mean that people were abandoning outdoor living altogether.
As we see in a Sears, Roebuck & Co. catalog from 1921, homes often included a sleeping porch. These open-air porches still provided privacy, either because of their location on the second story or on the back of the house, as well as comfort. "In hot stuffy Summer nights it will be pleasant and healthful," wrote the Sears catalog.
Homeowners believed that the fresh air from sleeping outdoors not only kept you cooler, but also strengthened your immune system and aided those with tuberculosis and helped prevent the disease from spreading. Some sleeping porches even came with special closets for door-beds, cots attached to the door frame that could swing out when needed.
Sleeping porches fell out of favor once we got electric fans and central air. As with many trends, however, they seem to be regaining popularity, with the addition of screens this time, in certain regions and for more than just catching a few ZZZs. We often see them in coastal and more rustic areas where we can be free of urban traffic and artificial light. Garden rooms are gaining traction nationwide as well, though. HGTV reports that garden room searches are up by more than 100 percent on Pinterest at the start of 2020.
Outside-in living with the atrium
Even after we were no longer driven to be outdoors by the heat, many of us tried to re-create the feeling of nature within the confines of our home. Houses with a courtyard, most often seen in Spanish- and Mediterranean-style houses, or an atrium have a lengthy history because of their style and ability to combine privacy with protection and cooler temperatures. Atria, in particular, were desirable mid-century, thanks to the popularity of the famous Eichler homes. The clean, straight lines and large windows of 1950s and 60s homes combined with the desire to connect the house to its surrounding environment. Many of these atria are not only made to feel like comfortable extensions of the house's interior, but also include relaxing landscaping and water features.
The atrium's popularity held strong for some time. One 1987 blueprint from an Architectural Designs catalog shows an updated interpretation. Surrounded primarily by bedrooms and with access from the kitchen, it is described as part of a "charmingly unique contemporary-style home" that also drew on nature through a foyer fronted by a large glass wall and private patio off the master suite.2
Eco-friendly sunrooms
As we've seen, the outdoor living space solved the uncomfortable dilemma of how to stay cool when technology was non-existent. In more modern times, we're still using these architectural features to naturally cool, and sometimes heat, our homes. Sunrooms and solariums were important rooms for early passive homes, as we see again in Architectural Designs. Its "Smaller Smarter Home With A Twist" is described below, highlighting not only the advantages of the sunroom, but also how its building materials make for an environmentally efficient home.
"Dramatically angled to maximize the benefits of passive solar technology, this compact one-story home can be adapted to many sites and orientations. South-facing rooms, including sun room/den, absorb and store heat energy in thermal floors for night time radiation. Heavy insulation in exterior walls and ceilings, plus double glazing in windows, keep heat loss to a minimum. During the summer, heat is expelled through an operable celerestory (sic) window and through an automatic vent in the sun room."3
Passive homes are on the rise today with even greater technology as concern grows about human impact on the climate.
Returning to our roots
Despite the variety of outdoor living alternatives, the front porch isn't completely obsolete. We've seen a resurgence of the front stoop, thanks again in part to necessity. If at one time we needed a place for the milkman's morning delivery, we now need a drop-off point for our Amazon packages and meal deliveries.
We're even cycling back to porches being a place of social gathering. We might not be fanning ourselves and sipping iced tea like antebellum Southern belles, but homey porch swings, romantic twinkle lights and all-weather televisions are giving rise to a new era of outdoor living. Many communities now host Porchfest, music festivals from coast to coast that also encourage community.
Just as we've relied on interior décor to make a personal statement of who we are, we now use these outdoor spaces to do the same. Holiday wreaths, monogramed door décor, even the color of your door and the door hardware you choose can tell people a little something about who lives there.
Next time you have some free time, consider heading out to the front porch. Wave hello to some neighbors, spruce up your front door décor or simply relax and reflect on what outdoor living means to you. Find inspiration for your porch at the Schlage blog or catch up on more home history at Schlage.com/100.
1 Kyvig, David E. Daily Life in the United States 1920-1940: How Americans lived through the 'Roaring Twenties' and the Great Depression. Ivan R. Dee, 2004.
2 "Built Around An Atrium." Architectural Designs, April 1987, p. 58.
3 "Smaller Smarter Home With A Twist." Architectural Designs, April 1987, p. 19.