Easy home décor updates for when you can't rush perfection.
By emily.bailey
Here are nine ways – no perfect 10s here – to make small upgrades to your home while you find your unique personal style.
We talk a lot about the "perfect fit" for this and the "ideal solution" for that. It's easy to forget that, for many of us, the perfect room or home is not achieved in a single shot, and to try to pull that off can create more stress than satisfaction. Taking your time and making upgrades over the course of a few months or even years, can be even more fulfilling, and easier on your credit score, than finishing your design in one go.
As Brittany Anas from Apartment Therapy said, her first home looked straight out of a catalog, but it lacked her personality and rushing the process was hard on her finances. Now, a wiser and more established version of herself realizes that collecting meaningful décor pieces over time makes her home actually feel like a home. Perfection doesn't need to come immediately.
Here are nine ways – no perfect 10s here – to make small upgrades to your home while you find your unique personal style. Pick and choose, don't do them all at once and, most importantly, enjoy the home décor journey.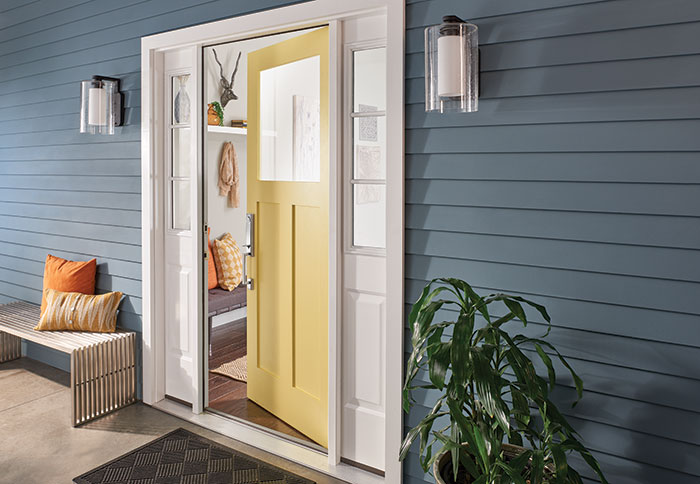 1. Plants
Houseplants make us happier. We also think they go a long way toward making a home feel lived in, especially if your house is still in that sterile, in-progress stage. Some beautiful flowers outside can also liven up your curb appeal while you save up for a new walkway or porch.
2. Bedroom oasis
It's always a good idea to have someplace you can retreat to that doesn't feel like a construction zone or where you have a constant reminder of your unfinished tasks. This is especially true if you're living in the middle of a remodel or have just moved in. Focus on creating a bedroom oasis so you have somewhere to relax. Of course, it could also be your living room, a library or a sunroom. Just find somewhere you want to feel most comfortable.
3. Lighting
Whether you replace lighting fixtures on the ceiling or add tabletop lamps, you will see a dramatic difference in the vibe of your room. Don't discount the impact of simply replacing your lampshades either.
4. Door hardware
The Spruce said it splendidly. Cheap or outdated hardware will make the rest of your room look that way. Thankfully the opposite goes for updated, high-quality door knobs and levers. You might be surprised what swapping out scratched and dinged builder's grade knobs can do for your overall look. Explore Schlage Custom™ Door Hardware for some of our best styles and finishes.
5. Plumbing fixtures
Bathroom remodels can be tricky with tiling and expensive flooring and who-knows-what under the sink. Keep it simple by replacing the showerhead, faucets and towel rods. They can make a great jumping-off point for a larger project, not to mention they're easy to coordinate with door hardware for that cohesive look.
6. Fabrics
If you haven't found perfect sectional yet, upgrade your existing couch – or bed, comfy chair, or porch swing – with a gorgeous new throw blanket or pillows. Try tapestry on the wall to add color to a room when you're still searching for that elusive framed artwork.
7. Area rugs
Did we mention flooring can get expensive? Cover carpet stains or soften hardwood floors with area rugs. It can be more cost-effective and lets you inject some new color and pattern to the room.
8. Accessories
These can get expensive and you might be wondering about how they're going to coordinate with the rest of your future décor. If you choose meaningful pieces, you increase the odds that they'll always match. Focus on photos of family and pets, travel mementos or artwork you create yourself. Frames can be switched out easily later if today's choices clash with tomorrow's design.
9. Gadgets
Sometimes establishing the "perfect" house is more than just making it beautiful. You'll enjoy living in your current abode more when you take the time to make it fit your lifestyle. The added convenience of smart locks or lighting, a wall outlet with built-in USB ports or this crumb catcher for easier kitchen cleaning is worth investing in today if it makes your life easier.
If you aren't sure where to start, look for inspiration on Schlage's Instagram or Pinterest accounts. You can also use our Style Selector Tool to help figure out what your favorite look is. You might be surprised what your "perfect" style turns out to be.