Small steps today that will make spring cleaning easier next year.
By emily.bailey
How do you keep your home in tip-top shape until the next spring cleaning? Try our checklist of quick daily tasks to make sure your home looks as good tomorrow as it does today.
You spring cleaned! Clothes that no longer fit? Donated. Windows? Washed. Loose patio railing? Secured. Now, how do you keep your home in tip-top shape until the next spring cleaning? Try our checklist of quick daily tasks to make sure your home looks as good tomorrow as it does today. Because no modern family has time for a
1920s cleaning routine
anymore.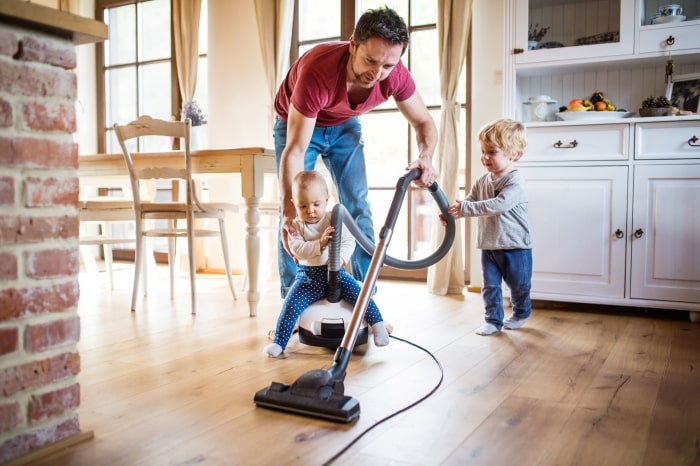 Wipe the sinks
Take about 30 seconds to wipe out the kitchen and bathroom sinks. You'll be in there every morning anyway. Go ahead and use the same towel you used to wash your face or stock your home with some these easy cleaning products to keep your sinks clean in between hardy scrubs.

Give countertops a once-over
Same as the sinks, wipe down counters to remove water stains, toothpaste splatter, food crumbs and other spills. We think it's okay to brush some of those crumbs directly to the floor because …

Sweep up crumbs
In between running the vacuum and breaking out the mop bucket, sweep up any miscellaneous debris. Don't limit your efforts to the bathroom and kitchen. Pay attention to the high-traffic areas in your home and give some extra elbow grease to anything that might be sticky. In most cases, an old-fashioned broom will be enough to keep the mess under control until you're ready for a more thorough cleaning.

Declutter
This applies to all rooms. Hang bathroom and kitchen towels instead of leaving them on the counter or floor. Clear off the coffee table and nightstand, putting items where they belong instead of letting them accumulate into piles of chaos. Place clean clothes back on hangers or in drawers. At a minimum, take dirty dishes to the kitchen, but for real satisfaction, wash them before turning in for the night.
Putting things away goes beyond traditional clutter, too. Empty the dishwasher. Make the bed. Straighten the throw blankets and pillows on the couch. Put makeup away in the drawer or cabinet as you finish using it. File papers like receipts, bills and school notices before the stacks reach epic proportions.

Take out the trash
Depending on the size of your family, you may need to take the trash out nightly. Or if it works better for you, grab it on your way to the car before work. Daily attention will help keep odors from accumulating.

Get quick curb appeal
Your yard can become as cluttered as inside the house if you let it. Especially during high pollen season or when fall leaves are blowing, take time to sweep off your porch, wipe down patio furniture and pick up any kids' toys or yard tools that may have gotten left behind.
Some tasks might not be needed every day. In addition to vacuuming, check these items off your cleaning list every week or so, depending on how large and rambunctious your family is.

Clean door hardware
You touch your door knobs and levers every day, which means you're potentially transferring germs just as frequently. Cleaning your door hardware regularly shouldn't be overlooked. You might do this more often if family members are fighting a cold or if your toddler somehow has jam hands all the time. Use this guide to cleaning your door hardware to keep your Schlage locks looking and working as nice as the day you installed them. Whatever you do, don't use harsh chemicals, abrasives or disinfectants on your hardware. You'll risk ruining your beautiful finish.

Purge the junk drawer
When you were decluttering earlier, did you throw random items into a junk drawer? Is there a basket in your entryway that collects miscellaneous "stuff"? Every week or so, go through those collection spots. If you don't need it anymore, toss it. Otherwise, find a home for it.

Finish the laundry
You took the first step toward keeping your family dressed by getting the clothes in the washer. Finish the job by folding and putting away the laundry. You'll feel better about not having clothes piled up, and your kids might actually stop asking, "Mom, have you seen my …?"

Tidy up cats and dogs
You've been cleaning the litter box every day. Just as important is to give your furry friend's food and water dishes a good scrub. Don't forget about washing their bedding and inspecting toys that might be broken. You can even pop most rubber or plastic dog toys in the dishwasher if they seem exceptionally unsavory.

Cut yourself some slack
There will be weeks when the kids have multiple games, science fairs and plays on the same night, you have to work late or you just want a break. How clean you keep your home is not a direct reflection on who you are. Go ahead and spend time with your family or treat yourself to some R&R.
Find more DIY tips for the spring, or any time of the year, at the Schlage blog.