Low-commitment ways to update your home.
By emily.bailey
Feeling pressured to commit to a long-term decor style? Try one of these easy, low-commitment projects to give your home more personality with the freedom to change as your style evolves.
She wants you to finally do what you've been talking about for months, but you just can't bring yourself to pull the proverbial trigger. He wishes you'd make a decision already, but it's such a big commitment. If you're considering couples therapy … we can't help you there. What we can do is give you some of Schlage's favorite décor tips when you can't commit to a long-term look.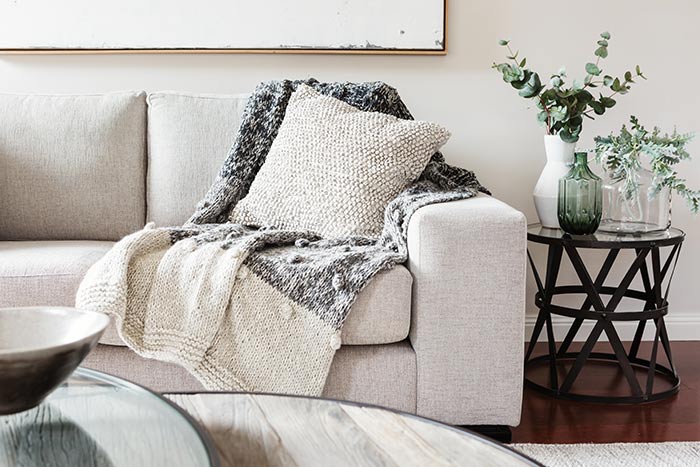 Don't be afraid of bold colors
Sometimes we crush on a bold color, but the idea of painting an entire room that bright hue gives us cold feet. If that's the case, turn your attention to accessories. Throw pillows and blankets as well as curtains, rugs and even flowers are great ways to use your favorite color without going all in.
This is also a prime opportunity for a DIY project. An end table in the living room or a bedroom nightstand could take a fresh coat of paint in your new color of choice. Painting doors – interior and exterior, inside a room or facing the hallway – is another prime opportunity for smaller, classy doses of rich color. You'd be hard-pressed to find a better opening line than with one of these
inviting paint colors for your front door
.
Introduce yourself to new finishes
All you want is that little something shiny to show off to your friends. Switching to stainless steel appliances is nice, but it can get pricey. Look to door hardware and cabinet pulls for a more affordable upgrade you can also install entirely on your own. You might be surprised what a difference a small change can make. Schlage has a wide variety of styles and finishes to update any door. When you mix metallic finishes, you can really transform a room. Extra shine here, a bit of contrast there, and before you know it, you'll have a look so unique you can't wait to show it off.
Replacing coffee table or chair legs are another great way to add your favorite finish.
Don't be fooled into thinking that metallics have to be actual metal, either. Some fabrics, like these pillows, have a sheen that give a metallic look with a cuddly feel.
Care for your cabinets
It might be time to open your heart to some cabinetry updates that don't require gutting the entire kitchen or bathroom. Again, this is the perfect opportunity to swap out the hardware with a cabinet pull that's more your type.
You can paint them, of course. These two-tone kitchen cabinets are going to be popular in 2020. We also like them because you can test a paint first. Maybe you choose to leave your upper cabinets as they are and only paint the bottom ones in a complementary color – a fashionable look with less commitment.
If you like the idea of open shelves, this is your chance. Remove the doors and, for a few extra sparks, line the inside with your favorite temporary wallpaper.
Finally, we love this idea from Cherished Bliss to add trim to the cabinets. It could match the existing cabinet finish, or you could add a touch of intrigue with a contrasting color for the detail work.
Find a winner of a backsplash
Tile can feel like a big step, but there's hope for even the biggest commitment-phobe here. First, we say leave the floors alone and focus on a backsplash. This is another place to try removable wallpaper. For something that has more texture and the look of a traditional backsplash, try peel-and-stick tiles.
If you already have a tile backsplash and can't figure out how to kick it to the curb, know that it is possible to paint over it. A Beautiful Mess shows how. You can choose a single color – maybe that bold one you couldn't commit to earlier – or stencil a pattern like My Blessed Life for more visual interest.