Clever smart home tricks you might be missing.
By emily.bailey
Friday, February 21, 2020
Never miss an opportunity to make your smart home smarter. Here are some features of common smart home devices you might not be using. You'll wish you knew about them sooner.
How smart are your smart home devices? These electronics often do more than you realize. Sometimes they can be used in ways you hadn't before imagined – although still within the limits of the warranty – giving you additional convenience, ease or security.
Never miss an opportunity to make your smart home smarter. Here are some features of common smart home devices you might not be using. You'll wish you knew about them sooner.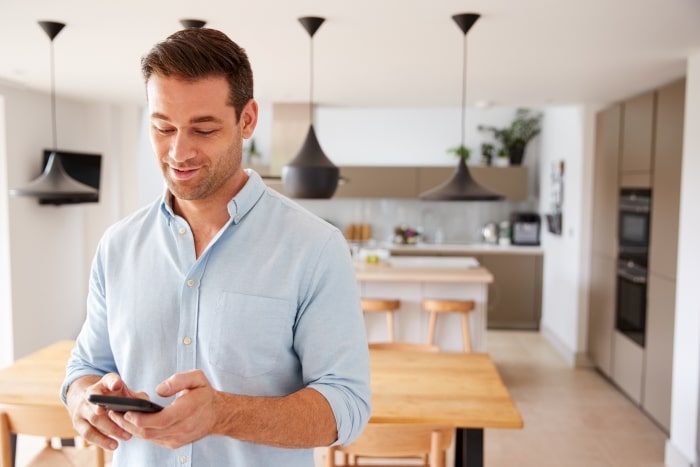 Make smart locks smarter
There are so many ways a Schlage smart lock can help you secure your home, it can be easy to overlook some of the most convenient and beneficial features. If you have a Schlage Encode™ Smart WiFi Deadbolt or the Schlage Sense™ Smart Deadbolt, try creating a virtual key for guest access. This step-by-step guide shows you how to create a virtual key with the Schlage Home app. Once you send the invite, your guest will receive a link on their smartphone asking them to activate the virtual key. They will then be able to lock and unlock the door using the Schlage Home app on their smartphone.
The virtual key is a great way to control who can do what with your lock. For example, you may want your spouse to have admin access so they can also manage user codes, but you don't want your teen to be able to change those codes. A virtual key is ideal for the kids. They can get in the house without a physical key, and you're still in control of your lock's other features.
Note that guest virtual keys can only be used within Bluetooth range the door (about 40 feet) and when the guest has their phone's Bluetooth turned on. If you're using the Schlage Sense lock with Apple HomeKit™, you will not be able to use Schlage virtual keys. You can reset your lock to factory settings and re-pair it using the Schlage system setup to use virtual keys. If you have HomeKit, learn how to share access with other iPhone users at Apple Support.
How about a more basic trick? Try your Schlage smart lock somewhere other than your front door. They're secure and stylish anywhere on your home, including side doors, the entry leading into the home from your garage or even a home office.
Keep an eye on the action
Our favorite alternatives for motion sensors are more about their location than their actual use. Originally intended to be placed near doors and windows, these cameras can also alert you when someone opens your mailbox. Install one inside the postal box and, if it's compatible with your smartphone, receive a notification when the door opens. You'll know whenever someone puts something in your mailbox … or takes something out.
A motion-activated camera can also be placed behind valuables. Burglars will typically look for the big-ticket items in the house first. Focus your camera on those spots and protect whatever that most prized possession in your house is, even if it's inside a closet or a file cabinet drawer.
Need to know when a pet has wandered somewhere he shouldn't? Place your camera near that room or entrance. If it also has two-way speakers, you can to tell Fido to get off the couch, even if you're still at the office.
Let your phone locate your lights
A century ago, Walter Schlage earned a patent for a deadbolt that turned on a light when you unlocked the door. He figured that if you were entering a room, you'd also want to be able to see where you were going when you got in. Unfortunately, this invention didn't take off, but the idea is alive and well today. One current version is controlling your home's lights with geofencing.
With the right compatible devices – smart lights, plugs or switches – you can have the lights turned on when you are within steps of your front door. The location detector in your phone signals that you are home, triggering a reaction that turns on the lights without you having to do a thing. Cnet.com has more details on how to automatically turn on your lights when you get home.
Plug in to energy management
Smart plugs are a simple and increasingly cost-effective way to turn a "dumb" device into a smart one. If you're someone who chooses smart devices to make your home more green, look for a smart plug that also gives feedback about how much energy you're using. The WeMo Insight Smart Plug works like any other, but it also sends real-time reports to your phone. You'll receive energy usage data for whatever device is plugged into the WeMo.
Remember that smart plugs aren't just for lamps, either. Think outside the box. What devices do you use every day that could benefit from more smarts? What about your coffeemaker? A heated blanket? Something in the bathroom?
Simplify climate control
Thermostats tend to be a "set it and forget it" device, at least until the seasons change. For maximum comfort and energy savings, though, you might want to make it part of your smart home automation and routines. There's the popular "vacation" routine, which can automatically change your home's temperature, lock the doors and turn on a random light schedule to make the house appear lived in. But have you tried a "party" routine?
When more people are in the house, for example during a holiday gathering, the guests' extra body heat will help keep the house at a comfortable temperature, even if you turn down the furnace. So create that party routine and trigger a series of events – adjust the thermostat, start the music and set some mood lighting – with a single voice command or push of a button in an app.
Different smart thermostats are compatible with different technologies and other smart devices. Be sure to do your research beforehand so that everything will work together as seamlessly as you want.
If you're wondering which smart locks are compatible with these devices or with the technology you already have in your home, try our Get Help Deciding Tool. Answer a few simple questions and we'll recommend the Schlage smart lock that's right for you and your lifestyle. You can also find more technology tips and tricks at Schlage.com/blog.