9 DIY projects to help you finally get more organized.
By emily.bailey
This winter, start by making your house work better for you and your lifestyle. Try these DIY projects to turn your home into the organized oasis of your dreams.
"In 2020, I will be more organized."
You're not the only one to make that New Year's Resolution, but hopefully you'll be the first to keep it. You can start like usual by Marie Kondo-ing your closet and assigning each kiddo their own cubby, but did that work last year?
This winter, start by making your house work better for you and your lifestyle. If the very bones of the home – including the rooms' purposes, the furniture, the fixtures – don't do what you need them to, then no amount of purging and basket-buying will make you a pro-level organizer. Try these DIY projects to turn your home into the organized oasis of your dreams.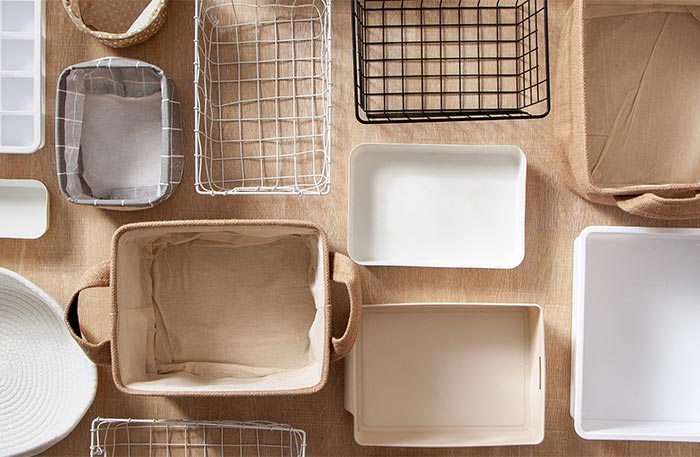 Transform a room with the right doors
We've heard from a lot of people saying they don't need a formal dining room. What they want is a play area with an open sightline to keep an eye on the kids. If this is you, consider installing or replacing doors on the dining room-turned-playroom. Depending on your style and needs, it could be gorgeous glass-paned French doors for easy monitoring or a barn door to hide the toys when company comes over. Check out our tips for interior French doors to make the most stylish and functional choice for you.
Replace interior door hardware
Maybe you're an empty-nester who wants to give an old room new purpose. It could be turning a play room into a home office so that you can keep your paperwork and personal data protected in one area. In this case, you may need to update your door hardware. The right lock can help ensure you have the right level of security. With Schlage Custom™ Interior Door Hardware, you can easily switch between two functions. The locking function is great for bedrooms, bathrooms and offices where extra privacy is needed, while the non-locking function is ideal for closets or hallways.
Create a functional entryway
How can you control the disorganized chaos when you don't have space for a dedicated entryway? A few strategically chosen pieces will do the trick, and when you DIY, you can customize and style it perfectly to your needs. Start with hooks or a coat rack like this one from This House Might Be, which also has a built-in mail slot. Add a simple bench like this West Elm knock-off by Home Made by Carmona so people have someplace to sit while they put on and take off shoes. Then build a floating shelf to catch keys, phones and more. We like the idea of repurposing this nightstand tutorial from The Merry Thought if you're working with limited space.
Build a command center
If you need help corralling the kids' school papers, calendars, mail and more, you can install a dry erase/cork board combo, hang a few baskets and call it a day. Or you can take organization to the next level with a built-in family command center like this one from Restyle it Wright. They transformed a closet into a drop zone where you'll (probably) never lose anything ever again.
Make your laundry room do more
What most laundry rooms lack is good working surfaces – a place to fold and stack clothes, pair socks, collect what everyone left in their pockets, pre-treat stains and more. This DIY plywood waterfall countertop from Vintage Revivals turns your laundry room into a fully functioning, and organized, work room. And it costs less than $100.
Slide out some shelves
Make your cabinets work for you by retrofitting them with sliding shelves. These make it easier for anyone to put away items in their designated place – therefore keeping you organized – but they might be a necessity for those who can't bend or lean all the way down to shelves at ankle level. Kitchens are the most popular place for slide-out shelves, and Family Handyman shows you how to install them in your existing cabinets. The same sliding solution also works in bathrooms and garages.
Use every nook wisely
How can a breakfast nook help you stay organized? The answer is all about using your space, including that awkward corner of the kitchen, efficiently. Be creative with nook seating. A bench, preferably with built-in storage will turn that unused corner into an uncluttered gathering place for family and friends. This guide from Ana White shows how you can make your own DIY breakfast nook with storage.
Take on the bathroom
If you're organizing to make everyday life simpler, then why not tackle a room you actually use every single day? The bathroom can be an intimidating place for a renovation, but this DIY bathroom mirror storage case by Shanty 2 Chic offers so much convenience and organization, you won't be able to resist. We especially love that it's slim enough to fit behind the door of almost any small space or powder room.
Light every corner, closet and cabinet
Lighting won't necessarily help you get organized, but it might help you stay that way. You'll never find anything if you can't see. Stop pulling out every piece of clothing you own looking for that one sweater. Avoide rearranging the pantry because you just know there's a jar of spaghetti sauce in there somewhere. Decoist offers a list of wireless closet lighting options, perhaps making this the easiest DIY here.