Impress your guests with quick and easy holiday curb appeal.
By emily.bailey
Friday, November 22, 2019
With these quick, easy holiday curb appeal ideas, your home will be holiday ready in no time
Holiday surprises are usually great. Unless they're surprise guests. What do you do when you have limited time but need to get the house ready for unexpected holiday visitors? First, don't panic. Then, quickly make these nine curb appeal updates. We bet you'll still have time for these
simple interior updates
for when you're in a holiday hurry.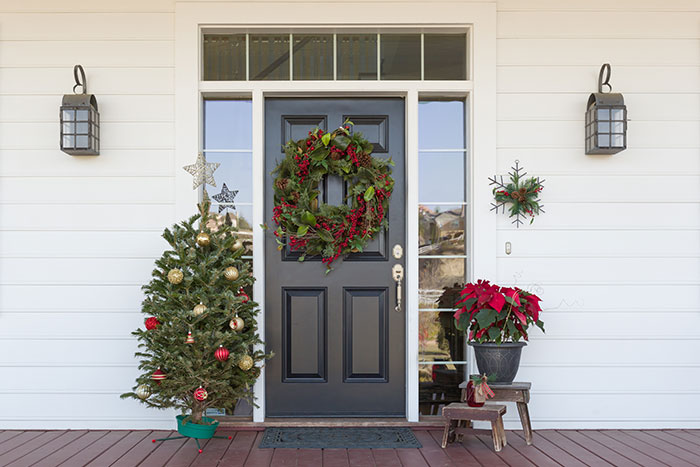 Safety
Yardwork often goes by the wayside in colder weather, so use your unexpected guests as an excuse to trim evergreen bushes and trees. The last thing you want is a wayward branch hitting someone as they walk into the house or falling on a car parked in the drive.


Tighten handrails and banisters. This is another great way to reduce falling hazards if screws have worked their way loose. In most basic cases, all you need is a screwdriver.


Keep Great-Aunt Gertrude from taking a fall by making sure your driveway, patio and stairs are free of snow and ice. If you live in a warmer climate without the white stuff, break out the broom and clear away leaves, mulch and other debris. If nothing else, it'll give your curb appeal a little boost.

Style
Few things say "winter holiday" better than garland, and you have so many options. Choose evergreen foliage or fall leaves as your base. Then embellish with berries, small pumpkins and other seasonal décor to give it your own unique twist. Depending on your entryway and personal taste, you can then wrap the garland around porch railings, drape it over doors or string it under windows.


Potted plants can instantly liven up a porch, no matter how big or small it is. If you're in a real rush, most home improvement stores sell evergreens and other hearty plants already arranged in gorgeous containers. Fake plants and branches are good-looking options if you lack a green thumb.


Lighting is the perfect opportunity to get both security and style. Your guests will be able to see when they arrive in the evening, and it can really set the mood. Twinkle or string lights are an attractive alternative to a standard porch light.

Simplicity
If you're in a real time crunch, find items in the house that can be repurposed or loaned to the front porch. A plush throw blanket from the couch draped on patio seating is an instant seasonal update. A lantern from the fireplace mantel quickly becomes festive porch lighting.


Your exterior door locks are obviously important to security. But did you know they also make hosting guests simpler? A smart lock like the

Schlage Encode™ Smart WiFi Deadbolt

offers convenient options for granting and managing access to your home. For example, if those guests plan to stay overnight, create a unique access code for them so that they can come and go as they please without needing a spare key.

Install new house numbers for a double-dose of simplicity. These are typically easy to install, partly because they can be placed in a variety of places – on the house façade, a porch pillar or a

large planter

. It also makes it much easier for visitors unfamiliar with the area to find your home.

Hosting for the holidays doesn't have to be a hassle. Get more entertaining tips and décor inspiration at the Schlage blog or on Pinterest.