Updated door knockers to complete your front door.
By emily.bailey
Check out these mood boards for every style of home and see what front entry handlesets and accessories pair best to make a welcoming and stylish statement.
Do door knockers make you picture a Dracula-style haunted house? The unwitting visitor raps on the door and it swings eerily open on creaky hinges? It's a vivid image, but not one you want for your own home. There are many ways to update your front door so that it makes a welcoming first impression, and door accessories are just the beginning.
Door knockers are traditional front door décor. They're the original doorbell, after all. But they can be just as stunning on modern homes as well. Check out these options for every style of home and see what front entry handlesets and accessories to pair them with to make a welcoming and stylish statement. Be sure to check out our mood boards for each unique look.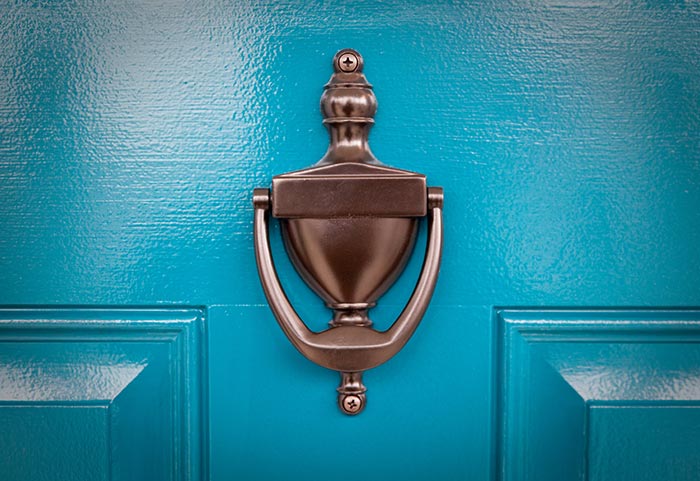 Modern
Once you see a modern door knocker in action, we bet you'll be pleasantly surprised. A flatter, squarer knocker would show nicely with the Schlage® Century handleset when they both feature similar rectangular shapes. Other accessories like a wall-mounted mailbox or porch light should mirror that, so try minimalist designs and more straight edges.
A great variation if all squares has you feeling too rigid is the
Schlage® Greenwich handleset
with a door knocker that has a similar arched silhouette. Coordinate your overall design with simple, free-flowing rounded edges.
For an industrial modern home especially, we like anything in a dark finish. Luckily, our Century and Greenwich handlesets both come in Matte Black as well as Bright Chrome. The door knocker we chose for this style is at once bold because of the finish but also simple due to its geometric design. Pair it with the Schlage Century handleset on your door's exterior and a
Schlage® Bowery knob and Collins trim
on the interior to replicate the round-on-square combination inside and out.
Traditional
Urn-shaped door knockers are a classic touch for a traditional home or if you're in an older neighborhood. While we chose one in a bright silver finish, brass hardware is also a good choice for Colonial styles.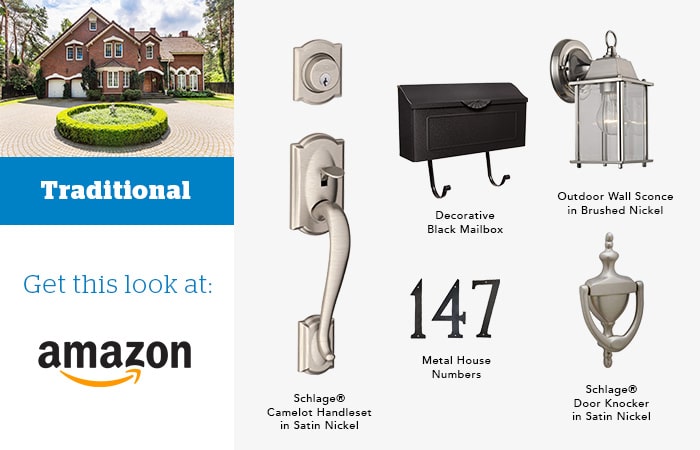 Pineapples were a common design motif for Colonial times as well. Also seen in Victorian décor, they were a sign of being welcome, so it makes sense to choose a pineapple door knocker for your front entry. You can then replicate the detail from the pineapple with flourishes in other accessories, but to keep from going overboard, pair it all with simpler door hardware. The Schlage
®
Plymouth
and
Camelot handlesets
hit the mark thanks to its subtle curves and subdued design.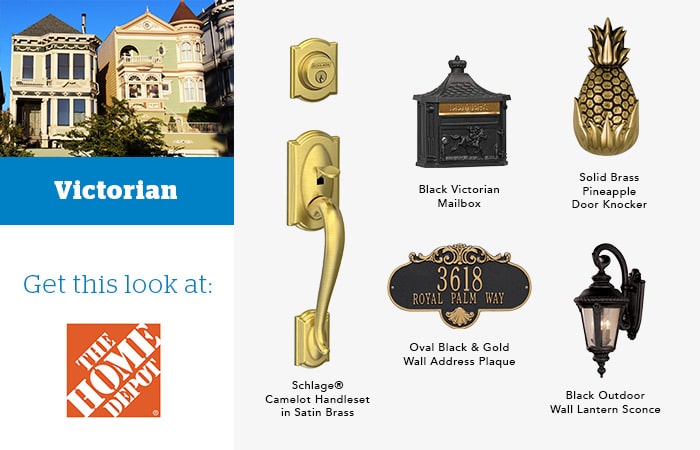 Victorian homes are known for being ornate, so your door accessories should follow suit. A bold door knocker – think pineapple again or a lion's head – makes statement and sets the tone for other elements like the intricate Schlage
®
Brookshire
or
Camelot handlesets
.
Mediterranean
For Mediterranean and mission-style homes, wrought-iron door accessories are undeniable. The Schlage® Wakefield handleset, particularly in the Aged Bronze finish is reminiscent of that raw metalwork but with a more sophisticated flair. Combine it with a wrought-iron door knocker and accessories that feature swooping curves and plenty of detail. When pairing it with interior door hardware, consider the Schlage® Siena knob with matching Wakefield trim.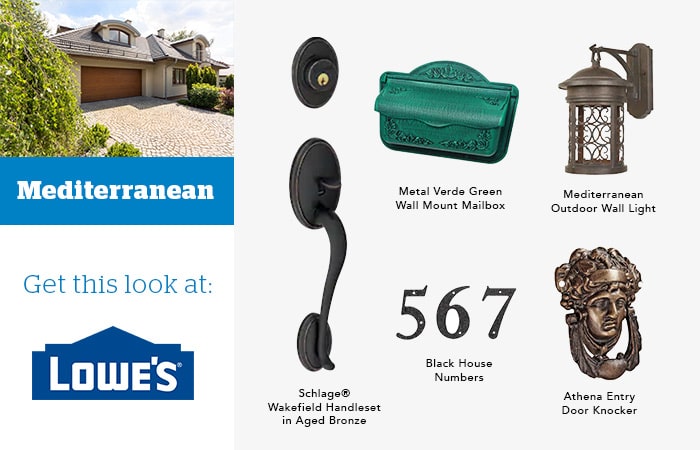 Craftsman
Craftsman-style homes draw inspiration from nature and there's no better place to showcase that than when you're on the front porch. Door knockers made to look like plants or animals might be a good fit for a refined outdoorsy feel. A Craftsman home has plenty of wood architectural features, so try the less ornate Schlage® Addison handleset in a finish like Aged Bronze that complements those natural tones or Matte Black for some extra contrast.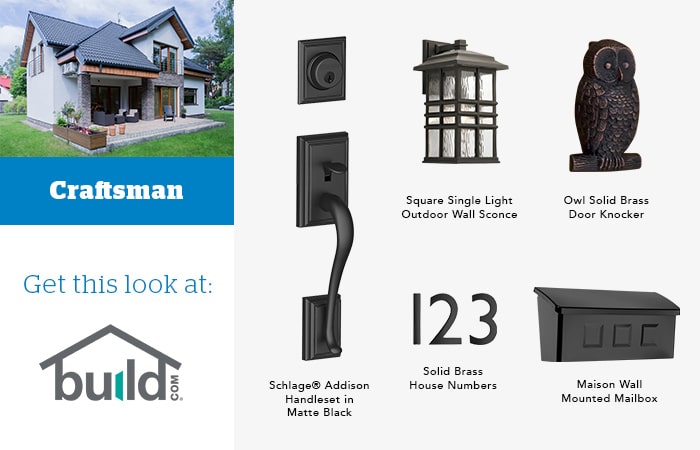 Coastal
When you shop door knockers for your beach home, your themed options are almost endless. We like a starfish door knocker, but you'll also find mermaids, whales and sunbursts, and they run the gamut from highly sophisticated to fully whimsical. When adding other accessories, remember that sometimes less is more and consider complementary finishes that make those individual pieces look like they were made to go together.
Try a more modern take on coastal design with the
Schlage® Century handleset
and clean lines on the mailbox and porch light, but you could easily swap nickel finishes for something in the brass family or opt for more rustic accessories for a coastal farmhouse vibe instead.
A front door renovation can make it look like you gave your whole home a facelift. By updating your door accessories – whether it's door knockers, knobs or handlesets, a mailbox or lighting – you have the chance to welcome visitors with your unique style. Explore Schlage.com for more handleset options, or find us on Pinterest for even more front door inspiration.