10 ways to secure your smart home for National Crime Prevention Month.
By emily.bailey
These 10 tips for securing your smart devices and the network they connect to can help keep your personal information … well, personal.
October is National Crime Prevention Month, making it the perfect time to examine how secure your smart home is. More and more devices are being incorporated into the Internet of Things – even
toilets
– which makes it increasingly important to go the extra step to protect your home. Although nothing is 100 percent failsafe, these 10 tips for securing your smart devices and the network they connect to can help keep your personal information … well, personal.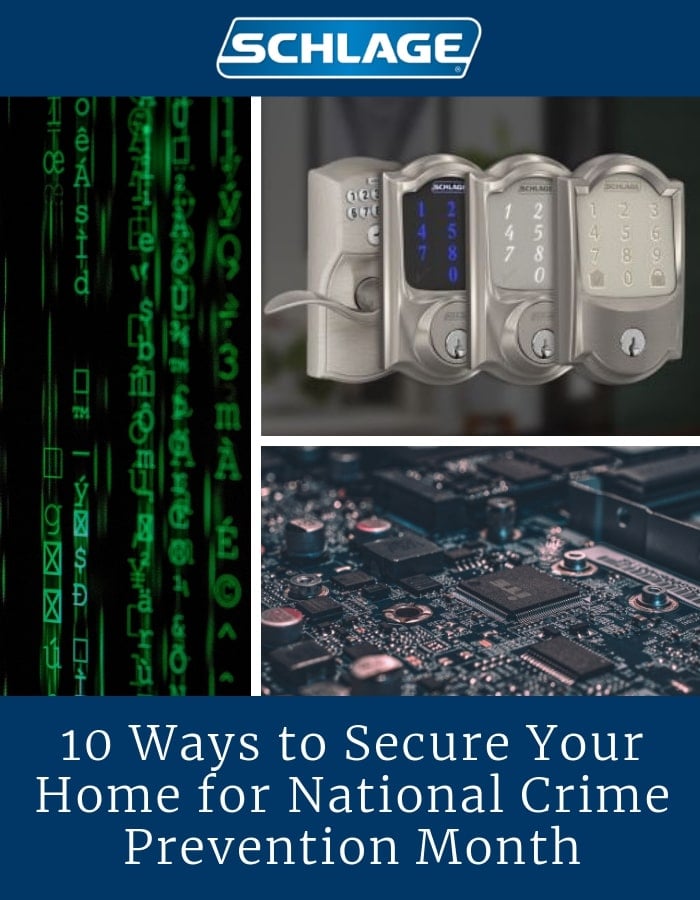 Secure your devices
1. Strengthen your passwords.
Set unique passwords for each of your devices, email accounts and electronic locks in your house. It makes it too easy for someone to gain access to everything at once. Also avoid easy-to-guess passwords like 1-2-3-4 or your house number. Need helping creating safer passwords? Try these suggestions.
2. Get the latest updates.
Technology companies frequently make updates to the firmware for a device, even long after you've bought it. These often provide additional or improved security measures, so make sure you have the latest versions. Depending on the device, firmware might be updated automatically. You can also check the manufacturer's website for new uploads.
If you have a Schlage smart lock that remains connected to WiFi or your mesh network, you will receive automatic updates as they become available. Notifications are also available through the Schlage® Home app for your Schlage Encode™ Smart WiFi Deadbolt or Schlage Sense™ Smart Deadbolt.
3. Choose reputable brands.
When purchasing a smart device, buy from a reputable source. That means going with brands you know you can trust and stores with trustworthy reputations rather than someone off the street or hawking an electronic online. If you aren't sure about a company, research them on Better Business Bureau or look for things like Schlage's limited lifetime mechanical and finish warranty. We also offer a three-year electronic warranty, so you can be confident in the quality and security of your Schlage smart lock. There's a reason we're trusted in over 40 million homes.
4. Go the extra step with two-factor authentication.
Love it or hate it, two-factor authentication (2FA) can go a long way toward protecting your information. When you set up 2FA on your device, you will be asked to provide a code, sent to a separate device or email, to verify your identity. The extra step might not always be convenient, but it does cut down on security breaches.
5. Reset before you sell.
If you decide to sell your smart device or leave it at the home when you move, be sure to complete a factory default reset or follow manufacturer's suggestions for removing personal data before transferring it to the next owner.
Secure the perimeter
6. Secure your wireless network.
Use a WiFi Protected Access II (WPA2) protocol rather than the older Wired Equivalent Privacy (WEP) for better security. And while you're at it, use those password tips from earlier to protect your WiFi even more.
7. Give your network an obscure name.
It's tempting to simply call your network "Bob's home WiFi," but you can improve security by naming it something that isn't traceable directly to you. Be creative – "New England Clam Router" – or just random – "Green network."
8. Disable guest access to your network.
When you hand over access to others, you lose a certain amount of control over how your network is being used. Deactivate it completely, or at the very least, be extremely picky about who you allow to log on.
9. Add a firewall.
A firewall is hardware or software, or sometimes both, that prevents others from accessing your private WiFi network. It controls both incoming and outgoing network traffic. When it comes to protecting your smart home, installing a firewall can keep prying eyes off your personal data.
10. Don't connect if you don't have to.
Lots of products come with bells and whistles that you just don't need or won't use. Do you really need to log in to Facebook through your refrigerator? Or play Spotify from your toilet? Deactivate a feature or don't provide login information if it simply isn't necessary.
Whether it's an intruder trying to break into your home or a hacker attempting to access a smart device, thieves look for the point of least resistance. By adding additional layers of security like strong passwords or a high-quality deadbolt to your front door, you can reduce the likelihood of falling prey to theft. Find more ways to secure your home at Schlage.com.