A home improvement transformation to fall in love with.
By emily.bailey
Fall is a prime time to tackle home improvement projects. Even Mother Nature, as she turns the leaves from green to gold, knows it's the season for change.
We think of spring, with deep cleaning and fresh starts, as the season for taking on home improvement tasks. But fall is an equally prime time to tackle those projects. Even Mother Nature, as she turns the leaves from green to gold, knows it's the season for change.
You can hit the reset button on your home in many ways, but for a major impact without a major investment, try new door hardware. Updating door knobs to match your style more closely, exchanging your knobs for levers or choosing a new finish can provide that sense of transformation fall calls for.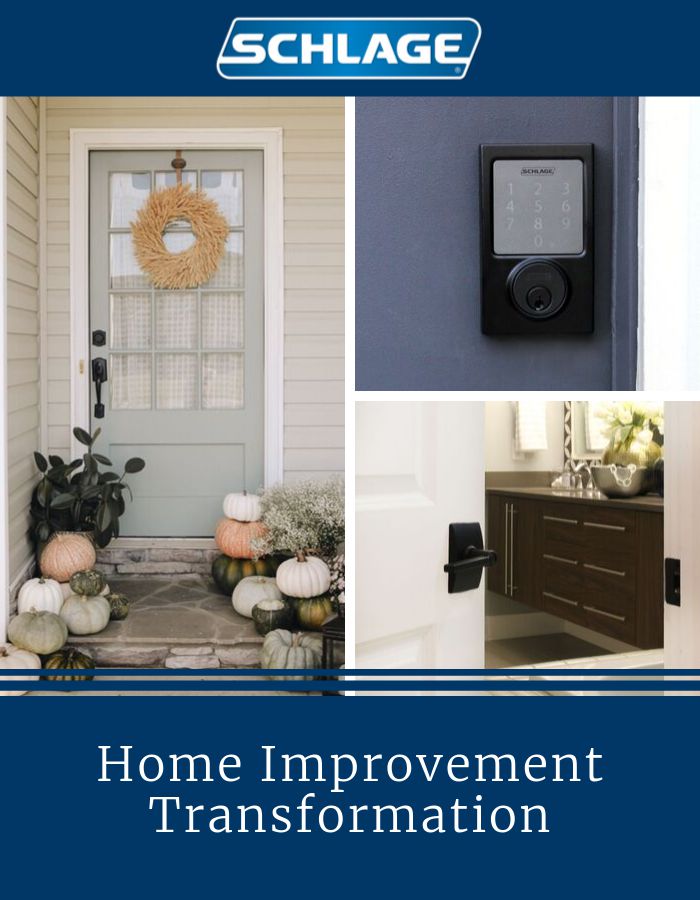 Take advice from the experts
If you're thinking that new door hardware is too basic a change to make a noticeable difference or are asking why you would invest any amount of time and money into something as humdrum as door hardware, check out what these interior designers and real estate professionals have to say.
USA Today

– "It's a small thing, often overlooked amid major items like furniture and paint colors when you're decorating a room. But don't underestimate the power of household hardware. These small items — doorknobs, drawer pulls, cabinet-door handles — are 'the jewelry' that can add style and sparkle to any space, says New York-based interior designer Young Huh. Just as the right necklace can turn a simple dress into a fashion statement, a striking new set of knobs on an old cabinet, or vintage crystal doorknobs can bring a huge dose of style to your home with minimal expense, she says."

99 acres

– "Doors are not complete without complementary hardware. An old-world brass handle on a striking, contemporary Brazilian hardwood door will be a style disaster, as would a modern steel handle on a beautifully carved door. So choosing the right companion for your doors is an important, aesthetic and integral part of giving that complete look to your home interiors."

Blue i Style

– "I knew I would love this modern door hardware, but I have to admit that I was blown away buy what a major impact it actually has throughout the house. Our new door levers really are the final accessory that we needed to tie together the look of our home!"
Schlage offers a variety of styles and finishes to help you tie everything together and have it looking beautiful. Our
Style Selector Tool
can guide you in finding the right design for you and your home. With the right choices, you can make a striking statement, from the front door to the back porch and everywhere in between.
Take inspiration from the season
Don't be fooled into thinking that you need to update your home merely for the sake of doing something different (although that can be reinvigorating). Be inspired by some of the other symbolism of fall. Focusing on preservation means this is our chance to create a home that will comfort us through the upcoming winter months. Protection directs us to be more aware of our surroundings so that we can make them more secure. And comfort is all about creating a cozy home we can hunker down in as if we were getting ready to hibernate.
When preservation, protection and comfort are top of mind, remember Schlage's commitment to quality and premium metal construction. Our exterior door hardware, including Schlage smart locks, is among the industry leaders in security, so you know your deadbolt will help keep you and your family safe. And, because style is great but functionality is vital, our interior door hardware is built to provide the reliability and privacy you expect.
Explore Schlage's range of door knobs and levers at Schlage.com. Or for greater security on your home's exterior, look into our stylish handlesets, deadbolts and smart locks. Change doesn't have to be scary or overwhelming. Embrace fall, embrace the change, embrace your new look.