Struggle-free style and security: Hacks for updating your door.
By emily.bailey
Wednesday, October 2, 2019
How do you replace a deadbolt? How can you keep paint from getting on your gorgeous new door knob? What if your hinges don't fit? These hacks will answer those questions and help you avoid other pitfalls.
Painting doors, updating locks and door hardware, and replacing hinges are outstanding ways to improve the security and style of your home. It can be daunting, however. How do you replace a deadbolt? How can you keep paint from getting on your gorgeous new door knob? What if your hinges don't fit? These hacks will answer those questions and help you avoid other pitfalls.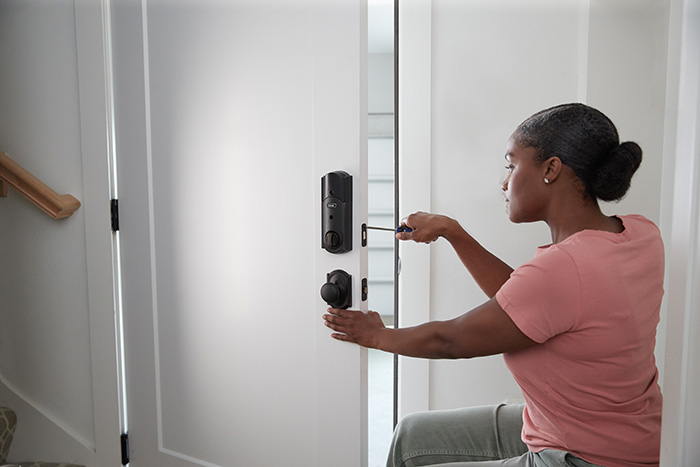 Hacks for knobs, levers and locks
When removing the existing hardware from your door, place painter's tape over the lock components to keep them together. This helps prevent the pieces from scattering helter-skelter on the floor as you remove the screws.


This is an important one if you're updating multiple doors simultaneously and you plan to re-install the same hardware, like after painting. Label your door hardware and keep all the pieces – knob/lever, trims, screws – together. A sandwich bag should keep each door's components contained easily.


When installing your locks, there will be multiple screws to tighten.

SFGATE suggests

you start by tightening the screws with your fingers, then switch to tools – this is where your screwdriver comes into play – at the end. To help keep the hardware straight and avoid pulling any components out of alignment, tighten one screw a bit, then move to another screw. Continue alternating until everything is securely fastened.


Schlage locks come with all the screws you need. If, however, you happen to lose one or choose a different brand that doesn't come with all the parts you need, resist the urge to use old screws, which may be weaker or stripped. Older screws can reduce the security and quality of your lock. You can

contact our Customer Care team

for replacements, too.


If you find your latch or deadbolt is rubbing, you may need to adjust the strike or use a chisel to create more space in the door jamb. To determine where the latch is rubbing and know where you need to remove extra material, apply a bit of lipstick to the latch, then check for smudges on the jamb.

This trick

from This Old House works great for installing new locks as well as maintaining your door and hardware over time.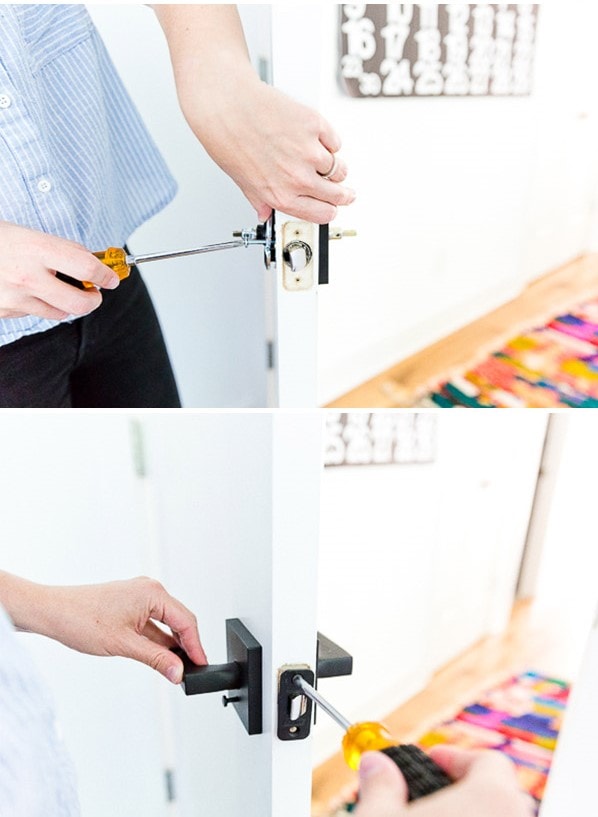 Hacks for hinges
When you replace hinges, you may need to fill holes left by the previous screws.

Chatfield Court suggests

using toothpicks covered in wood glue. You can then drill new holes for your updated hinges.


Naomi at

Plaster and Disaster

shared important lessons from updating her fixer-upper's doors and hardware. One tip is to check the depth of hinges. It's a measurement that often gets overlooked but can have a major impact on how well the door closes.


Don't be fooled into thinking you have to remove the entire door to replace the hinges.

Replace one hinge at a time

for the simplest of installations.
Hacks for painting
If you don't want to remove your hardware to paint your door, cover your knobs and trims in foil. It's a handy option if they have unusual shapes that make them difficult to tape off. You can also coat strikeplates or hinges in rubber cement. The rubber cement will peel off when you're done, taking any stray paint with it. Note that some rubber cement and even painters' tape can damage the finish of your hardware, so test it out before you commit. Check out our archive for more

door painting hacks

.


After you've painted your door, you may need to rehang it quickly, especially if it's an exterior door. Even paint that feels dry to the touch can scuff when you close the door, however. To reduce the chances of sticking,

Family Handyman

says to remove weather stripping or place painter's tape along the door jamb.
Now that you see how simple updating door knobs, locks and more can be, it's time to start choosing the right hardware for your home. Schlage offers a variety of styles and finishes, not to mention a range of mechanical and smart deadbolts, to fit any taste. Try our Style Selector tool to choose what's right for you and your home.