8 common worries you can kiss goodbye with keyless convenience.
By emily.bailey
Monday, September 23, 2019
That small key can add more frustration to your day than you realize. Embrace a keyless lifestyle and you can say goodbye to these eight common worries.
Picture this. You're running behind for work. In a rush, you lock your door from the inside, shut the door behind you and suddenly that sinking feeling takes over. You've locked your keys inside. Your only options are to hope you left a window open, kick the door in or call a locksmith and foot an expensive bill. This scenario is one every homeowner is all too familiar with.
That small key can add more frustration to your day than you realize. Embrace a keyless lifestyle and you can say goodbye to these eight common worries.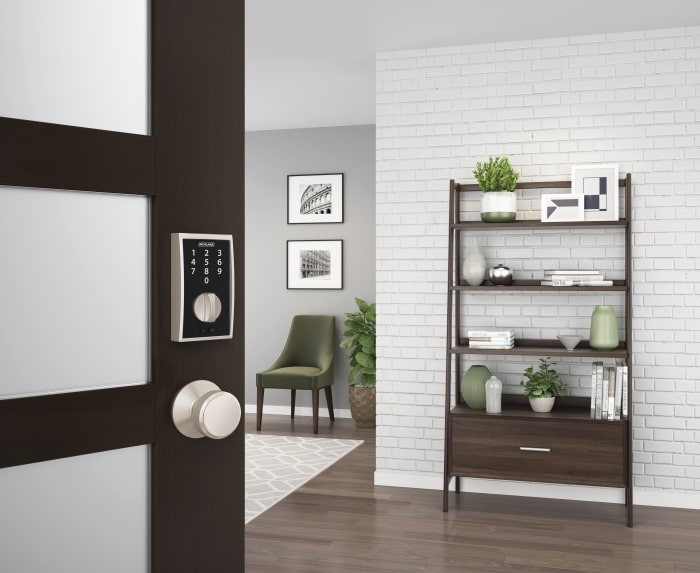 1. No more getting locked out
What's the best way to gain access to your home when you've been locked out? Keyless electronic locks let you come and go easily without worrying about what you're forgetting or what you've misplaced. Simply press a button on the exterior side to lock the deadbolt when you go. When you return, enter your 4- to- 8-digit user code to unlock. Keyless convenience means you never get left out in the cold again.
2. No more lost house keys
How often have you sent your child off to school with their own key only for them to return without it? Or maybe you lost yours while out and about. With keyless locks, you no longer have to worry about that. With the ability to assign a unique code to each household member, you can rest easy that your kids will not be stranded when they get off the bus.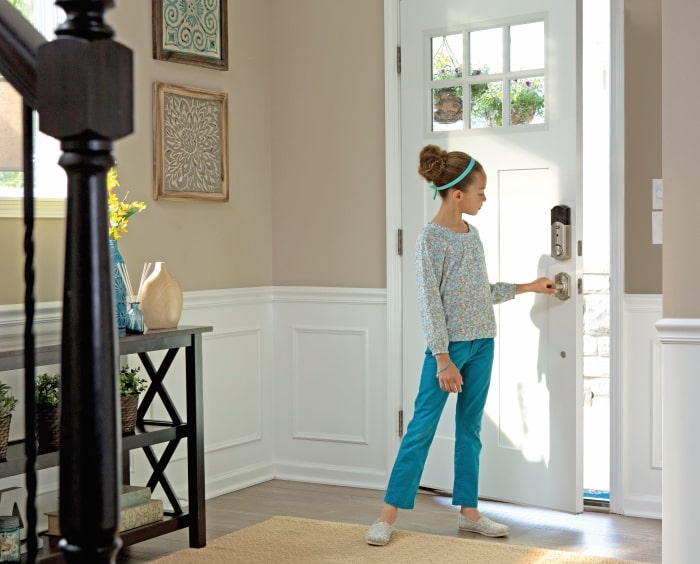 3. No more juggling spare keys
You don't have to create copies of keys, or wonder where those copies end up – just provide house guests with their own access code. With Schlage's variety of smart and keyless locks, you can create (and delete) multiple, unique user codes for trusted friends and family.
4. No more forgetting to lock the door
When Schlage smart locks are paired with a home automation system and your smartphone, you always know that the doors are locked when you're at the grocery store, in the office or on vacation. Simply use a compatible app, like the Schlage Home app, to check the status of your deadbolt from anywhere. If you did happen to forget to lock up behind you, a quick tap on your smartphone lets you secure the door even when you're already on the move. For extra peace of mind, consider setting up the auto-lock feature on your electronic deadbolt.
Be sure to see which apps and smart home hubs work with the Schlage Sense Smart™ Deadbolt, Schlage Connect™ Smart Deadbolt and Schlage Encode™ Smart WiFi Deadbolt.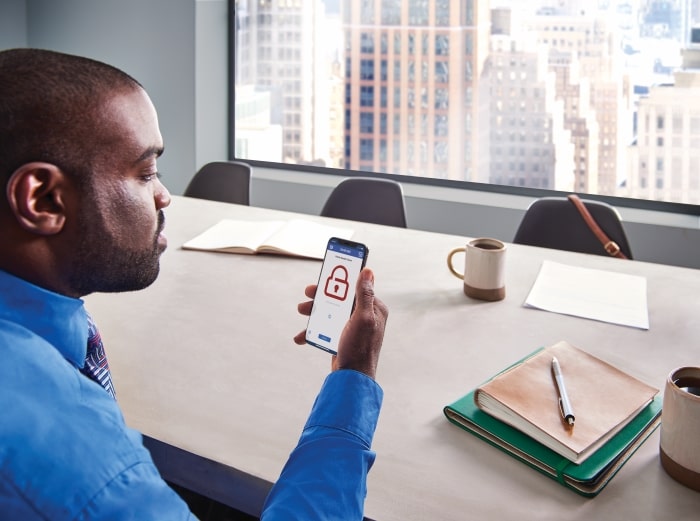 5. No more unwelcome guests
Both the Schlage Connect Smart Deadbolt with Z-Wave Plus technology as well as the Schlage Sense Smart Deadbolt and Schlage Encode Smart WiFi Deadbolt feature built-in alarm technology that senses potential door attacks. Set your alarm to sound depending on the level of force applied to your door. You can even set your electronic deadbolt to beep any time someone opens the door, so you always know when someone is coming or going.
The Schlage Touch™ lock is 100% keyless, meaning there is no key or cylinder of any kind and nothing for intruders to bump or pick. The numeric touchscreen is all you need.
6. No more being weighed down by keys
Keyless electronic locks are the perfect fitness companion. Go for a run without having to carry a key in your sock or take the dog for a walk without worrying if someone saw you hide the spare under that rock.
7. No more fumbling for keys at night
Each of our keyless locks features illuminated touchscreens or LED downlights that work in the rain and with gloves on. Whether you're juggling your groceries or you're arriving home late at night, get in the door with ease just by entering your unique user code.
8. No more searching for a light switch
When your electronic lock is connected to your home automation system, you can program other connected devices in your home to take action automatically when you unlock your door – cue the lights, adjust your thermostat, and more.
It's time to stop worrying about that pesky little key and start focusing on more important things in life. If you're already a keyless customer, be sure to increase your security even more with these effective keyless codes.