Green home improvement that's easy on the eyes, environment and wallet.
By emily.bailey
Thursday, September 5, 2019
These eight green suggestions are not only kind to the environment, but they can also help enhance your home's style and save you money.
Going eco-friendly is a win, no matter how you look at it. These eight green suggestions are not only kind to the environment, but they can also help enhance your home's style and save you money without a major investment in time or funds.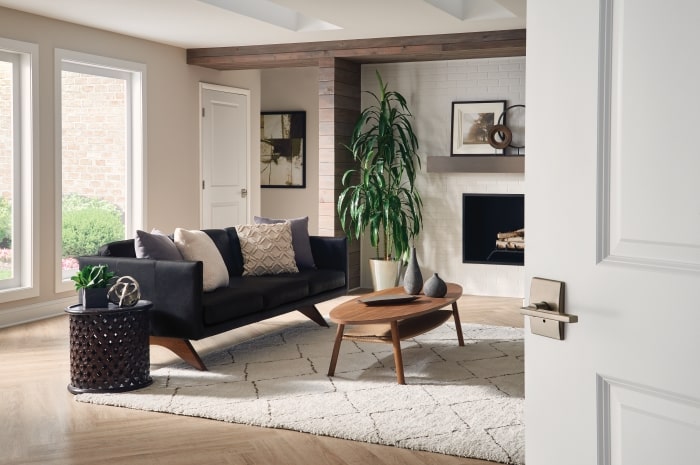 Solar-powered lights
If giant solar panels aren't in the budget, you can still let the sun – the ultimate renewable energy source – power your walkway lighting. Outdoor lighting like this has added security benefits as well. A well-lit home is less of a target for intruders.
Butterfly- and bee-friendly plants
"Bee" kind to the environment. Pay attention to native plant species that bees and butterflies love when planting your garden. Because these insects are attracted by brighter colors, their favorite flowers make a striking addition to your yard while also playing an important role in restoring the ecosystem.
Shade trees
Your air conditioner won't have to work as hard if your house isn't taking a direct hit from the sun. Strategically placed shade trees can help keep your home cooler with less energy and less expense. Make sure you choose trees native to your area.
Houseplants
Houseplants are the epitome of natural home décor. Ferns and palms help purify the air, making them a win-win in the eco-friendly and style categories.
Upcycled touches
Can you reuse your own belongings or give new life to someone else's? It's a great way to show off your DIY skills and add some vintage touches to your home, regardless of whether your style is ultra-modern or classically traditional.
Curbly.com has some DIY projects to get your home headed toward zero waste. We especially like creating a rain barrel for your garden, turning a bookshelf into a kitchen island and transforming empty food jars into storage containers. And speaking of storage …
Good food storage
When you have a good storage system, you know what you own and can use it wisely. This goes for anything – clothes, toys, crafting supplies – but it's especially important for food. Food waste puts a huge strain on the environment. Did you know that an estimated 25% of all freshwater in the U.S. is used to produce food that is thrown away? When you can easily see what's in your kitchen, you're more likely to use it before it goes bad, so you'll waste less produce and save more money.
Smart homes
Energy-efficient appliances – refrigerators, and other kitchen appliances, washers and dryers, water heaters – are a must if you want to make a big impact on the environment. How you manage those appliances as well as your HVAC system, lights and thermostats is equally important. When upgrading your home to be more eco-friendly, consider going smart. Choose a programmable thermostat for smart heating and cooling, easily control your lights with smart plugs and, because we're Schlage, create the ultimate smart home automation system with smart locks for your door.
Sustainable materials
If you're doing a bigger remodeling project, or even if you're simply replacing furniture, be sure to choose sustainable materials. Look for wood that is FSC-certified and sustainably sourced for flooring, furniture and more. Also think about recycled glass and ceramic make for uniquely beautiful backsplashes, tabletops or other accents.
How do you do your part for the environment? Share your eco-friendly décor solutions with us on Facebook or Instagram.