Increase your door security with the right deadbolt lock.
By emily.bailey
Friday, September 27, 2019
We all agree that door security is not something to take lightly, but you might be surprised how often some skimp on quality when choosing a deadbolt for their home.
We all agree that door security is not something to take lightly, but you might be surprised how often some skimp on quality when choosing a deadbolt for their home. With the right deadbolt lock, you can increase door security easily and affordably.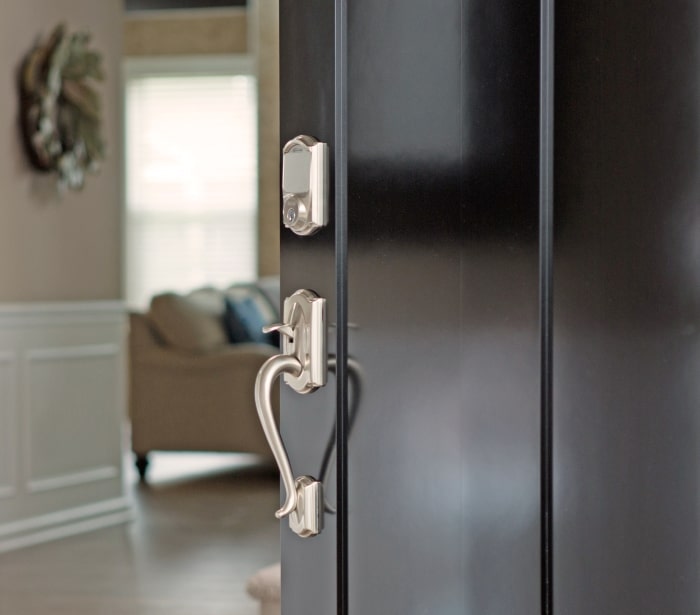 Types of door locks
At the most basic level, you have two deadbolt options for an exterior door – mechanical and electronic or smart. When considering a mechanical deadbolt, you can break it down even more to single cylinder or double cylinder. A single-cylinder deadbolt requires a key to lock and unlock your door from the outside only. A thumbturn is used for locking on the interior. This is the most common deadbolt today.
A double-cylinder deadbolt requires a key for locking and unlocking on both sides of the door. While this provides an additional layer of door security – intruders can't break a nearby window and simply reach around to flip the thumbturn – it is not always permitted on some properties. Because a key is required to unlock the door, even from the inside, it carries additional risks should you need to leave the house quickly in an emergency. For this reason, check with local building codes before installing a double-cylinder deadbolt.
Smart locks often feature a number of benefits that increase your door security, including built-in alarms, the ability to see when the deadbolt is locked and who has accessed the deadbolt, and unique access codes that remove the need to (unsafely) hide spare keys.
The new Schlage Encode™ Smart WiFi Deadbolt with built-in WiFi also has a built-in alarm that can detect potential breaches at the door and alert you via a smartphone app. The Schlage Connect™ Smart Deadbolt with Z-Wave Plus technology and Schlage Sense™ Smart Deadbolt also feature built-in alarms. All three Schlage smart locks allow you to program multiple access codes – including up to 100 for the Schlage Encode deadbolt – and provide the keyless convenience and peace of mind that make them so popular. Choose which smart lock is right for you and your family with our interactive Get Help Deciding tool.
Lock security grading
Regardless of whether you opt for mechanical or smart locks, you'll want to check the BHMA grading of the deadbolt. BHMA, or the Building Hardware Manufacturers Association, is an independent organization that evaluates door hardware and assigns it a grade (Good, Better, Best) based on its Security, Durability and Finish. A grade of AAA is Best, meaning it got top marks in all three categories.
Schlage mechanical deadbolts have earned a AAA grading from BHMA. So have The Schlage Encode Smart WiFi Deadbolt, Schlage Connect Smart Deadbolt with Z-Wave Plus and Schlage Sense Smart Deadbolt. That Schlage Connect Smart Deadbolt with Zigbee technology is rated BAA, only because it does not have the built-in alarm feature.
Signs of quality
Beyond BHMA grading, there are other signs of quality to look for to make sure you're getting the most secure door hardware. Companies that stand by their products often offer lifetime warranties. Schlage offers a Limited Lifetime Mechanical and Finish Warranty on all its locks, as well as Limited 3-year Electronics Warranty on smart locks and keypad deadbolts.
If you have the opportunity to test a deadbolt or other door hardware before you purchase it, look for something that actually feels substantial and strong in your hand. Schlage locks are made from premium metals – a quality you can feel – while some other manufacturers rely on plastic or other materials that may be more prone to breakage.
Other door security options
Oftentimes, the best-secured doors do not rely on deadbolts alone. Total home security is a combination of several efforts. Before installing any kind of deadbolt, make sure your door is properly prepared. A door or frame that is warped or with rotting wood offers a weak foundation for even the strongest of locks.
If you must hide a spare key, take proper precautions to do so in a non-obvious and, as a result, secure way. Use these tips for hiding a spare key safely.
Fans of smart deadbolts and other smart home solutions can use that to their advantage in other ways. Setting lights or window shades on a timer, or syncing them to a mobile device to control them from anywhere, can give the appearance that someone is home and deter intruders. Pair a security camera with select smart locks or a smartphone so you can see when someone is at your door no matter where you are.
Choosing the right deadbolt doesn't have to be difficult when you use our Product Selector Tool. And remember that door security isn't somewhere you want to cut corners. Read why high-quality door hardware is worth the investment.