8 small porch decorating ideas with huge style.
By emily.bailey
Porches historically played an
important cultural role
as meeting places. As a result, they tended to be larger and inviting. Today it's more common to see a postage-stamp balcony or a modest stoop. Just because your space is small, don't think your style needs to be too. Here are eight tips for decorating a pint-sized patio with welcoming
curb appeal
.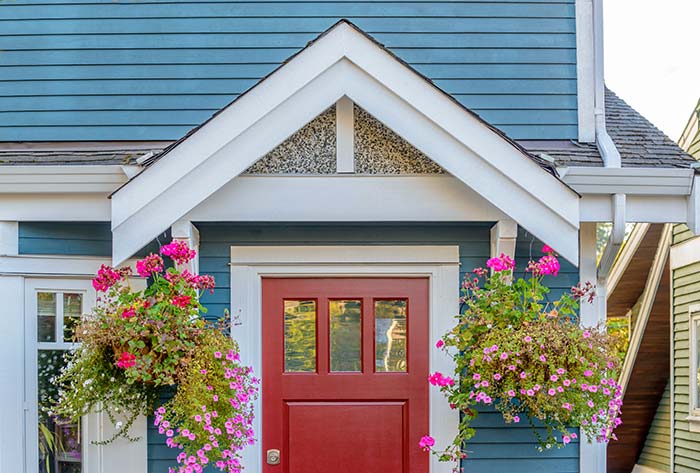 Take your design up
If you can't spread out, go up. Spaces look larger when you draw the eyes skyward, so try statement lighting fixtures, high-top tables and tall plants such as bamboo.
Open your horizons
Also try design elements that let the eye keep going outward. Glass tables are less likely to break up the space, and railings that are see-through give you unobstructed views. Again, HGTV.com suggests black cable railings, perfect for an industrial look. They also pair well with other fixtures such as Schlage door hardware in Matte Black finish to help build cohesive design throughout your porch and home. Country Living has another option that's more neutral and complements more traditional styles.
Plant creatively
Even if you have a true garden – all those urban balcony owners are jealous, by the way – you can still add plants to your small porch. The added textures and colors will help with curb appeal. To save space, get creative by hanging small pots on a screen or, like HGTV.com suggests, an upcycled crib railing. Try Good Housekeeping's idea by giving a table new life with greenery in a DIY trough.
Pick a piece that does it all
Now that you have a table/planter, keep the multipurpose theme going. You don't have a ton of room for redundant furniture, so consider a bench that doubles as seating or a table. An ottoman achieves the same goal, and both can be painted or spruced up with fabrics for a pop of color. Try a screen, which can hide unsightly items in storage and create a bit of privacy, an especially appealing solution if you have neighbors right on top of you.
Reflect the light
We often suggest adding mirrors to small foyers, and they work on small porches for the same reason. Mirrors reflect light to create the illusion of extra space. They're also unexpected outdoors, making them a unique statement piece. We love what Kathleen M shared on Hometalk.
Paint for a color pop
Paint doesn't take up any room, so if you're looking for visual interest without a physical footprint, this could be for you. Patterns on the floor of your patio are becoming more popular. And if you have a covered porch, a light blue hue can mimic the sky, making the space feel more open. When choosing colors – whether for the floor, ceiling, walls or furniture – remember to keep it light and bright to avoid feeling closed in.
Build in the style
Sometimes it's not what you add to the porch itself but to the home around it that can enhance your patio's curb appeal. Try an architectural statement like columns, porch brackets or corbels for visual interest that doesn't take up a ton of floor space. For smaller budgets, pick bold accessories like new house numbers, door hardware or a mailbox to spice up your front door.
Stretch the limits
Think your porch stops at the edge of the concrete slab? It might not have to. If you have a yard, keep the porch-like vibe flowing beyond the typical boundary. Add pavers or place potted plants just off the edge of your patio. Be sure to carry any design elements – maybe your door color matches your planters, or flowers in those planters continue from the porch, down the steps and into the yard – to maintain an intentional, cohesive look.
Small spaces can have just as big a design impact as any other. Make sure your porch's statement is one that welcomes you, your family and your guests. Follow us on Pinterest or Instagram for inspiration to turn outdoor spaces of any size into a lasting first impression.