Smarten up for back-to-school with this HomeKit smart lock.
By emily.bailey
Smart home technology can help you stay organized, add convenience when life gets hectic and give you peace of mind when it helps keep your family safe and healthy.
When schedules heat up during back-to-school season, you need everyone and everything running like clockwork. Smart home technology can help you stay organized, add convenience when life gets hectic and give you peace of mind when it helps keep your family safe and healthy. That's why we recommend the Schlage Sense™ Smart Deadbolt and HomeKit™ for that first day of school and beyond.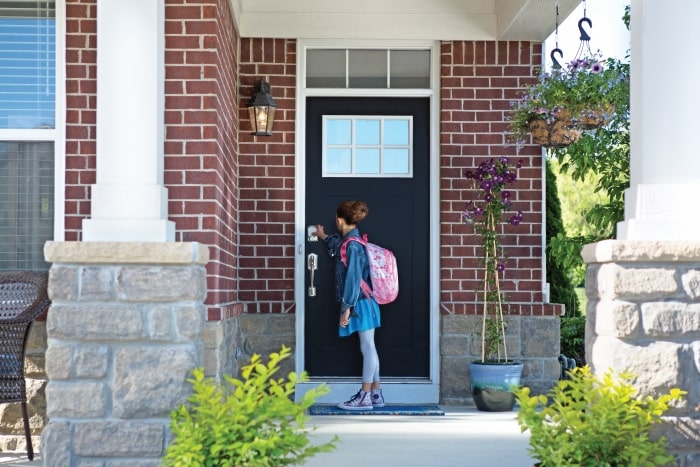 No key? No problem.
Home security might not be at the top of your mind when you're packing lunches and checking homework. But imagine how much simpler those things would be if you weren't also wondering if you remembered to lock the door. Imagine the comfort you'd find if you knew that your kids were safely at home even when you're in the office. With smart locks like the Schlage Sense deadbolt, you don't have to just imagine anymore.
Keyless convenience – whether you're unlocking the door with the touchscreen, checking your lock's status through your smartphone or controlling your lock with voice commands – is not only simple and convenient. It can also improve your home's security. When you assign a unique access code to trusted individuals, including your kids, there's no more hoping they don't lose their spare key. Then, when they use their code to get in after school, you can receive a notification that they've arrived home.
The Schlage Sense Smart Deadbolt also has a built-in alarm that can alert you via your smartphone, so you know if there's a disturbance at the door when the kids are home alone. And when you set up the auto-locking feature, gone are the days of wondering if the kids locked up behind them.

A smart – and secure – way to come home
The Schlage Sense Smart Deadbolt is compatible with a variety of smart home devices and systems. Pair it with the Schlage Sense™ WiFi Adapter to control access from anywhere using the Schlage® Home app. Or if you have an Apple TV® or want to use your iPhone®, iPad® or iPod touch® to control your lock, you can opt for the HomeKit option.
Whichever you choose, you get the same basic functionality in your lock. Control your lock, manage settings like auto-lock and the built-in alarm, and view access history remotely with the Schlage Home app. By pairing your Schlage Sense deadbolt with HomeKit you can also make it work in tandem with other HomeKit-enabled devices and use Siri® to lock and unlock or door.
Additionally, your Schlage Sense lock with HomeKit can be part of those convenient scenes you create. For example, when you activate your "bedtime" scene that connects a range of HomeKit-compatible devices, you can simultaneously lock the door, dim the lights and turn off the television to get everyone ready for bed so they wake up refreshed for another day at school.
To set up your Schlage Sense Smart Deadbolt with HomeKit, we recommend an Apple TV 4th generation or an iPad with iOS 10.0 or higher. (Find more details and stay up-to-date with the latest requirements at the Apple website.) If you are using an iPad as your HomeKit hub, it must remain powered on at home and connected to WiFi just as your Apple TV would be. Be sure to also set up your Apple TV or iPad with the same iCloud or iTunes account information as your iPhone.