Happy trails, wagging tails: Tips for moving with pets.
By emily.bailey
Our pets are part of our family, so make sure their transition is as safe and comfortable as possible, the same way you would for kids and other loved ones.
If you're stressed about a move, just imagine how Fluffy and Fido feel. Our pets are part of our family, so make sure their transition is as safe and comfortable as possible, the same way you would for kids and other loved ones. Here are our favorite tips for moving with pets.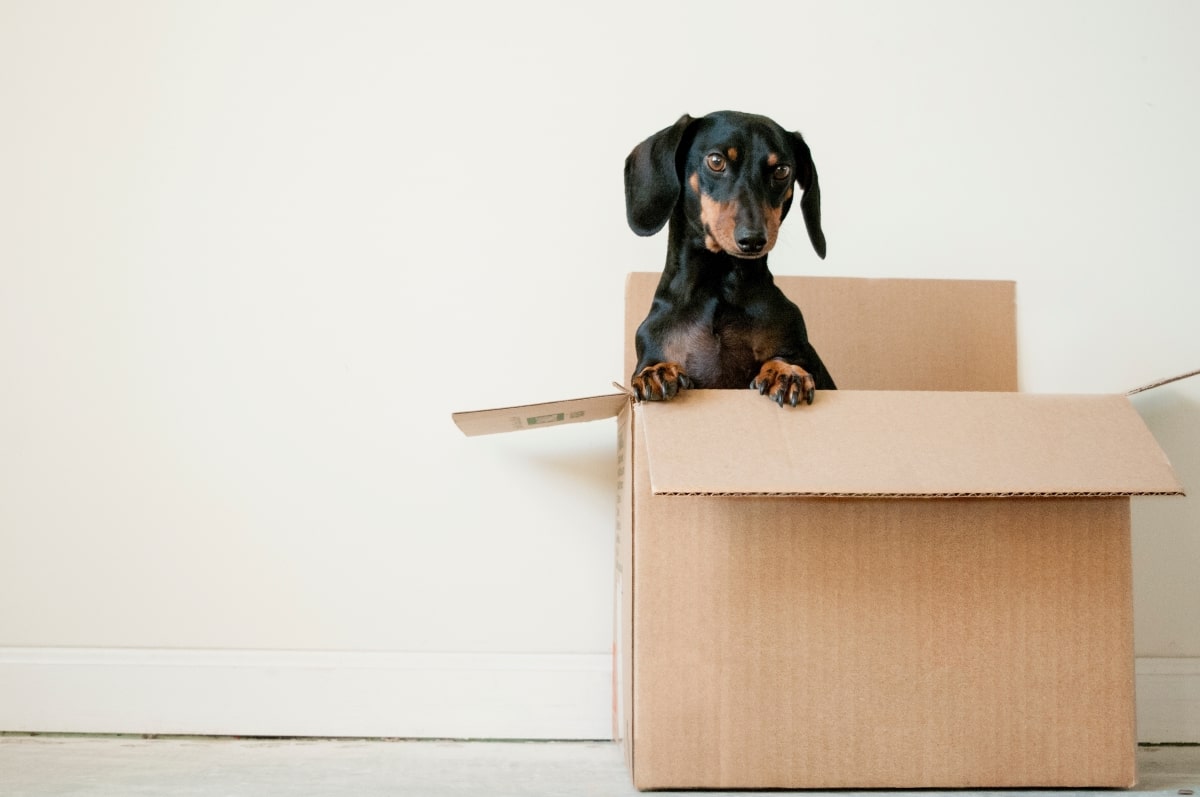 Keep calm
Find your inner calm. Animals have that sixth sense, so if you're anxious, they probably will be, too. Also, start early on getting your pet acclimated to its crate. If they aren't already crate trained, visit Purina.com for tips. This could take quite a bit of time and patience, so you'll want to put it at the top of your to-do list. Help them get used to their crate so they can relax during transport.
Know the rules
Research local or state ordinances for breeds, required vaccinations and tags, and leash laws in your new area. Also check with your homeowners' association about what documentation you need for your dog as well as what is permissible regarding new fences and home improvement projects you plan to tackle on Spot's behalf.
Check in with your vet
If your pet isn't already microchipped, consider doing that now. (If they are chipped, remember to update your address.) There are so many opportunities for them to give you the slip during a move – when the front door is open while hauling furniture, if they're confused by their new neighborhood, if they're determined to return to their old stomping grounds. Visit your vet to have your pet chipped and more:
Ask for tips about transporting your pet safely and comfortably, especially if you're traveling long distances.


Refill any medications your pet needs regularly before you leave.


Research what rabies shots and other vaccines your pet needs according to local regulations. Your vet can help with this and make sure Fluffy is up to code before you hit the road.


Ask for recommendations for a new vet, if necessary.


Get a copy of your pet's medical records for the new vet or to provide proof of vaccine, breed or other requirements in your new area.
Pack for your pet
Prepare an overnight kit for your pet, just like you would for yourself. You Move Me suggests enough food, toys, grooming tools and kitty litter – maybe even a second litter box – for the first few days in your new home. You might also include a worn T-shirt so they have your scent with them during high-stress times.
Secure them during the move
You don't want your pet to slip out when the movers have the front door propped open or trip you as you're carrying boxes. The simplest solutions? Assign a family member to be on dog duty to keep them entertained and out of harm's way. Ask a friend to watch them, maybe overnight. Or secure them in a "safe room" like the bathroom. From personal experience, we recommend putting a sign on the safe room door: "Escape Kitty – Do Not Open."
Drive or fly?
If you're transporting your pet by car, consider a safety harness (puppy seatbelt) and seat cover to protect your upholstery. Be mindful of when you feed your pet, especially if they get carsick. Among the New York Times' tips from the president of the International Pet and Animal Transportation Association is feeding them several hours before the trip and then not again until you're at your destination. If you're going long distance, be sure to book pet-friendly hotels so you don't have to leave them in the car.
If you plan to fly with your pet, check with the airline before you do anything. They will have regulations based on the type of pet, its size and even the time of year you're traveling. For example, if your pet is traveling in cargo rather than in the cabin with you, you may only be able to fly in the spring or fall when temperatures are more moderate.
Get settled
Your pet may need more time getting settled than anyone else in your family. Unpack their things first, preferably in a room just for them. Make sure they have their favorite food, toys, scratching posts and eau-de-owner T-shirt. You can slowly introduce them to the rest of the house from there until they get used to their new surroundings. It may take them a week or more before they feel settled, according to Indianapolis veterinarian Greg Magnusson, so be patient. A few extra treats probably wouldn't hurt either.
Magnusson also says it's especially important to maintain puppy's routine. Avoid changing its food and if you typically went for walks three times a day, stick with it. Also, take time to introduce your dog to the new neighborhood and all the new sounds, smells and people they're going to encounter from now on.
Pet-proof your new digs
To do #1: pet-proof the new home. The ASPCA says to tuck away all electrical cords, close off small spaces to keep your pet from getting stuck, secure window screens and remove pest-control traps with poison. Outdoors, you'll want to remove poisonous plants and secure the yard. If you have a fence, inspect it for loose boards or gaps, and double-check that it's tall enough that Fido can't make a leaping escape.
And here's a security tip for you and your furry friend. It's vital that you replace the locks on your new home as soon as possible. You never know who might have a spare key from before you took ownership. When you're updating your deadbolts, consider a smart lock. Not only do they provide superior security, but they also add convenience. Each Schlage smart lock stores multiple unique access codes for trusted friends, family and even dogwalkers or pet sitters. You can schedule codes to be active at certain times of the day, so if your dogwalker comes Thursdays at noon, you can set up the code to work only when they're expected. You can also use the activity log in compatible apps on your smartphone to see when a code was used, so you know if your pet sitter arrived on time.
Finish with friendly details
Finally, find all those resources your pet will need and love – the park, a new doggy daycare/boarding service, groomers – and introduce your four-legged family members to the neighbors. Maybe schedule a puppy playdate. It's the perfect way to get to know your new neighbors and it will be helpful to have some helping hands in the future if you need someone to cat sit or search for a lost dog.
We know not all pets are felines and canines. Visit You Move Me for tips on moving birds, fish and guinea pigs. My Moving Reviews has advice for reptiles and amphibians.
Visit Schlage.com for more tips and resources for moving. If you're ready to replace your deadbolts but don't know which smart lock is right for you, try our Get Help Deciding Tool.