Simple, stylish curb appeal to improve your vacation rental bookings.
By emily.bailey
You want two things from your vacation rental: lots of bookings and low maintenance. One way to achieve both is with some major curb appeal.
You want two things from your vacation rental: lots of bookings (which leads to income) and low maintenance. One way to achieve both – whether you're local to your rental property or live in another state – is with some major curb appeal.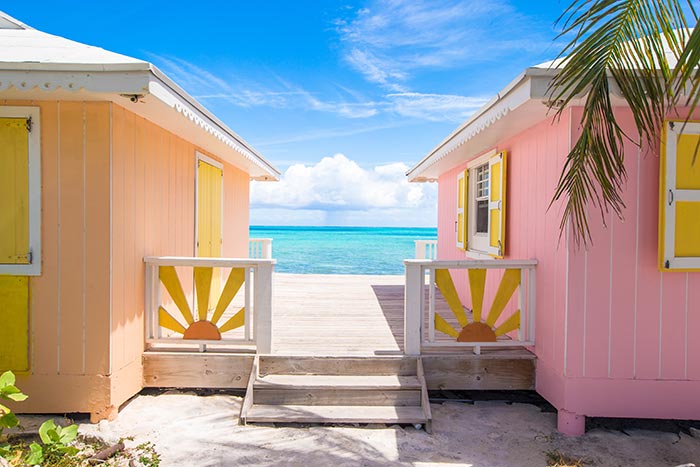 What's the big deal about curb appeal?
Amenities like a well-stocked kitchen and soft sheets are important for a vacation rental. But just like your own home, the front entryway makes a powerful first impression, and you want your guests to feel good immediately about staying with you. Renters make a snap judgement about what they're their visit will be like, often based on the appearance of the house the moment they see it.
Curb appeal also comes through in photos. A well-maintained yard and attractive door in your booking photos can help sell prospective renters on your property over someone else's. It says that you take care of the house and that details don't go overlooked. To many, those are signs that they'll enjoy their stay, and that means more bookings and more money in your pocket.
Check out VRBO's tips for taking better photos of your rental property. And don't forget to update your photos around holiday time. When people are looking for the perfect Christmas getaway, a house decorated for the season can be a tipping point as well.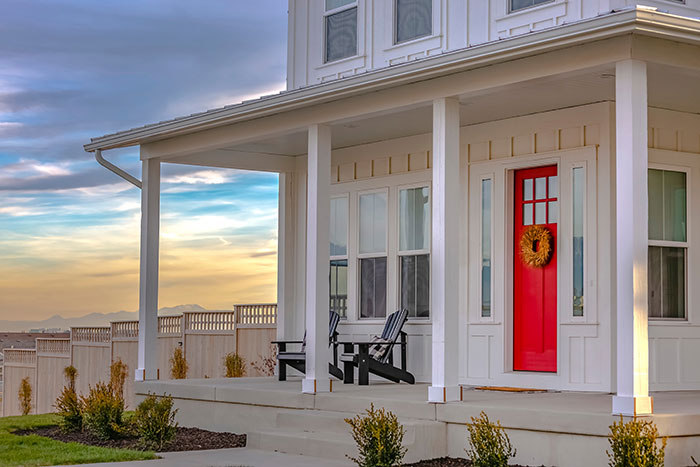 Update the front door
There are plenty of simple and cost-effective ways to update your property's exterior. In addition to a fresh coat of paint on the door and shutters, remember the small details that make a big style statement as well as make life easier for your guests. Real Property Management has tips for a variety of budgets. Here are some of our favorites.
Unique house numbers can spruce up your look in addition to making it easier for people to find the place. Remember that your guests have likely never been to the area, so anything that helps them arrive smoothly and stress-free earns you major hosting points.
Your door hardware also pulls double duty when you match the style to the rest of the house and make it more secure. Schlage offers a variety of styles and finishes to match virtually any taste. Ranging from traditional to modern and everywhere in between, you'll be able to find the handlesets that complement your style.
With a smart lock like the Schlage Encode™ Smart WiFi Deadbolt, you also get superior security and keyless convenience that makes managing your rental property even easier. Check out our take on why smart locks are a must-have for rental properties and tip sheets to help your guests use Schlage smart locks easily.
Beautify the front yard
When you step back from the front door – make sure your porch railing is solid and steps aren't cracked, by the way – you want the front yard to get noticed for the right reasons. If you're looking for big impact, think about updating the landscaping to make a big impact. This can be tricky for rental properties. You want it to look fantastic, but especially if this isn't your primary job or if you don't live nearby, you don't want to invest a lot of time and money in upkeep. For an award-winning lawn without the hassle, experts recommend avoiding tropical and non-native plant species that require extensive watering and replacing a natural grass lawn with artificial turf or other low-maintenance ground cover.
For a floral punch of color, tripping.com provides a list of easy options for any region in the U.S. Rubber mulch also might be an option since it not only comes in a variety of colors, but also can control weeds and maintain moisture around your plants.
Aside from the natural elements, invest in quality pavers and walkways. Existing paths should be free of cracks for a polished look and for safety. Pavers now come in a range of styles or you can design your own unique pattern that is both welcoming and functional.
Remember the lights. Whether on the porch or along the walkways, make it easy for guests arriving at night to make their way to the front door without stumbling. Solar-powered lights are great options. You can also choose lighting that pairs with your smart system so you can turn it on and off in preparation for your guests' arrival or to deter intruders if the home is vacant.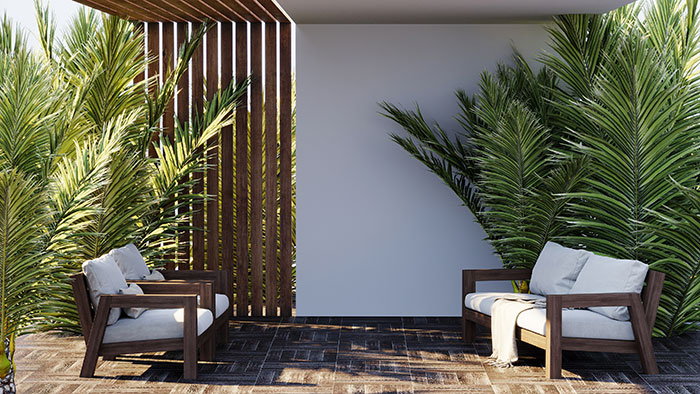 Transform the backyard
Depending on your location and what type of renters you get, you might want to pay special attention to the backyard. Many prospective renters are looking for a place for group gatherings – family reunions, weddings, girls' getaways – and having plenty of outdoor space with comfortable seating and a splinter-free deck is a huge draw. Make sure the deck is safe for bare feet and has secure railings. It should also look great – paint, stain and seal it regularly – not to mention be clean.
Patio furniture should also be spotless, obviously. Consider providing cleaning supplies to wipe down outdoor furniture, a suggestion that often shows up in renters' reviews. Installing a shed or some large bins to easily store furniture and cushions will also make your life easier if you have an off-season.
Vacations are fun, so you can afford to be a little creative when designing your curb appeal for a rental property. You might even be able to cash in on your location, like HomeAway recommends with nautical décor for a beach rental. Just remember that it should still appeal to a wide variety of tastes so that you don't turn off prospective guests with zany style. You might compare it to staging your house when putting it on the market for sale. Neutral, clutter free and clean bring in the most money in the end.
Find more curb appeal tips for any home at the Schlage blog and visit our Pinterest page for inspiration.