What to do with your Schlage smart lock when moving.
By emily.bailey
With Schlage smart locks, the simplicity of installation and use stays with you all through this life transition.
Congratulations on your new home! You probably have lots of logistics to plan and even more questions that need to be answered. We're here to solve one quandary – what do you do with your smart locks when you move? With Schlage
smart locks
, the simplicity of installation and use stays with you all through this life transition. Check out these two options.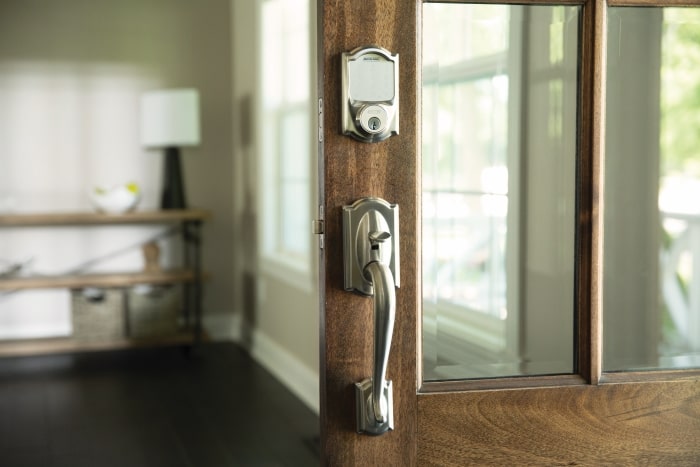 Take your lock with you
Transferring your lock to your new home is easier than you think. When you disconnect your Schlage smart lock to move, don't worry about losing your information. In nearly every case, as long as you do not manually complete a Factory Default Reset, your access codes, synced devices and other data will continue to be stored even after uninstalling your lock or removing the batteries. When you get to your new home, simply reinstall the lock, make sure your WiFi network or smart home system are up and working again, and you're ready to go.
A special note for those using the Schlage Sense™ Smart Deadbolt with the Schlage Sense™ WiFi Adapter: Your devices will remain paired after your move. However, if your WiFi network information changes at the new house, you will need to complete the setup process with the adapter again. This is so that the adapter and lock can identify the new WiFi network name and Service Set Identifier (SSID) to continue providing you access from anywhere.
Leave your lock for the new owners
If you decide to leave the smart lock on the door for the new homeowners, you'll want to complete a Factory Default Reset. This removes your manually programmed access codes and allows the new owner to create their own. It also resets the lock so that it's no longer synced to other smart hubs or devices. Follow the links below to complete the Factory Default Reset on your lock:


Hopefully you still have the pre-programmed access codes and programming code that came with the lock. If so, provide those to the new owners as well. You can find these codes in the Quick Start Guide or on the inside of the back of the lock.
Like the Schlage Encode Smart WiFi Deadbolt, the Factory Default Reset of your Schlage Connect Smart Deadbolt with Z-Wave Plus technology can also be accomplished by holding the Enrollment button on the lock for seven seconds. The LED lights will indicate if the reset was successful. The new homeowners also won't require the programming code to re-enroll the lock. They can use the Enrollment button or the Smart Start QR Code for enrollment.
Moving might feel overwhelming sometimes, but at Schlage, we try to make sure your home security isn't part of that stress. Visit our Real Estate page for more tips and a helpful moving checklist.