10 inexpensive ways to enhance your home security.
By reference-adjustment-service
Improving your home security is important any time of year. Here are 10 ways to improve your home's security without breaking the bank or your back.
As far as we're concerned, improving your home security is important any time of year, not just at holidays when you're concerned about packages. But with the change of seasons, now might be a good time to do a quick audit of how safe your house and belongings are. Here are 10 ways to improve your home's security without breaking the bank or your back.
Rule #1: Regardless of the kind of locks you have on your home, use them. It's easy to forget to lock up or feel like it's necessary, especially if you're at home. But an unlocked door, no matter how strong your deadbolt or security system, won't protect you from would-be-thieves.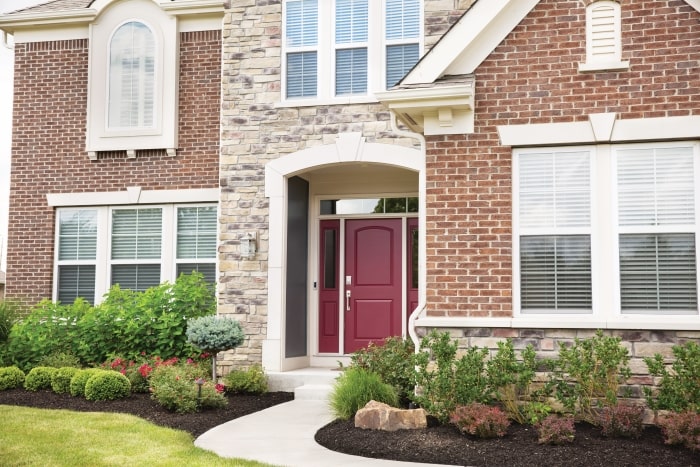 Smart security
Not all smart technology costs an arm and a leg, and it's not all difficult to set up.
Timers: With a simple smart plug or plug-in digital timer, you can schedule lights and even shades to give the impression that someone is home. This is especially handy when you're on vacation, although it's effective for everyday life, like when you head out to dinner. Some of these have the benefit of "set it and forget it" for additional ease of use. When you add a

garage door timer

to your security efforts, there's no more wondering if you closed the door after bringing in the groceries either. These timers automatically lower the door after a certain length of time.


Smart locks: There are so many features on a Schlage smart lock that can enhance your home security. Keyless convenience means there are no spare keys to lose and no fake rock, which isn't that secure anyway, to hide. When you sync your smart lock with an app like the

Schlage Home app

, you can easily monitor the status of your deadbolt, lock it from anywhere if you forgot before you left the house and see who has used access codes to come and go. Many smart locks also have an auto-lock feature, meaning that if you do forget to lock up behind you, your deadbolt will take care of it for you.

We have a

variety of smart locks

that work with different home technology. The

Schlage Encode™ Smart WiFi Deadbolt

features built-in WiFi, making it increasingly affordable because no additional smart home hubs or accessories are required. It's battery-powered, so no wiring is necessary, and interactive instructions make installation easy.


Motion sensors: Lights are always a good way to deter burglars. Motion sensors have the additional benefit of being a bit startling when a light unexpectedly shines on an ill-intentioned individual. Depending on your setup, sensors can also activate cameras, a push notification to your phone or even sound effects like a barking dog.
Low-tech security
Cavemen had spears. Because sometimes all you need is a stick.
Sliding door stops: How can a stick keep your home safe peacefully? Place it in the tracks of a sliding door to make it more difficult to sneak in the back door. According to

Safety.com

, nearly a quarter of thieves enter the house through the back. You can go high tech or keep it basic. Try a piece of PVC pipe. Then run a string from end to end to make pulling out of the slider's tracks simple for you.


Window stops: You never want to seal off a window – what about those refreshing breezes? – but a window stop can keep a ground-level window from opening wide enough for unwanted entry.


Shed locks: Not everything that's valuable is necessarily in your house. Secure substantial sheds and garages with

mechanical deadbolts

to protect your power tools, mowers and other big-ticket outdoor items.
Green security
Plants can both help and hurt your home's security. Make them work in your favor.
Trim shrubs: Overgrown bushes, especially around entryways and windows, provide easy cover for intruders. If you really want shrubs in these areas, keep them trimmed down.


Prickly plants: Another option if you love greenery around your doorways is to choose bushes with thorns and other painful defense mechanisms. No one will want to hide in acacia or climbing roses.
Social security
No neighborhood watch? No problem.
Meet your neighbors: Even if your community doesn't have an official neighborhood watch, ask those living near you to keep an eye on your house, especially when you head out of town. They can pick up your mail, park their car in your driveway and even put some of their garbage in front of your house on trash day so it doesn't look like you're away.


Avoid social media: Yes, we know it's exciting that you get to go to Hawaii. And it's probably even more exciting for potential thieves who know it'll be a while before you return. It's tempting, but try to hold off on status updates that make it obvious your house is empty.
Remember that enhancing your home security doesn't have to be expensive and it certainly doesn't have to be unattractive. Find more ways to make your home safer while also boosting its curb appeal here. And don't forget to share your security ideas with us on Facebook and Twitter.