4 spring color combinations to wake up your front porch.
By emily.bailey
Wednesday, April 24, 2019
Springtime. You're ready to break free from the drab winter, so it's the perfect time for a color explosion.
Springtime. You're ready to break free from the drab winter, so it's the perfect time for a color explosion. Whether you're itching to douse your home with as many colors as possible or you're hesitant to go too bold when decorating for the new season, never fear. We have a range of suggestions for front porch spring color palettes perfect for any taste.

Unlike fall color palettes for your porch, which generally rely on rusty reds, browns, oranges and yellows, spring palettes give you a wider range of options. You'll typically see more primary colors – blue, yellow, red – but even these can run the gamut from a tropical splash to a subdued beachy pastel.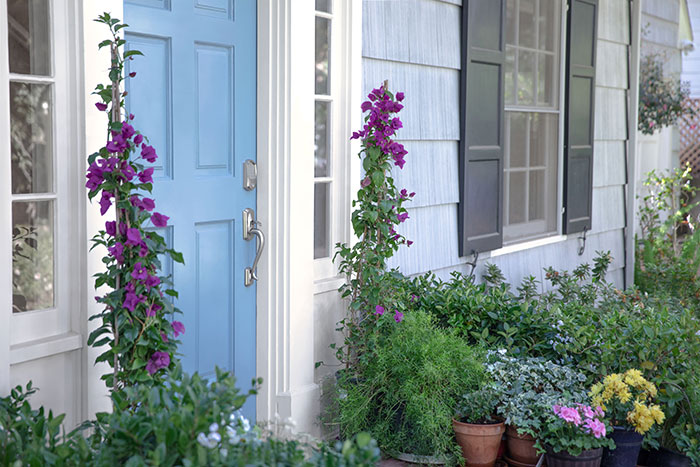 Yellow + Blue + Green
This combination often balances hues found in nature – think green – with unexpected punches of contrast – hello, yellow! Ann from On Sutton Place kept her spring front porch decor simple, but that hardly makes it dull. A blue lantern, greenery in the planters and yellow sprinkled throughout pillows, the door mat and flowers, give this a cohesive and classy look. It's also a perfect example of how to use neutral-colored furniture as a backdrop for more vibrant hues as well as complementing your home's color palette – the blue door and brick – with your spring décor.
StoneGable
focused on blues and greens for this patio makeover. What makes it extra special, besides just the pops of color, is the way the décor complements the blue and gray undertones of the home's stonework.
Blues and greens are also great for waterside. They're perfect for front porches or even pool patios, as you can see in
Shabbyfufu
's update and the tropically inspired porch from
Artisan of Seagrove
.
There's no need to relegate yellow to a mere accent.
Satori Design for Living
picked the sunny shade as her focal point. A yellow bench dominates the color scheme on this porch with less obvious blues and greens thanks to potted plants.
Coral + Blue + White
You can use pinks and blues together without it looking like an Easter egg hunt or a baby shower. Both Lolly Jane and City Farmhouse brought in coral drink trays and blue or turquoise accents to liven up their porches. They also relied on white furniture to balance the overall look. Pillows with those colors, as well as a few others, in the pattern help to tie everything together.
And a
Grandin Road
made a gorgeous pairing out of this coral chair, a minty-colored door, and black and white accents.
Red + Black + White
It might not be a color combination that causes spring to immediately … well, spring … to mind, but it's the kind of contrast that makes a bright color like red really jump. Midwest Living used red, offset by white furniture, in pillows, flowers and other decorative pieces.
And here's
another example
of what red paired with a neutral can do for your curb appeal.
Orange + Pink
This combo is not for the faint of heart. To avoid it feeling like Halloween, think less rust and more sunset. This seaside porch did just that, capturing sunny rays in pillows and rugs.
Go all in with orange, pink and purple, like
DIY Network
did with these orange curtains and other fabrics. No matter what color you choose, when dealing with textiles for your porch, make sure they're outdoor quality to avoid mildewing and fading.