Guide to the best types of door knobs for every room.
By emily.bailey
By choosing the right types of door knobs, you can capture a surprising amount of convenience and elegance for such a small detail. With this guide, not to mention its expansive collection of door hardware, Schlage makes it simple to bring security and style to your home.
Bed & Bath Privacy Door Knobs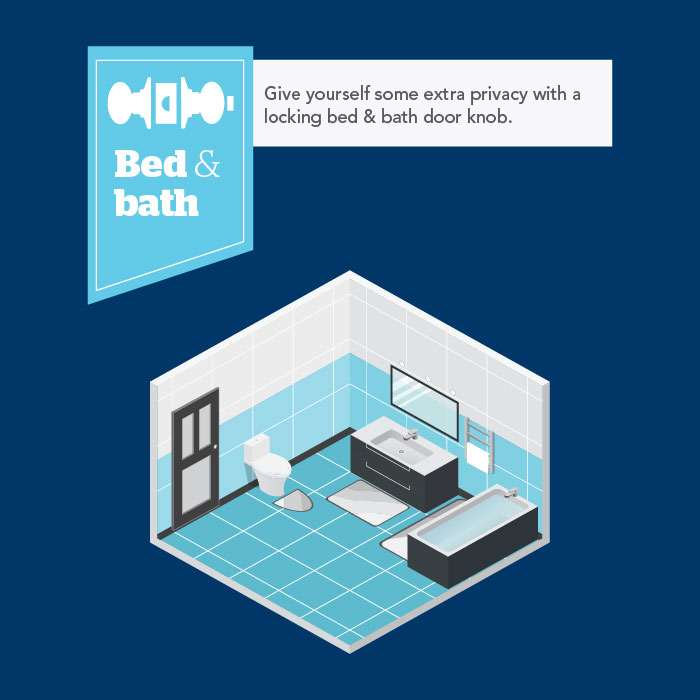 Give yourself some extra privacy with a locking bed & bath door knob.

Perfect for bedrooms, bathrooms, home offices and otehr interior rooms requiring basic security and privacy.
Locks by pushing in or turning the privacy button, unlocks by turning the knob.
Schlage bed & bath locks come with emergency pin key for easy unlocking.
Hall & Closet Passage Door Knobs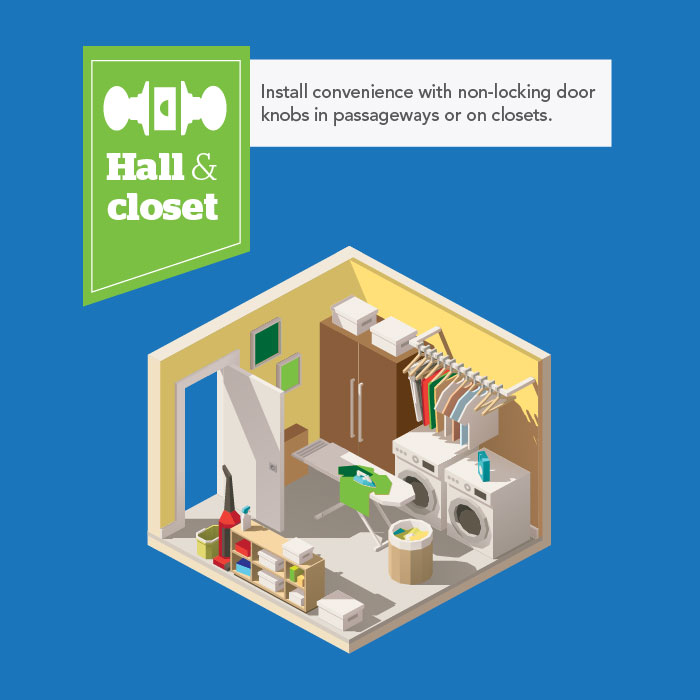 Install convenience with non-locking door knobs in passageways or on closets.

Ideal for hallways, closets, kitchen pantries, laundry rooms and other spaces where locking is not necessary.
Always unlocked for ease of entry.
Can be paired with a smart lock or keyless deadbolt on exterior doors or with non-turning knob for the interiors of smaller closets.
Non-turning inactive Door Knobs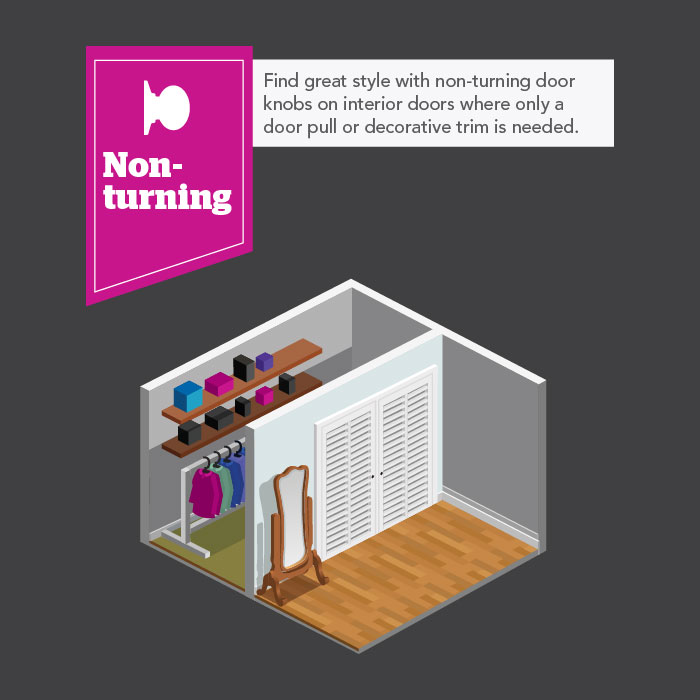 Find great style with non-turning door knobs on interior doors where only a door pull or decorative trim is needed.

Also known as dummy or inactive door knob.
Works best on small closets, interior French doors and in other entryways where neither locking nor latching is needed.
Decorative door pull without a lock makes it easy to open the door just by pushing or pulling.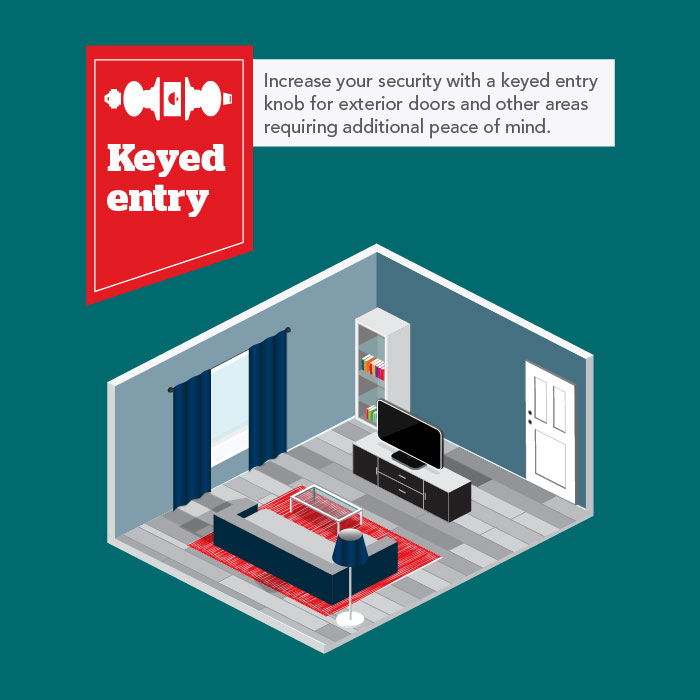 Increase your security with a keyed entry knob for exterior doors and other areas requiring additional peace of mind.

Optimal for exterior doors such as front entryways or patio doors as well as large storage areas, basements or areas where extra security is desired.
Unlocks when door is opened from the inside, allowing you to leave quickly and conveniently as well as re-enter easily.
Use a key from the outside or manually rotate the interior turn button to lock and unlock.
Combined Interior Door Knobs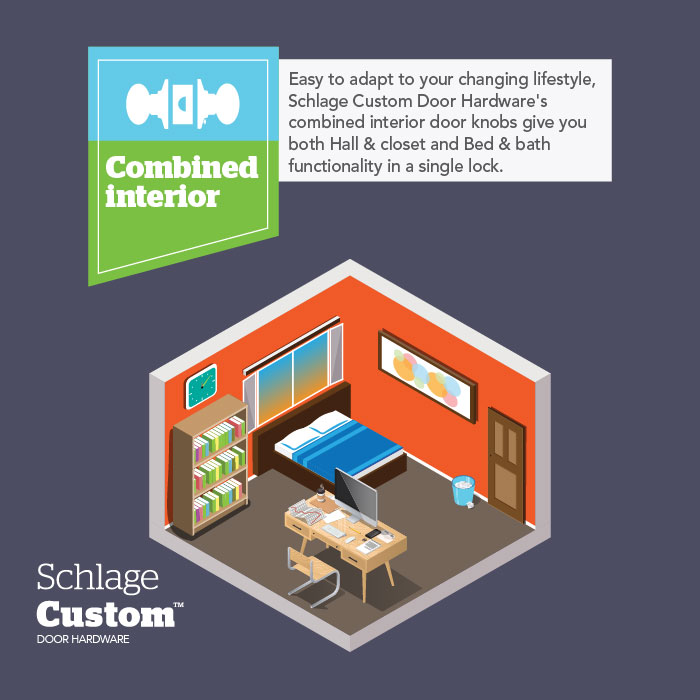 Your home should evolve with the needs of your family, so Schlage Custom™ Door Hardware features combined interior door knobs, making it easy for your locks to adapt to your changing lifestyle. You get both Hall & Closet and Bed & Bath functionality in a single lock.

Lock adapts to the ever-changing life of the room – from nursery to bedroom to office and back again without ever taking the lock off the door
No more miscounting doors – with both functions in the same lock, it's easier to take home exactly what you need
Simply insert the locking pin on the interior side of the lock to change from passage to privacy
Style is in the details
No matter which type of door knob you choose, you can be confident in the safety, simplicity and style of Schlage. Our door knobs:

Come in a variety of styles and finishes to complement the look of any home
Install easily with just a screwdriver
Adjust to fit all standard door preparations, so there's no need to drill new bore holes or replace a door just to install your new knob
Are graded best in Residential Security, Durability and Finish
Come with a limited lifetime mechanical and finish warranty
For even more help choosing the right door knobs for your home, visit our product selector tool on schlage.com. To view the full resolution infographic, click here.
Share the Types of Door Knobs Infographic On Your Site