New home design and style trends revealed at IBS® 2019.
By reference-adjustment-service
Schlage's design team presented an impressive collection of new products and finishes in the kind of premium, trending styles and designs that consumers want.

New Schlage Custom™ Door Hardware combined interior knobs, trims and finishes were featured at IBS 2019.
Schlage joined more than 1,500 top manufacturers in Las Vegas at the 75th NAHB International Builders' Show (IBS), the largest light construction trade show in the world. It was the biggest show in a decade, with more than 130,000 attendees. IBS 2019 served as a global showcase for well-known brands like Schlage, Bosch, GE, Amazon, Delta and Kohler to showcase the latest styles and the most innovative new home products and services in the world.
Growing in style
For Schlage, IBS 2019 was a true style showcase. In the midst of the buzz about smart home technologies like the new Schlage Encode™ Smart WiFi Deadbolt, Schlage's design team presented an impressive collection of new products and finishes in the kind of premium, trending styles and designs that consumers want.
"It was exciting to introduce so many new things at this year's show," says Ted Roberts, Style and Design Chief for Allegion, maker of Schlage locks. "We've been able to tap into some popular design trends with this year's offerings and deliver a real balance between function, user experience and aesthetics."
Geometric patterns and organic materials, textures and designs were prevalent throughout the show. These trends appeared in a variety of combinations in everything from hardware, tiles and glass to sinks, bath fixtures and lighting.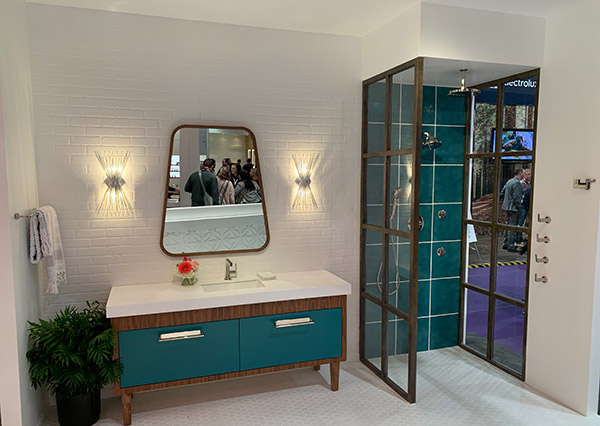 Delta Faucets' modern bathroom vignette at IBS incorporated bold color, geometric lines and lots of style.
Colors and finishes were just as varied, with blues, greens, desaturated reds and grays showing well and finishes like satin brass, polished brass, copper and gold competing with brushed stainless for attention.

Kohler's ombre metal faucet showed a modern way to mix metallics.
For Schlage, foremost in this year's collection were new styles and finishes for
Schlage Custom™ Door Hardware
combined interior knobs, trims and finishes. New Arts & Crafts designs, popular throughout the IBS show floor, lent a measure of cool to the traditional. Clean, modern lines, as well as retro character influenced by furniture designs of the 70s, were popular sources of inspiration for a host of designs, including some of Schlage's own.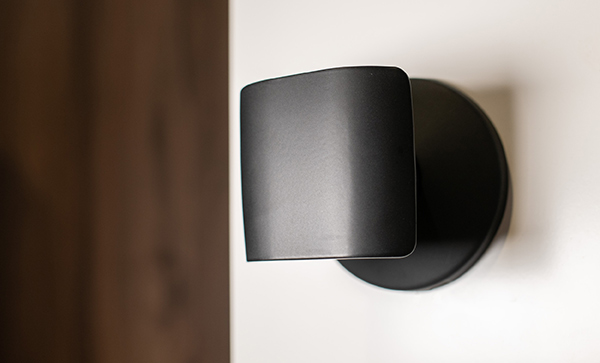 New Schlage Ganton knob in matte black provides curves and character.
The smart home experience
Roberts was pleased to display Schlage's commitment to premium style, function and connected technologies through its variety of smart home solutions.

Schlage's IBS smart home solutions wall showcased the latest in smart lock technology and partnership integrations.
"It's important that our electronic locks reflect the same attention to detail, look and style as all of our products, " says Roberts. "We're working to achieve a fully integrated aesthetic between our electronic locks and the interior door hardware we create for throughout the home. We like to think of it as a whole-home solution."
Handlesets, privacy locks, deadbolts, passage knobs and levers – they are all coordinated with products like the Schlage Encode™ Smart WiFi Deadbolt, which are designed for exterior doors.

The new Schlage Encode Smart WiFi Deadbolt's sleek and timeless design features can amplify any home's curb appeal.
"Our newest products like Schlage Encode™ Smart WiFi Deadbolt offer exciting new styles, functions and features that haven't been available with previous models. We were proud to be able to show them off at this year's show among the best products and manufacturers in the industry," concludes Roberts.
The best, on display
The 2019 International Builders' Show put today's very best styles, products, manufacturers and technologies on display.

Schlage Connect Smart Deadbolt with Camelot Trim in new black stainless finish.
Schlage represented with a showstopper of its own – a new black stainless finish that is slated to hit the consumer market in June 2019 after its introduction this year in the residential professionals and builder markets. Created to coordinate with today's popular black stainless appliance finishes and even with new plumbing and fixture designs, the new finish reflects Schlage's passion for embracing today's most important style trends. Schlage and its design team are constantly working to bring today's most popular looks to door hardware throughout the home. This is important to designers, builders and, ultimately, to their clients and the reason showcasing such new designs is so central to the IBS experience.