Schlage and IBS® 2019: the home of the future, today.
By emily.bailey
Companies like Amazon, Ring and Schlage displayed the latest and greatest in smart home technologies that promise to drastically change the way we live and interact with our world.

Schlage's smart solutions booth at IBS 2019 showcased the latest in smart lock technology and partnership integrations.
Securing today's smart home was a particularly prominent theme at this year's NAHB International Builders' Show (
IBS
) in Las Vegas. Companies like Amazon, Ring and Schlage displayed the latest and greatest in smart home technologies that promise to drastically change the way we live and interact with our world. "Peace of mind" was a prevailing theme throughout the show with the innovative features and capabilities of smart home products supporting the idea of making one's home one's castle.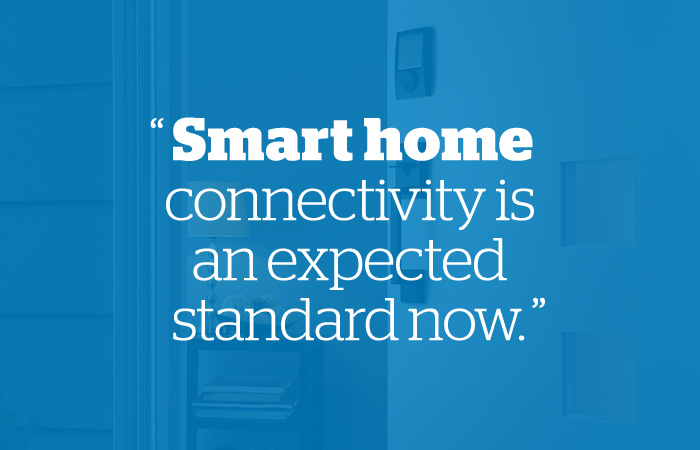 Automated home security has developed into expectation for homeowners thanks in part to the growth of voice control, connected security cameras and systems, smart locks, connected appliances, comprehensive smartphone control and more. It is against this backdrop that Schlage introduced the Schlage Encode™ Smart WiFi Deadbolt to more than 100,000 attendees at this year's show.
According to Builder Magazine: "Smart home connectivity is an expected standard now in new-home construction and savvy builders are responding to meet this need."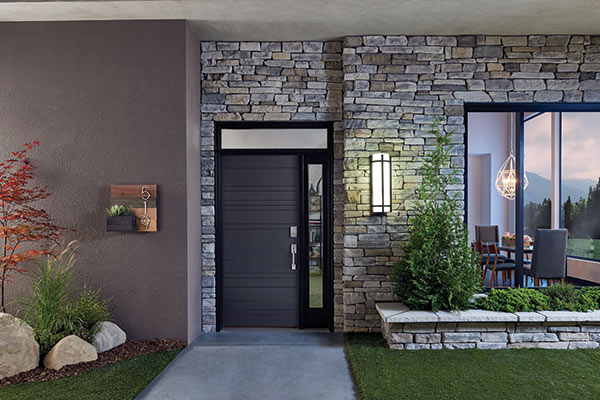 The latest in smart lock technology, the Schlage Encode Smart WiFi Deadbolt, is the perfect compliment to any truly connected smart home.
Peace of mind from anywhere
That's the promise of Schlage's newest smart lock. The Schlage Encode™ Smart WiFi Deadbolt features built-in WiFi that allows users to lock and unlock their doors from anywhere using their smartphone. There's no need to purchase an extra hub or other accessories.
Voice control via Alexa, custom access with up to 100 access codes and compatibility with Key by Amazon, a built-in alarm, easy installation, convenient access and control from any smartphone – these are the key features of Schlage's revolutionary new smart deadbolt. It's even available in a wide variety of styles, trims and finishes to easily coordinate with an array of Schlage interior door hardware throughout the home.
Making the smart home smarter
It's all part of a whole-home solution that reflects Schlage's love for both function and style. This is particularly important to today's homeowners, who, as addressed by Giles Sutton, CEDIA, and Susan Cashen, Control4, are going to great lengths to blend new technology seamlessly into their home decor. Today's homeowner isn't looking for products and features, but rather a holistic and satisfying experience from the products they purchase.
"At Schlage, style and design are an ongoing process that virtually never ends," says Ted Roberts, Style and Design Chief for Allegion, maker of Schlage locks. "Our electronic products are just as stylish as the knobs, levers, trim packages and finishes for which we've become known. The mission for us isn't just to create products that function well and look good, but to delight our customers at a higher level and in every way possible. It's our job. It's our passion."

As stylish as it is smart, the Schlage Connect Smart Deadbolt with Camelot Trim, is featured in a new black stainless finish.
Beauty beyond style
The keypad design on Schlage's new smart locks is just one example of how Roberts and his team bring a measure of style to what, at its heart, is a true technology product. The team maximized the visibility of the keypad when illuminated so that it is just as legible - and attractive - in bright sunshine as it is at night. The Schlage team even factored in how long and hard to press the individual keys on the keypad. Roberts described this as a function of balance between user experience and aesthetics, one that IBS attendees like contractor and TV personality Mike Holmes found particularly significant.
Holmes and his children stopped by the Schlage booth, excited to learn and share more about the Schlage Encode™ Smart WiFi Deadbolt for a Facebook Live post. He was quick to note the lock's compatibility with the Ring Video Doorbell and Key by Amazon, the flexibility of Schlage's whole-home design philosophy and the many benefits of the Schlage Encode lock with the on-site team. In fact, Holmes uses Schlage locks in his own home.
Security. Privacy. Home automation technologies working together seamlessly. And beautifully. That's what true peace of mind is all about when it comes to smart home technologies.
Start at the front door
As Schlage and other smart home innovators displayed at the International Builders' Show, the best is yet to come. Building on a heritage of innovation that goes back more than 95 years with a patent for a door lock that could turn a home's lights on and off, Schlage continues to take the smart lock to the next level.
Today's smart home starts at the front door. Schlage provides a wide selection of smart locks that open a world of possibilities for homeowners looking to make the most of today's rapidly growing home automation technologies. A smarter way in. That's what today's – and tomorrow's – smart home owner enjoys with the safety, simplicity and style of Schlage.