Simple French door makeovers that say "Ooh la la!"
By emily.bailey
Whether you're looking for easy painting or décor ideas, these tips will bring your French Doors to life.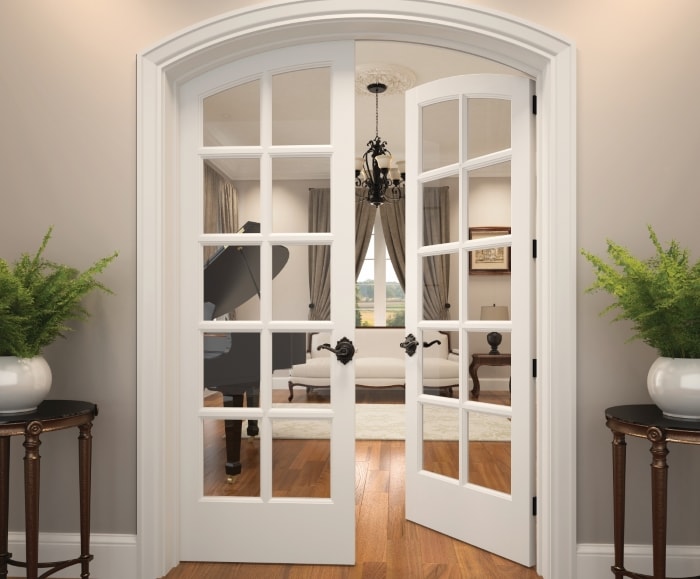 French doors. They're timeless and elegant. They can also be surprisingly versatile, working on interior and exterior entryways, in all types of homes and with any design taste. They're the perfect canvas for stylish details, whether you're updating existing interior French doors or considering adding new ones to your home. Here are some tips to help you capture your unique style with an easy door makeover.
If you think French doors are just for traditional homes, think again. Yes, they go great in homes that have an antique flair, transom windows – those small panes framed above the door – and intricate woodwork. But they can also work well in more modern homes. If you're looking for a more contemporary or minimalist look, try French doors with a single, uninterrupted pane of glass.
Window dressing
All French doors have top-to-bottom windows. It's their defining characteristic and what makes them "French." What you do with that glass can really change the look of a room.
French doors let in extra light and make a room feel larger, which is a major appeal. For times when you want a bit more privacy, especially on interior doors, you still have tons of options. Hang draperies on the doors themselves or around them like you would a window, blinds or even shutters. If you're feeling exceptionally crafty, use a stencil and paint directly on the glass to create an eye-catching design. For something less permanent, take a page from Two Twenty One's book and simply line the panels with some decorative paper. This is especially great if you like to change the décor with the seasons. Think Christmas paper in winter and floral prints in the spring.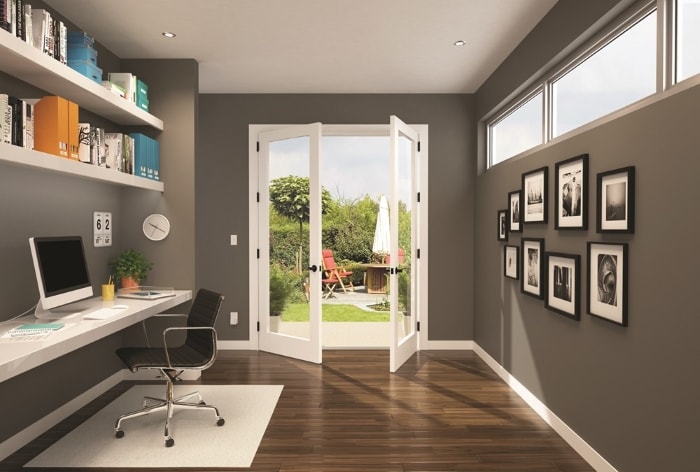 Schlage switch
While you're adding decoration to the door, how about switching out your door hardware? Schlage has some helpful tips for choosing the right hardware and locks for your French doors depending on the level of security you're looking for. For interior doors, you might be particularly interested in non-turning, also known as dummy or inactive, door knobs or levers. These are purely decorative and won't lock or latch, an ideal option for transitions between a master suite and a large closet.
Schlage offers countless combinations of styles and finishes, so you can coordinate your hardware to the style of your home. Just as the French doors themselves can fit in any style of home, our wide selection of knobs and levers means you'll find a look that suits your style.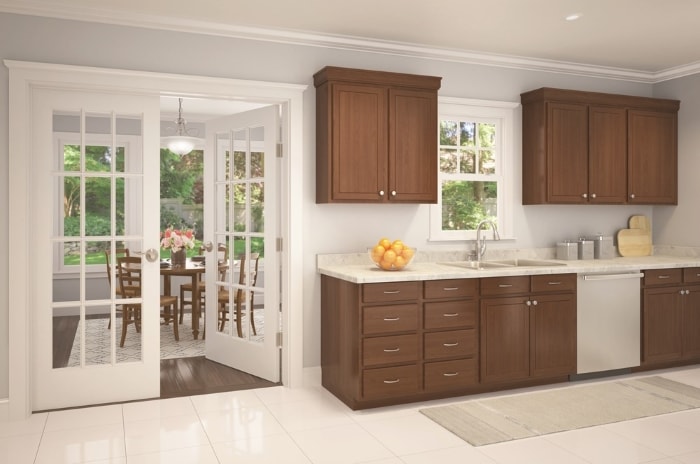 Painted beauty
When you remove your old knobs and levers is a great time to paint. There are two ways you can go – neutral colors that create a subtle transition from one room to the other or bold hues that turn your interior French doors into a can't-miss statement piece.
If painting French doors with all that glass and framed detail seems daunting, check out this tape-free tip from Bless'er House.
French doors can have a major impact on the overall look of a room. To make the biggest statement, don't forget the details. Something as simple as stylish curtains or a new door knob can take your look to the next level and have you feeling elegant and sophisticated in no time.
If you need more inspiration, check out some of these budget-friendly French door makeovers from our blogger friends . Then show us how you put your personal touch on your French doors on Instagram or Pinterest.