A century-old classic given a new look with Schlage and Amy Matthews.
By emily.bailey
Tuesday, November 13, 2018
Schlage Custom Door Hardware and the Hobson glass knob are a game changer, according to Amy Matthews, Contractor, Designer and popular TV and YouTube host.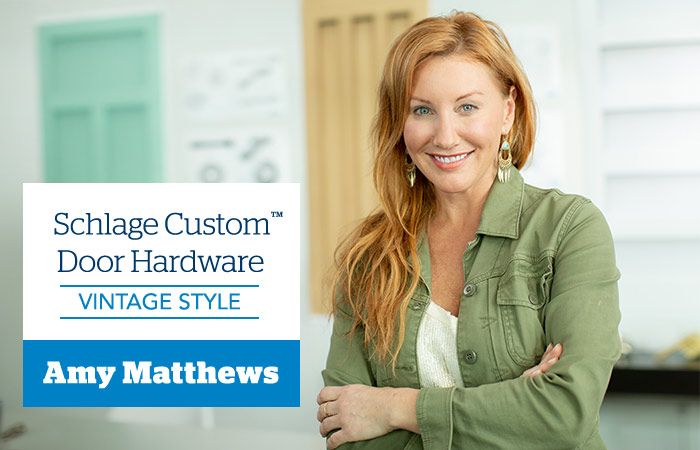 One of the most budget and design-friendly ways to bring antique fixtures into your home is with door knobs. And to that end, Schlage Custom Door Hardware and the Hobson glass knob are a game changer, according to Amy Matthews, Contractor, Designer and popular TV and YouTube host. From eclectic to transitional, it makes a statement by bringing a traditional look suitable for modern-day applications.
That's why Amy chose the Hobson knob as her inspiration for creating an entire room look for Schlage designers based around the Hobson knob's vintage versatility. In this, the third installment of her four-part series in which she works with the Schlage design team to transform rooms around a single piece of Schlage door hardware, Amy embraced Schlage's unique take on a 100-year-old classic. Together, they explored its application in a more contemporary setting.
The Hobson knob is an ideal statement piece, putting its beveled glass design element inside a sleek, smooth glass exterior that Amy loves. It perfectly complemented the colors, textures and materials she chose for this particular room design.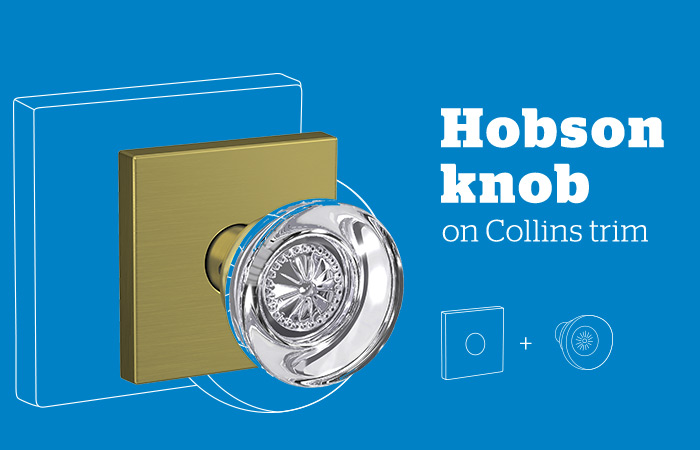 The inspiration
Schlage's Hobson knob can bring a touch of bling to a wide assortment of settings, according to Amy. From traditional to even the most modern of styles, it can be paired with a variety of finishes and trims that make the quintessential glass knob the picture of eclectic style. For additional inspiration, Amy looked for photos of various homes and decor from different yet specific eras and then adapted her designs to bring a measure of authenticity to the look she was creating. It's no surprise, then, that one of her favorite fixtures is the glass knob.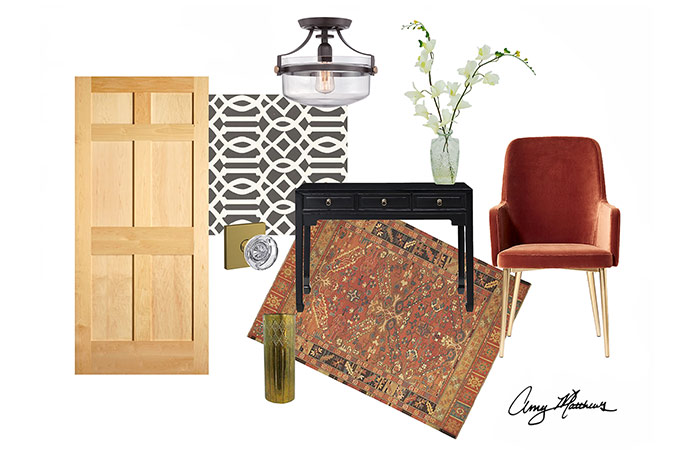 The mood board: A collection of Amy's favorite looks
Amy started with the Hobson knob, pairing it with a satin brass finish and modern trim. She wanted to take advantage of the versatility of the Hobson to serve as the foundation for a modern, bohemian vibe that also exuded sumptuousness and warmth.
She wanted the Hobson knob, as specified, to complement the natural wood she'd chosen for the door and some of the furnishings. She also chose the glass and satin brass look to work in contrast to some of the blacks and pops of red and gold accent colors she crafted into the board. Neutral grays and flooring completed the picture, with the overall look reflecting Amy's preference for clean, modern presentations.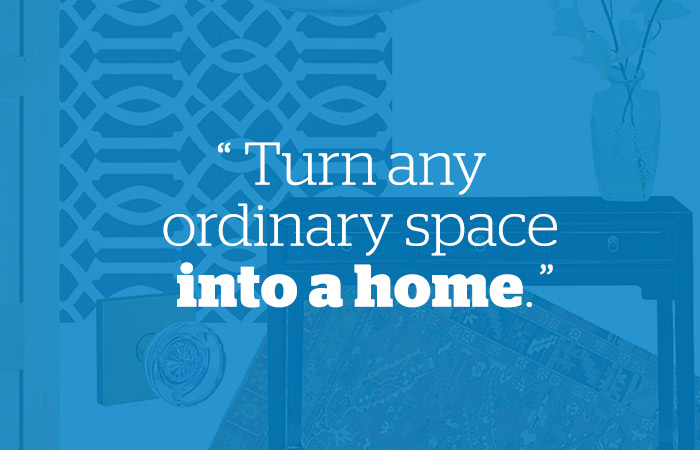 The look: Classic yet modern
Amy and the team brought the room to life with rugs, pillows, throws, artwork and other meticulous touches that picked up the gold in the satin brass finish. She wanted the look to radiate warmth and welcome. Again, the word Amy used for what she was going for was "sumptuous." The flexibility of Schlage Custom and the warmth and glow of the Hobson knob was the perfect centerpiece for Amy's very particular design expression.
While some of the furnishings were in natural woods to complement the door and the neutral flooring, she also added touches like black accent tables and other, more colorful accessories to provide a nice contrast throughout. Her overall objective: create a room that transforms an ordinary space into an extraordinary home. She certainly succeeded, building this look around the vintage style and design flexibility of Schlage Custom and the Hobson glass knob.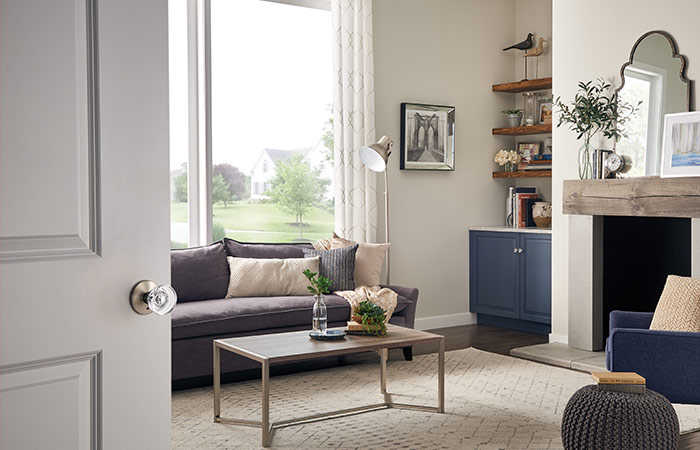 The name says it all
One system. Endless possibilities. Whether replacing outdated or broken locks, remodeling a single room or simply adding new, decorative details, Schlage Custom Door Hardware makes personalizing a single room–or an entire home–as easy as can be. It's perfect for tailoring door hardware designs to the specific needs of every room.
One screwdriver is all it takes to customize the style, finish and even functionality of Schlage Custom door hardware. A small locking pin lets you tailor the door's locking function to your needs. And a wide range of designer knobs, levers, complementary trims and long-lasting and lustrous finishes deliver a whole new level of versatility in both style and function.
For more information visit schlage.com. And to see Amy and Allegion Style & Design Chief Ted Roberts in action bringing this concept to life, watch this video. See for yourself. You don't have to be Amy Matthews to bring a classic yet contemporary look to your home. All it takes is a little imagination and the safety, simplicity and style of Schlage.