Steal these ideas: top outdoor trends of 2018
By Ted_Roberts
Selecting outdoor décor is fun because it's so easy to switch things up season to season without spending a fortune. Here are the top trends we're watching this year.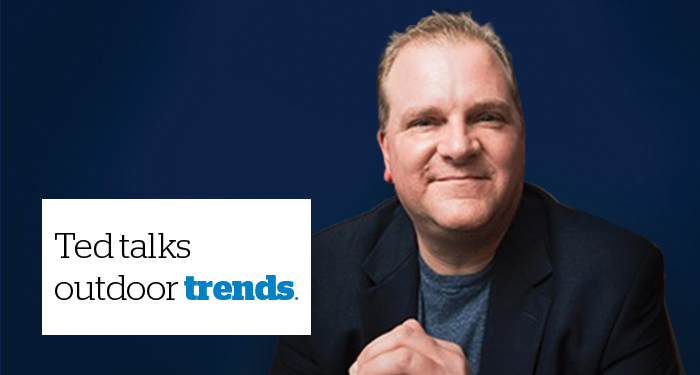 Selecting outdoor décor is fun because it's so easy to switch things up season to season without spending a fortune. You've already seen a few of our easy DIY tips for increasing your home's curb appeal this summer. Here are a few more great ideas to steal: the top outdoor trends of 2018 courtesy of Style and Design Chief Ted Roberts.
Q. What are some of the top outdoor trends you're seeing pop up this year?
A. We have been seeing a closer association between the outdoors and indoors, both this year and in 2017. This is reflected not only in the popularity of natural materials, textures and floral-inspired motifs throughout the home, but also in the items we see adorning porches, patios, decks, and yards. Products for exterior cooking, entertainment, decorative fireplaces, porch ceiling fans, and comfortable outside furniture all enable the extension of the living space to the outdoors. As the backyard becomes more of a destination, the door between the inside and outside commands new importance. Many of the technological features of the front door are now equally important to back and side doors.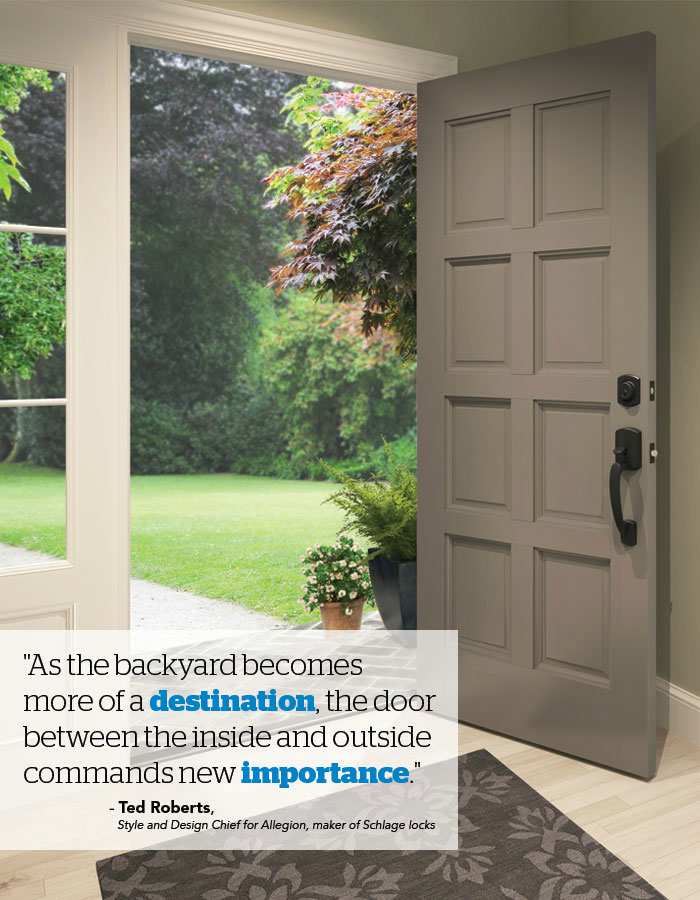 Q. What are the trending styles, colors and types of door hardware for exterior doors?
A. Exterior doors are getting larger and making more use of windows. On the front door, it's common to see one large window, either frosted or textured, to allow light in without offering those outside a clear view into the home. The back door may have a clear window to further blend interior space with the exterior porch, patio, or deck. We've even seen windows covering almost the entire door, further supporting the idea of bringing the outdoors inside. We are also seeing a trend towards rich, saturated color used selectively throughout the home as a statement and combined with muted warm tones. This is especially true on front doors where yellow, purple, red, emerald green, cobalt blue all can be used to make a statement. Stained wood doors also remain popular, with stains trending darker and richer. For hardware, matte black stands out as the perfect color to coordinate with every choice of door color. We are even seeing door frames in black.
Q. What sort of technology trends are you seeing in the outdoor space?
A. Smart locks continue to gain popularity because they can add so much convenience to daily life. The idea of being able to secure the house, yet securely allow access to the homeowner without a key is appealing regardless of the door used. Keeping track of the kids as they come and go, and having control over the door lock from wherever you are can offer major peace of mind. As these features become standard at the front door, the expectation for other doors to adopt the technology increases. These locks strive to enhance and simplify life through technology. As always, it's best to look for a reputable company (like Schlage) that understands door hardware and home security just as well as they understand smart technology.
Q. Which of these trends do you see living long enough to lead us into 2019?
A. The merging of the indoor and outdoor space is a trend that is here to stay. We see growing interest in simplifying and calming, and this is evident in the natural materials and organic style that continues to grow in popularity. Technology is also shifting towards simpler, more intuitive solutions. Going forward technology will continue to expand into appliances of all types with a growing focus on refining and humanizing the experience.