6 budget-friendly, high impact French door makeovers
By emily.bailey
We've teamed up with a few bloggers and designers and gathered a few of our favorite French door style tips to help you plan a makeover that is easy on your time and budget.
French doors are a popular choice in homes that want to separate two interior spaces but still allow the rooms to feel connected while adding a charming touch. They can also be used as exterior patio doors allowing homeowners to seamlessly extend their personal style into the great outdoors. While French doors often speak for themselves in adding a bit of character to a home, they can quickly feel outdated if the details are neglected. We've teamed up with a few bloggers and designers below and gathered our favorite style tips to help you plan a French door makeover that is easy on your time and budget.
Designer Trapped
There's no reason to be overwhelmed at the thought of updating the hardware in your home. With a few thoughtful updates at a time, you can make an impact quickly and affordably, like Tasha from Designer Trapped. The French doors that separated her office from the rest of her home were plain and uninteresting. With a new coat of paint and Matte Black Latitude Levers, her French doors became the style statement her office needed.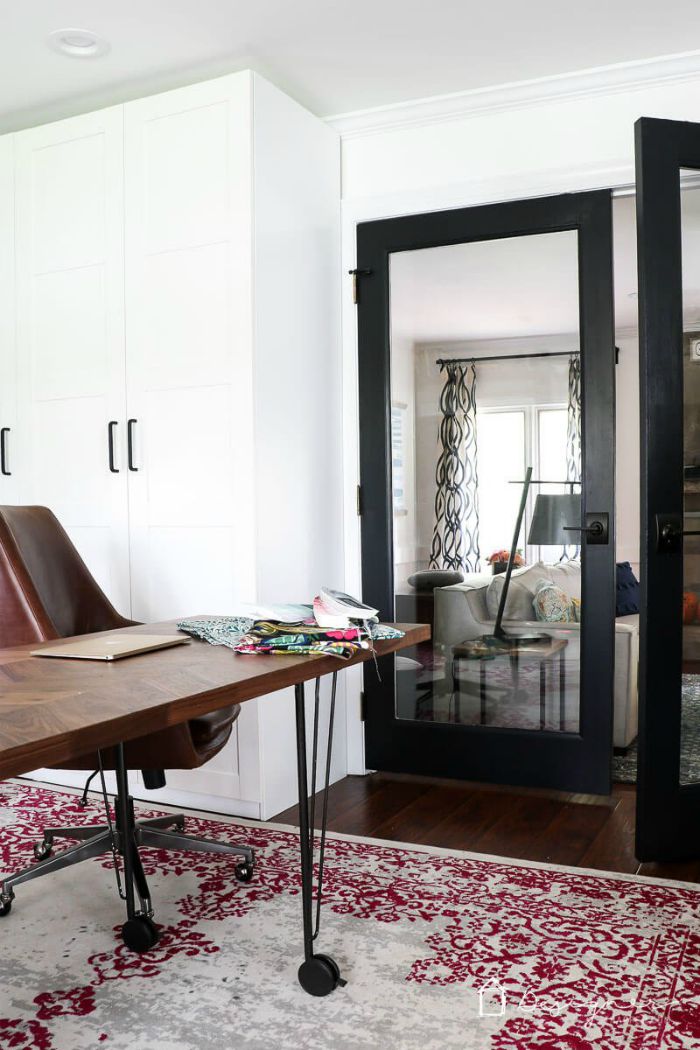 Two Twenty One
While Chelsea of Two Twenty One already had a gorgeous entryway full of craftsmen details and the perfect, full pane French doors, she knew there was one final touch missing – a door knob upgrade. Swapping the original, boring builder-grade hardware to Schlage's new Custom Hobson glass knobs was the perfect finishing touch her entryway needed to truly make an impact.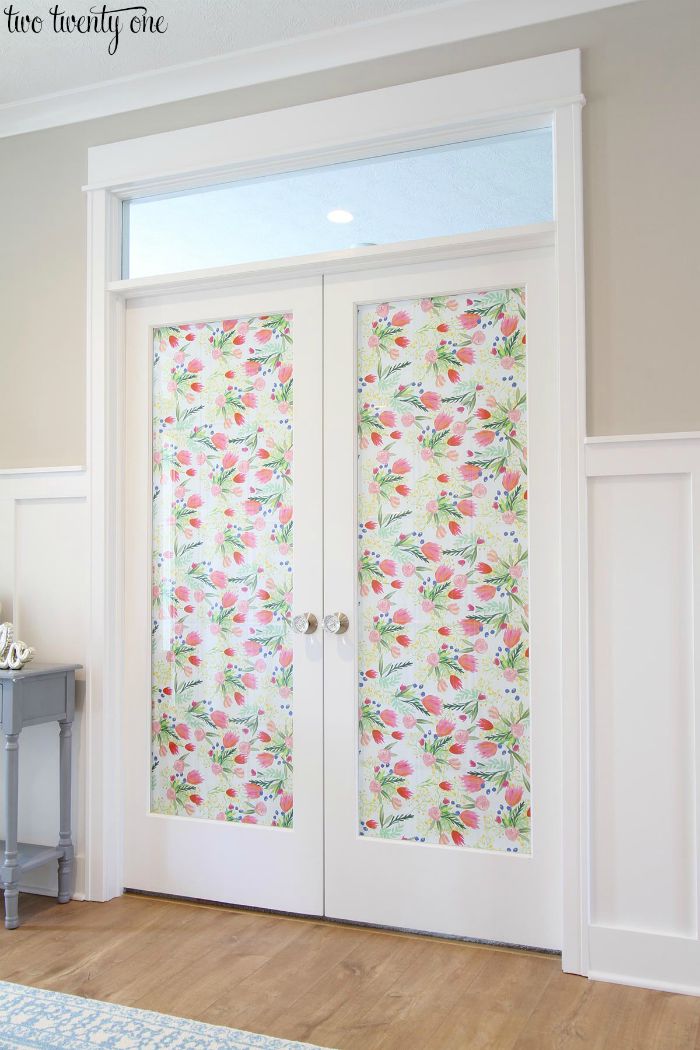 Bless'er House
This home owned by Lauren of Bless'er House is definitely a French door paradise! With so many doors leading to exterior and interior spaces, we're happy she's sharing her best hack for stress-free French door painting. We find the contrast she created by painting all of her doors absolutely swoon-worthy!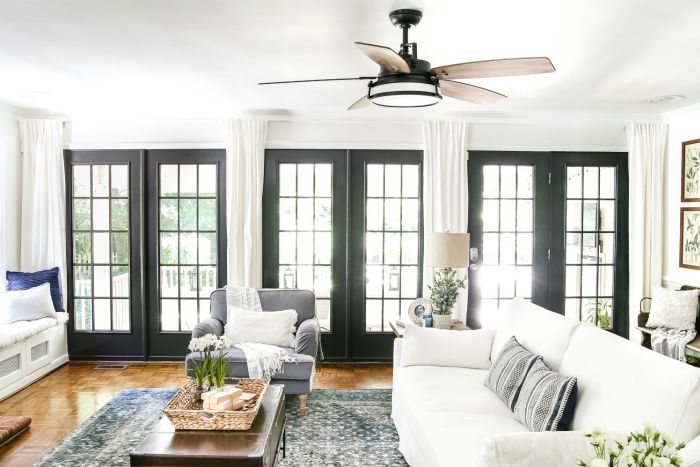 Little House of Four
While it seems many homeowners are choosing to go lighter and more neutral with their walls, doors are quickly becoming a popular option for adding contrast and a pop of color in smaller doses. We love how Katie chose to paint all of her interior doors, including the French doors found in her basement, a dark, charcoal grey. It adds uniformity and interest throughout the home.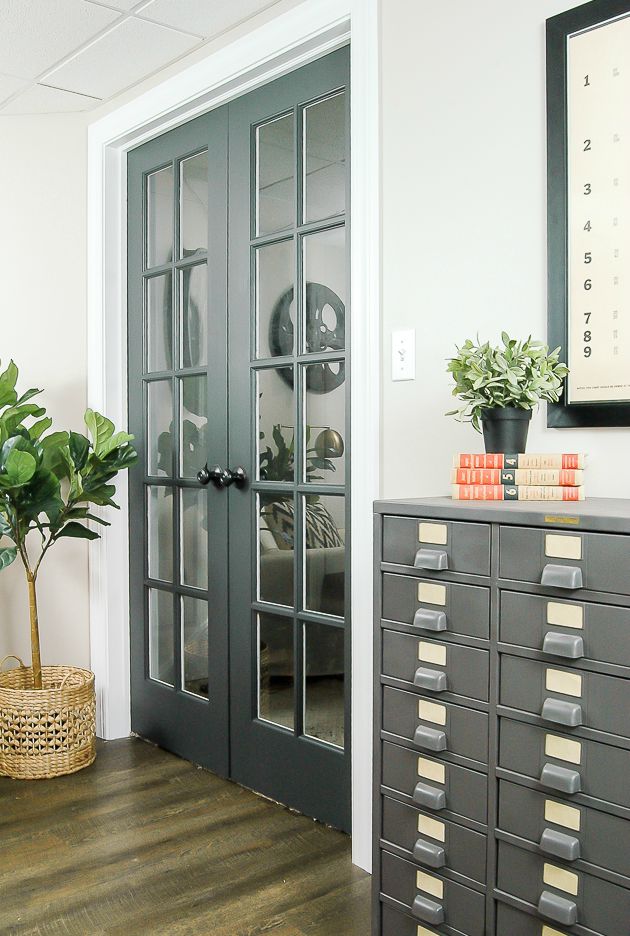 Honeybear Lane
When Heidi of Honeybear Lane added beautiful, white board and batten to her home's entryway, she needed to find a place to add a little contrast. Her French doors leading into the craft room proved to be the perfect place. After painting the doors a dark charcoal grey and polishing them off with new Bright Brass knobs and hinges, her entryway quickly became a style haven. Get all the details on this project including another great hack for removing paint from French door window panes.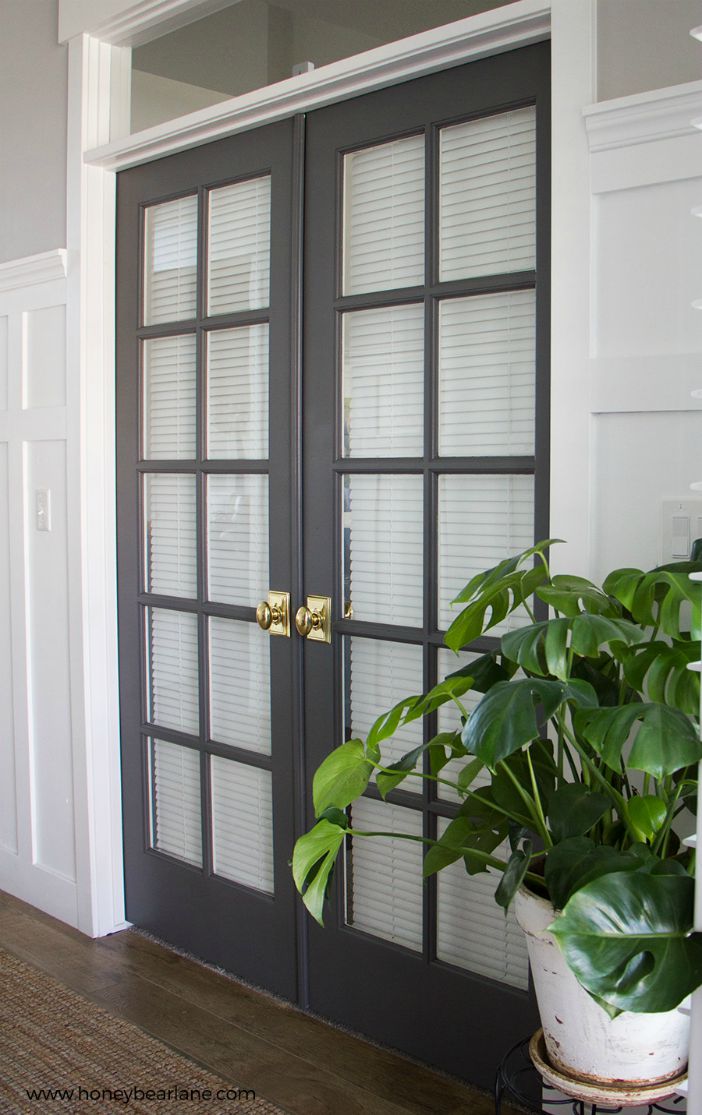 Polkadot chair
We've shared this home office refresh many times before but we're still in love with the unique way Melissa refreshed her space. Painting the ceiling was a bold but genius move and the hardware she added to her French doors is the icing on the cake. From the outside looking in, this space has instant wow-factor.