10 things the Schlage Connect™ lock can do with a Samsung SmartThings hub
By emily.bailey
Whether you're shopping for the right smart home system or want to choose the best lock for your Samsung SmartThings setup, here are 10 smart lock features you could take advantage of.
The Schlage Connect™ Touchscreen Deadbolt with alarm combines advanced features and compatibility with your home automation system — allowing you to control your lock from anywhere and freeing you from the hassles of lost keys, getting locked out, or hiding a spare for trusted friends and family. Because it is open-platform, the Schlage Connect lock works with most Z-Wave® smart home hubs, including Samsung SmartThings.
Here are ten features you can expect to unlock when you pair your new Schlage smart lock with a Samsung SmartThings hub.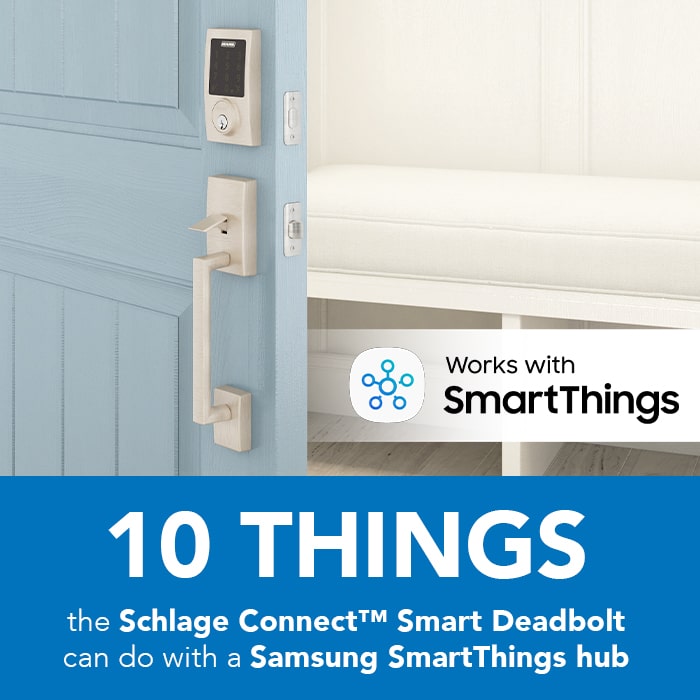 1. Remote accessibility
Gone are the days of worrying whether or not you left your door unlocked when you left home. Simply check the status of your lock through the SmartThings app. If the lock is unlocked, you can command it to lock within the app no matter where you are, eliminating the need to turn around and go home.
2. Smart home routines
SmartThings allows you to create routines that are triggered by a certain action – like a goodnight routine that locks the doors, closes the garage and turns off all electronics. Setting up automation with other smart devices is fast and easy since you can do everything straight from your smartphone.
3. Create unique access codes
Quickly create a code for a family member or trusted friend and disable it when it is no longer needed through the SmartThings app instead of the lock's touchscreen. You can also receive alerts from SmartThings when your Schlage Connect is unlocked using one of the access codes, so you always know who is coming and going.
4. Easily share access codes with visitors via SMS
Once you've assigned a new access code to a visitor in the SmartThings app, you can conveniently share that code via SMS. No need for you to leave the app and no need for temporary users to download anything new to gain access.
5. One convenient place to check the status of all your locks
Have more than one smart lock installed? Whether on your home property, vacation home or AirBnB, SmartThings allows you to check the status of each lock in one, convenient place.
6. Lock all smart locks in one click
Did you leave all your doors unlocked? You don't have to command your Schlage Connect deadbolt to lock one at a time. SmartThings allows you to lock them all with a single tap.
7. Rename or delete an access code
No need to pull out your programming guide to delete an access code through the touchscreen of the lock. SmartThings allows you to edit and delete access codes all through the app.
8. Check access codes added across all the locks in one place
Keeping track of all active access codes across multiple locks is easy. Easily view which family members and friends have access to which locks.
9. Receive updates on lock activity
SmartThings offers a little more peace of mind with your Schlage Connect lock by letting you know precisely when your lock was manually locked, manually unlocked, unlocked using code, updated or deleted.
10. Pair your smart lock with Amazon Alexa
Add even more convenience to your home automation set-up by pairing an Alexa-enabled device with Samsung SmartThings. Easily check the status of your lock or command it to lock by asking Alexa.