The best time of year to buy items for your home
By emily.bailey
Tuesday, January 23, 2018
Since various sales happen on different home goods throughout the year, it's smart to plan ahead and buy what you need when the prices are lowest.
For a lot of people, a new year means a new list of things to do. Along with your other resolutions, you've probably got at least one project in your home that you want to work on this year. Since various sales happen on different home goods throughout the year, it's smart to plan ahead and buy what you need when the prices are lowest. We compiled a list of changes you can make to your home based around when these products go on sale. If you want more information on home-related sales, check out this article at
Consumer Reports
.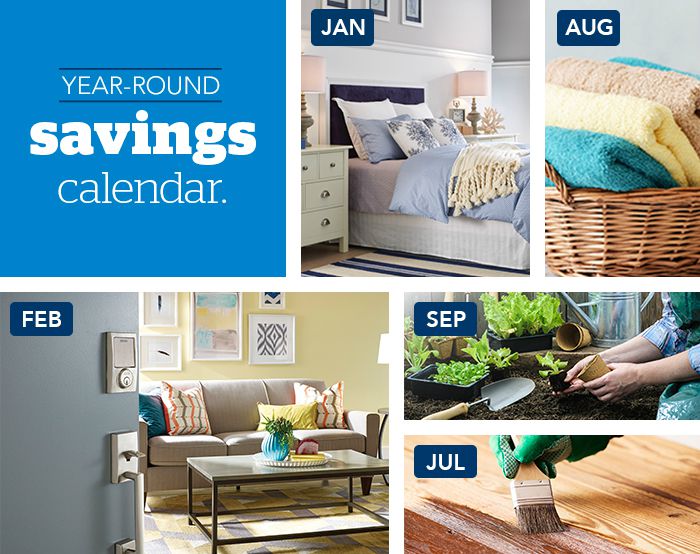 January
Storage items
The holiday season just ended so not only is there a lot of decor on sale, there are a lot of storage items on sale as well. Take advantage of these sales and buy storage bins to clean up your garage, attic, closets or anywhere else that needs some organization.
Linens
"White sales" also occur in January. Many stores have big discounts on linens including sheet sets, comforters, towels, etc. If you are planning on updating any of your bedrooms or bathrooms this year, now would be a great time to save.
February
Furniture
New furniture lines come out in March, so many retailers put their current lines on sale in February. This is a great time to get rid of that old couch with the sagging cushions or get a new dresser with fully-functioning drawers. Bonus: The extra storage gives you the perfect excuse to go shopping later.
March
Plants
March is still too early to start planting outdoors in many areas, but there are a lot of sales going on at nurseries. Even if you can't plant outside yet, March is the perfect time to get vegetable seedlings and start them indoors. When it is time to transfer them in late April, you will have healthy plants going that will fruit earlier than ever.
April
Lawn Mowers
It is officially Spring and that means it's time for yard work. Even if it's a little early for the first official lawn mowing of the season, look into buying a new mower now and save money.
Gas grills
As the temperatures start to rise, you can finally break out your grill. Gas grills go on sale in April as well, so if you are looking to replace your grill or upgrade from a charcoal grill, April is the best time to save.
May
Paint
May is a good time to pick up paint for your home projects. Maybe you got new bedding in January and now you need to paint your guest room to match, or you have some old furniture that you replaced in February that you want to sand down and paint. May is a great time of year to paint.
June
Power tools
June means Father's Day, and Father's Day means power tools. Even if you aren't buying them for dad, it's a great time to replace any tools that are barely hanging on. It's also a great time to buy tools you haven't been able to justify in the past. Take your projects to the next level with that pocket hole jig or paint sprayer you've always wanted. Chances are good that you will find them on sale in June.
July
Decking
Get more out of summer celebrations by adding or upgrading a deck to your back yard. Whether you're looking for something small for intimate gatherings, or a massive showstopping deck to host the entire neighborhood, July is the best time to buy the decking. And maybe you can install it with some of the new tools you bought in June.
Wood
While you're working on installing your new deck, you'll probably need wood stain. Conveniently, July is also the best time to buy it.
August
Linens (again)
It's time for kids to head off to college, so a lot of stores put linens on sale again. And while you're probably not making plans to move into a new dorm, there's no reason not to make use of the sale and update another bathroom or another bedroom you didn't update in January.
Outdoor furniture
You brought your outdoor furniture out months ago, and the weather has taken its toll. Or maybe you didn't have any furniture because you just put your deck in last month. Either way, August is the time to buy outdoor furniture before it all gets put away for winter.
Flooring
If you've decided it's too hot for outdoor projects, we don't blame you. Fortunately, while the temperatures are rising, the price of flooring tends to drop in August. If you've been looking to rip up your old, stained carpets and put in hardwood floors, this is your time.
September
Gardening supplies
While you may have picked your last tomato of the year, it's never too early to start planning for next year. As stores make room for holiday décor, gardening supplies go on sale before they go away for the season. Now is the perfect time to stock up on supplies for next year's garden.
Home accessories
September is also a great time to save on the finishing touches like lamps and rugs. If you just re-floored in August, it's possible you need some new accessories for your room. And if you didn't re-floor in August, you could probably use a new rug.
October
Small home appliances
October is the start of the holiday season and for many of us that means it's time to start cooking and baking. October is a great time to pick up new, small kitchen appliances like microwaves, toaster ovens, etc.
November
Black Friday and Cyber Monday
Tis the season to save. Between Black Friday and Cyber Monday, deals can be had on anything and everything. Consumer electronics, including smart home devices, are bound to be big hits in 2018. One or two smart home purchases can be all the updates your home needs to become connected and up-to-date.
December
Major appliances
December is the time to buy major appliances like a new refrigerator, oven or dishwasher. Maybe you need more room in your fridge after Thanksgiving or you just want a glass top stove because you are tired of scrubbing burners. December is a great time to update your kitchen appliances.
Thinking about doing any of these projects? Let us know of any big deals you score and we'll keep you updated with Schlage promotions on our
Facebook
page!