The ultimate holiday smart home gift guide
By emily.bailey
Wednesday, November 15, 2017
Give the gift that makes your loved ones lives a little easier. Our suggestions feature a range of smart devices that are sure to be a hit this holiday season.
The holidays are fast approaching and if you haven't started thinking about gifts, it's probably time to start. According to the National Retail Federation, more than 40% of people start shopping before November. Maybe you have a list full of people that are easy to shop for. If so, we envy you. For the rest of us, there is at least one person that is impossible to buy for - often multiple people. Sure, you could always get them a gift card, but if you're looking for something a little more fun, we compiled the ultimate list for you.
Everyone appreciates a gift that make their lives a little easier. Our suggestions feature a range of smart devices that are sure to be a hit this holiday season.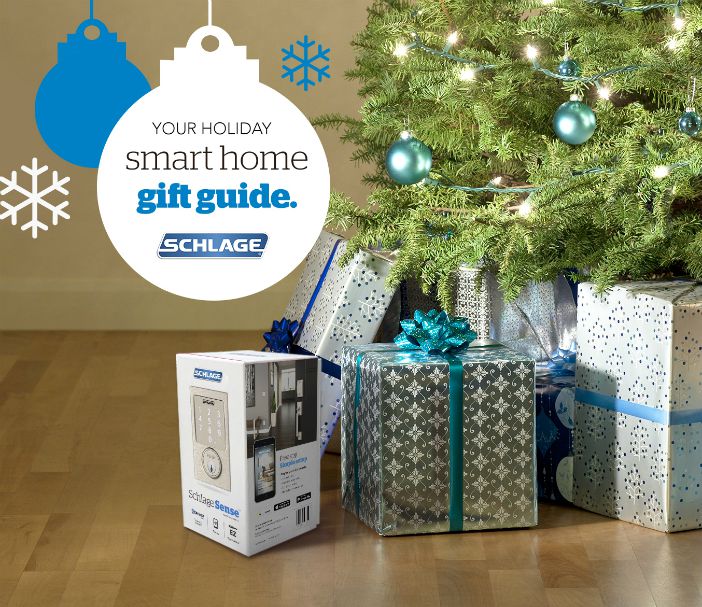 Apple TV®
Apple TV is a great, all-in-one piece of technology for any home. It is TV customized to you. Apps like Netflix, HBO Now and Hulu allow you to watch whatever you want, whenever you want. You can listen to music, use Siri, and play games, too. It also connects to Apple HomeKit®, the latest smart home technology from Apple, allowing you to have remote access to HomeKit-enabled devices. If you have a Schlage Sense™ Smart Deadbolt or other smart home devices, you can use HomeKit to get anywhere access to your home's electronics on your iOS device. You could lock your front door if you forgot when you left the house, or turn up the furnace before you get home so the house is warm when you arrive.
Google Chromecast™
If you want to give a gift that will allow your loved ones to stream TV, video and music, but they don't have an Apple device, Chromecast might be your best bet. It plugs into the TV and is controlled through smartphones, tablets or laptops. It also works with Android™, Apple and Windows, so everyone can use it.
Arlo™
For anyone that is interested in home security, the Arlo Pro is a perfect gift. It is a wire-free, weatherproof camera that records what's going on in the home and sends mobile or email alerts when it senses motion or sound. It is also perfect for pet owners that don't like to be away from home and want to be able to check in on their animals. With two-way audio, you can hear what's going on at home and talk through the camera.
Roomba®
No one likes to do household chores when there are a million other things that they could be focusing on. Give someone back their free time with Roomba. There are multiple models with different features so that it's easy to choose what works based on the home it will be cleaning. All of the models are Wi-Fi connected and accessible through the app so you know what has been cleaned.
Smart speaker
Smart speakers are becoming more and more popular, so if you have someone on your list that doesn't own one yet, they will be grateful to get one as a present. There are multiple smart speaker brands already and more that are in the process of releasing new products, but the two biggest smart speaker names are Google Home™ and Amazon Echo™. Both speakers work with Apple and Android devices and integrate with various smart home products and apps. The Amazon Echo is compatible with the Schlage Connect™ Touchscreen Deadbolt and Schlage Sense™ Smart Deadbolt. You can ask her to lock your door if you've already gone to bed and don't want to get up, or ask the status of the door if you aren't sure if you locked it. Both speakers come with so many features that choosing between them is more a matter of preference and what type of smart home device you have rather than which one is better.
Smart lock
This is the perfect gift for any homeowner. Whether they are interested in smart home devices or not, everyone could use a touchscreen lock so they never have to deal with house keys again. The Schlage Connect Touchscreen Deadbolt is perfect for people that want to have, or already have, a smart home. It uses Z-Wave technology so it can connect to most home automation hubs. The Schlage Sense™ Smart Deadbolt has its own app that is compatible with both Android and Apple smartphones so that anyone can use it.
Home Automation Hub
For those on your gift list that are interested in smart homes but haven't yet made the leap, a home automation hub would be a great way to get them started. There are so many options out there to choose from: Apple HomeKit, Wink™ and Samsung SmartThings™ to name a few. Each hub has its own strengths so it's important to know what someone wants out of a smart home and what devices they have to work it. Some, like Homekit, only work with Apple, but many are compatible with Apple and Android. Some hubs lend themselves to certain tasks, like home security, while others are very customizable and make it easy to set up sequences between smart home objects. When buying a home automation hub, your choice will depend more on who will receive it than name brand recognition.
Schlage Sense™ Wi-Fi Adapter
If someone doesn't want to plunge into the world of smart homes, but you know that they would still love the convenience of never worrying about their house keys, the Schlage Sense Wi-Fi Adapter is the perfect gift to pair with the Schlage Sense Smart Deadbolt. The Wi-Fi Adapter pairs with the deadbolt to allow it to send notifications through the Schlage Sense app. This allows the owner to lock and unlock their door from anywhere, using their smartphone.
Wi-Fi Adapter is not compatible with Apple HomeKit.
Do any of these things sound like something someone on your holiday gift list would enjoy? Do you think we missed something that should have been on the list? Let us know on
Facebook
!