11 things to know about the Schlage Sense™ Smart Deadbolt and Android compatibility
By emily.bailey
Friday, September 15, 2017
Now that this smart lock is compatible with Android smartphones and iOS devices, there are a few things you need to know. Check out a few frequently asked questions.
The Schlage Sense™ Smart Deadbolt makes daily life easier and more convenient. Enter an access code on the touchscreen to unlock the door instead of searching your pockets for keys. Pairing the lock with your smartphone over Bluetooth® is as easy as pairing your phone with your car, and the free Schlage Sense app makes setting up and using the lock as simple as checking email. Share access with trusted friends and family with just a few taps – no more keeping track of spare keys.
Now that this smart lock is compatible with Android smartphones and iOS devices, there are a few things you need to know. Check out a few frequently asked questions below.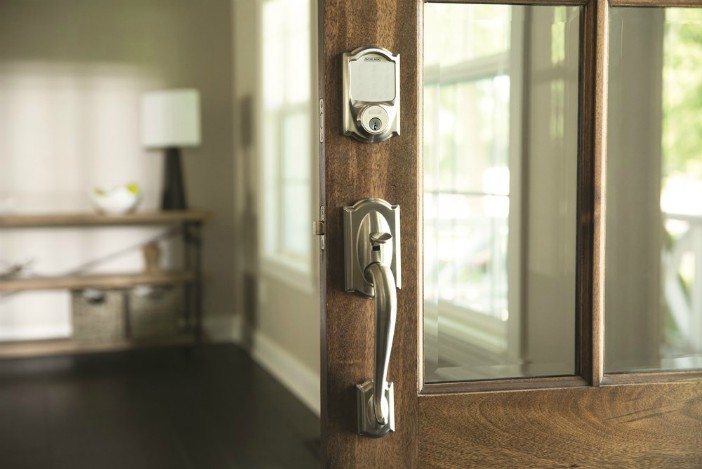 1. Do I need to create an account to use my Schlage Sense app?
Both new and existing Schlage Sense lock users will be asked to create an account to use with their Schlage Sense app. Creating an account allows you to take advantage of all the latest features that the lock has to offer. If you've already been using the Schlage Sense lock with your smartphone, creating an account will not affect your lock's settings.
2. How do you add an access code?
With the Schlage Sense app, adding and deleting access codes is easy. Simply set up a new code by going to "Add new access code." You can also give the code a name so you always know who should be using that code and even apply an access schedule so the code is only valid during certain days.
3. How do I receive notifications for my lock's activity?
If your lock is set up with HomeKit, you'll need to add a HomeKit-enabled Apple TV 3rd or 4th generation or an iPad with iOS 10.0 or higher to your home Wi-Fi network. Make sure that the Apple TV/iPad is set up with the same iCloud and iTunes account information as your iPhone. Push notifications may need to be enabled from your iPhone as well. You can customize the types of notifications you receive by going to the Lock Settings > Push Notifications menu.
If the lock is set up with the Schlage system option (ideal for Android users or households using both Android and iOS), you'll need to add a Schlage Sense Wi-Fi Adapter to your home Wi-Fi network. Notifications will be enabled by default from the Schlage Sense app but can always be updated to your preference in lock settings.
4. Will my current Schlage Sense lock work with the Android app?
The current Schlage Sense lock can be updated to the latest firmware to support Android smartphones as well as other new features. If you are currently using the iOS app with the lock, open the Schlage Sense app and accept the firmware upgrade, or go to Lock Settings and tap on the firmware version to request an update.
5. If my lock is already connected to the iOS app, how do I connect it to the Android app as well?
To connect your existing Schlage Sense lock that has already been paired with an iOS device, you will need to complete the firmware update then follow the steps to remove your lock and repair it with the app. You can do this by going to lock settings and tapping "Delete Lock." This will return your lock to factory settings which means you will have to reset your access codes.
After you've removed the lock from your app, use the app to pair the lock again. This time you will be presented with two options for set up - "Setup with HomeKit" or "Set up with Schlage System." For your lock to compatible with both the iOS and Android smartphone app, you will need to select "Set up with the Schlage System."
6. I'm using an Android smartphone. How do I share access to my lock?
Virtual keys are electronic credentials that allow smartphone users to lock or unlock the Schlage Sense Smart Deadbolt when in Bluetooth range using the Schlage Sense app. Locks that are paired to your smartphone using the Schlage system setup option support the sharing of virtual keys with other smartphone users – both iOS and Android.
To send a virtual key, open the app and select the lock you want to provide access to. Tap the users icon on the bottom right of the screen then select "Virtual keys." Enter the name of the invited user and indicate whether you'd like to provide admin access or guest access (recommended). You can send the invite via email or text. Note that it will only be valid for 24 hours before it expires.
7. How do virtual keys work?
When an invited user is within Bluetooth range with Bluetooth on their phone turned on, they will be able to use the Schlage Sense app to lock or unlock the deadbolt.
It's important to note that virtual keys will not work with locks set up using the HomeKit option. If you'd like to take advantage of virtual keys, you will need to reset your lock to factory settings and re-pair it using the Schlage system setup noted in number 5.
8. How can I share access with someone who doesn't have a smartphone?
The Schlage Sense lock makes it easy to share access to your home with the people who need it. Even if a guest does not have a smartphone or access to the Schlage Sense app, you can provide a unique access code to allow them to unlock the door via the lock's touchscreen.
9. How do I update my lock's firmware?
Firmware updates are important because they ensure that your lock has the latest features. The lock will notify the user of a lock firmware update through the Schlage Sense app. Firmware updates for the lock must be performed within Bluetooth range of the lock.
10. How do I update my Schlage Sense lock firmware from Version 3.42 or 3.49?
Some homeowners may have experienced trouble updating from lock firmware version 3.42 or 3.49. There is now a way to work around this issue and update to the latest lock firmware. First, make sure you've downloaded the latest Schlage Sense app from the App Store or the Google Play store.
You will need to re-set your lock to factory settings by deleting it from your account in the app. Pair the lock again by tapping the "Add a lock" icon located at the top left of the main screen. Choose "Setup with the Schlage system" then you'll be prompted to update your lock's firmware. After that, complete the Add a lock process again, this time selecting HomeKit if this is the setup you prefer for your iOS device.
11. I lost my phone. How do I secure my Schlage Sense account?
If your smartphone is lost, you can access your Schlage Sense account on another mobile device to change your password and secure your account.
We want to know your Schlage Sense questions! Leave us a note on
Facebook
to let us know.