Getting started with the Schlage Sense™ Smart Deadbolt
By emily.bailey
Friday, September 29, 2017
Electronic locks have been around for a long time, but there are still many homeowners who haven't given them a try yet. After all, there are a lot of questions to be answered.
Electronic locks have been around for a long time, but there are still many homeowners who haven't given them a try yet. After all, there are a lot of questions to be answered – how difficult is installation? What happens if the power goes out? Will the lock work with other technology you have in the home, or maybe even your smartphone?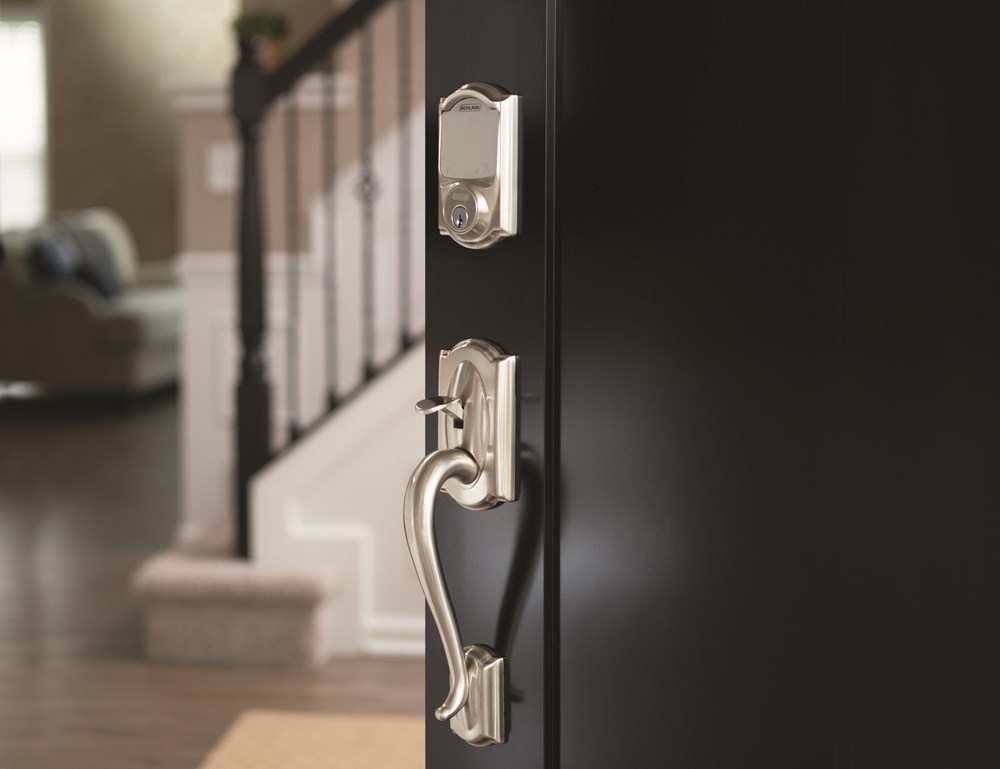 Easy installation
The good news is that the answers to these questions are simpler than you think! Take our latest smart lock, for example: the Schlage Sense™ Smart Deadbolt. Because the lock runs on batteries, it's easy to install yourself in just a few minutes with no hardwiring – all you need is a screwdriver. We've even included a special patented feature called Snap 'n Stay that holds the deadbolt to the door while you reach for your screwdriver, so it's truly a one-person job.
Instructions for installation are included in packaging, as always, but we've also put together an instructional video so you can see exactly how it's done. As you'll see in the video, with no hardwiring into your home's electrical system, if the power goes out at home it's no problem – you can still enter your access code on the touchscreen to gain access to your home.
A smart lock for the whole family
The Schlage Sense lock was also designed to make life easier by working with both Android smartphones and iOS devices, pairing with them over Bluetooth just like you'd pair your phone with your car. Getting your lock paired with your phone is easy – just download the Schlage Sense app from the App Store or the Google Play Store. The app will walk you through the pairing process, so there's no guesswork.
Remote access
What if you were able to access your front door lock through an app when you're away from home? This is actually very simple to do, and can make life so much easier – imagine no more worrying about whether the kids have lost the house key, or hiding a spare under a rock and hoping the right person gets to it before anyone else can. Just grab our new Schlage Sense™ Wi-Fi Adapter (sold separately so existing Schlage Sense lock users can pick one up without buying a new lock!) and plug it into a power outlet near your lock. Connect the Adapter to your home Wi-Fi network, and ta-da! Anywhere access directly from your smartphone to your lock – without an existing smart home or alarm system or any subscription fees. Plus, the Schlage Sense app will walk you through the entire process step by step, so you don't have to worry about a frustrating or complicated setup process.
Home automation integrations
How about using the lock with other technologies? We've all heard about the rising popularity of smart home gadgets, but figuring out which ones work together can be a headache. The Schlage Sense lock makes it easy by guiding you to the right choice for your home during initial setup, depending on whether or not you are an Apple HomeKit user.
If you love Apple products and have opted primarily for HomeKit-enabled smart devices in your home, you'll be guided to use the HomeKit setup option. The HomeKit setup option allows you to set up anywhere access through your Apple TV, similar to the Wi-Fi Adapter, and allows you to control your lock alongside your other HomeKit-enabled devices within the Apple Home app. However, this setup option really is ideal for HomeKit users because it will only work with iOS devices and will not pair with Android smartphones or with the Schlage Sense Wi-Fi Adapter. If you prefer to be able to use Android smartphones with your lock, or you aren't interested in an Apple HomeKit-centered experience, the app will guide you to the setup option which works with both iOS and Android smartphones, and allows you to pair the lock with the Wi-Fi Adapter.
Since we are always working to add new features to our electronic locks, you'll want to be able to gain access to new functionality without having to buy a new lock each time. That's why the Schlage Sense app is so important – it allows you to receive firmware updates so you can update your lock easily with no hassle. Check
Schlage.com/SensePlatforms
to see the latest technologies supported by the Schlage Sense lock, and check back here on the blog often to learn about new features and capabilities being added.