Your future smart home is already here
By emily.bailey
Tuesday, September 19, 2017
Within several hours, it's possible to renovate your house or apartment into a smart home - one that pulls from the latest technology to make your space more efficient, secure, convenient or just more entertaining to hang out in.
Smart home technology is quickly becoming the next renovation project homeowners are adding to their to-do lists. With many of the devices ranging from $75 to $200 and falling into the Easy DIY-category, apartment dwellers also are starting to embrace smart home technology as a way to quickly update their living spaces. An added bonus? Many smart home products can be uninstalled and packed up with the next move.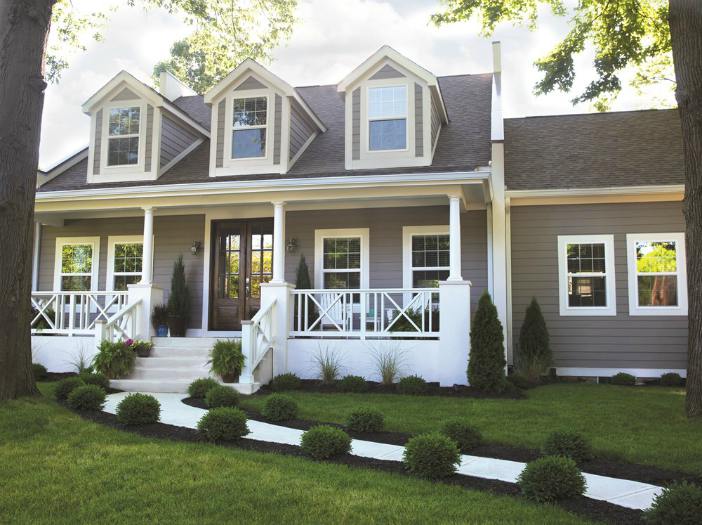 Advantages cited by smart home residents
Drop the need for keys
With keyless entry systems, you no longer have to worry about misplacing keys. Assign each person a unique access code for entry; it's easy to know when someone has made it home because the data is sent to your smartphone. And if an unexpected visitor arrives, you can remotely let them in with your smartphone while you're stuck in traffic.
Cut the energy bills
Smart home thermostats automatically cut down the heat when outdoor temperatures rise, while irrigation systems water your lawn only when Mother Nature decides to take a break.
Light the way
Based on your preferences, smart lighting systems can be installed to turn on as you enter a room and turn off when you leave. You can also use your smartphone to control all the lights throughout your home, whether you're in the bedroom or hundreds of miles away.
While these are among the most common smart home applications, innovations also have led the way to refrigerators that text you with selfies of their contents, beds that make themselves, and smart toilets that give you a warm seat on cold days.
You may not be quite ready to take a leap toward warm toilet seats, but you can take on several projects to get a head start on transforming your home into a smarter home.

3 steps to building a smart home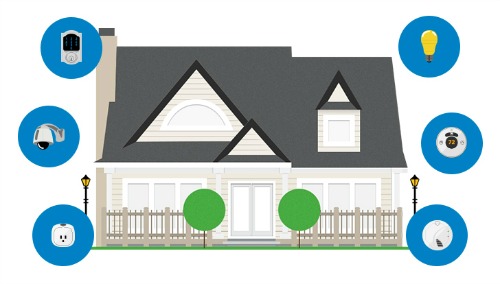 1. Understand the basics.
As with any new innovation, there typically is a slow rate of adoption until people become more familiar with the product. That was the case with the smartphone which first came on the market in 1994 as the IBM Simon Personal Communicator. Priced at about $900 with a two-year contract and weighing in at slightly over a pound, it's no wonder only about 50,000 were sold in that first wave. About 77 percent of Americans now own a smartphone -- up from only 35 percent in 2011, according to a survey by the Pew Research Center. For many of those owners, the survey revealed, it's now "something they can't live without."
Today, the smartphone has been paving the way toward the significantly quicker adoption of smart home technology, especially since it is considered a key component of how a smart home operates. By 2019, about two-thirds of Americans say they expect to have at least one smart home product in their homes, according to a recent survey by the Acquity Group. So, how does the smartphone (and tablets, laptops and computers) figure into the operation of a smart home? Good question.
Here's one example. The latest smart locks are Bluetooth®-enabled so you can control and program the lock through a simple app on your smartphone. With the click of a button, you can unlock the door or create a new personalized code to share witha trusted friend or service professional, allowing them to access the home without interrupting your day.
In addition to smart locks, your smart home can have lighting systems that automatically turn on and off, surveillance cameras that keep an eye on things, and thermostats that adjust temperatures depending upon how hot and cold it is outside. All these functions, including many others, also can be controlled remotely through your smartphone, tablet or laptop.
2. Do your research
While many smart home products can be installed within minutes (yes, minutes), it's best to research the products available to customize a smart home designed with your priorities in mind. It's also important to determine if there are products you may want to purchase in the future. By doing so, you can come up with an integrated plan that meets your needs and desires.
Determine what you and the other people in your household want. More security? Lower electric bills? Safety measures for young children or elderly relatives? More conveniences? Or a more dynamic space for entertaining friends? Maybe it's as simple as not dealing with your teenager losing the keys to the house. Again. As it turns out, there's a smart home plan to meet all of those objectives, while staying within your budget. Here are a few examples of what you can accomplish:
Energy-efficient smart home: With a smart thermostat and smart irrigation systems, you can lower bills by using power and water only when you need it. These products automatically adjust to weather patterns or your preferences.
Convenient smart home: Install smart keyless door systems, blinds, lighting systems and motion sensors that will make daily routines simpler. With a click of a button, you can get the coffee going in the morning or the blinds shut, the doors locked, the alarm activated and the lights turned off at night. All from the comfort of your bed.
Safe smart home: Your home can be set up with smart cameras, motion sensors and keyless door systems so that you can keep an eye out for the safety of family members. You can also install smart carbon dioxide and smoke detectors that send messages to your smartphone when something is awry.
Entertaining smart home: If you like the idea of staying at home for movie night, install a smart entertainment system along with smart lighting that pulsates and lights up the room with color along with the action scenes. Your smartphone doubles as the remote control. Your home also can be set up to play your favorite tunes in different parts of the home as you enter a room.
As part of your transition to a smart home, gauge your level of comfort with the technology. For example, if you have an automated garage with a keypad, it may not be a huge transition to install a keyless lock that allows you to enter with a code. A smart thermostat that automatically adjusts temperatures may be equally appealing for a first try. You may decide that you're ready to take the plunge into all the main components a smart home can offer, including technology that gradually determines your living pattern and adjusts accordingly.
With either approach, it's important to select products that can effortlessly interact with each other through one central Wi-Fi controlled hub that acts as the brain of it all. You can purchase a hub that works with all your smart home devices. Some companies like AT&T, Xfinity and Vivint offer home automation packages that include a monthly maintenance fee to ensure the products work together.
3. Installing and connecting it all
With many of the latest smart home products, DIY installation ranges from ridiculously simple to moderately simple. And installation time can be quick. That new smart lock? Under 15 minutes to install. Smarter thermostat? Home surveillance? Automated lights? Energy-efficient outlets? All about the same – 15 to 30 minutes each with common tools like screwdrivers.
Of course, some smart home products are more complex, and may take longer to install or require the assistance of a professional with experience in the industry. Even with DIY-products, you may feel more secure hiring an expert to help with installation as well as the operation of the system.
According to a poll conducted by Harris Poll and Lowe's, 50 percent of Americans would prefer to install smart home products themselves with no monthly fees. About 21 percent said they would opt for a professional to install their smart home systems and pay a monthly maintenance fee.

Smart homes in 2022
With innovations for the smarter home moving at a record pace, futurists and other industry experts are predicting that a significant number of Americans will transform their homes at a record pace. According to the research firm Gartner, the average American household will own 500 smart home or connected devices by 2022.
If you're already using your smartphone as an integral part of your day-to-day routines, a smart home could become another component of your lifestyle you can't live without.