What every parent ought to know about smart locks
By emily.bailey
The school year brings all kinds of new situations for families, and a smart lock can help you navigate them.
It's that time of year again. The kids are headed back to school, and whether you're excited or sad about the prospect, Schlage wants to make sure that you're also prepared. The school year brings all kinds of new situations for families, and a smart lock can help you navigate them.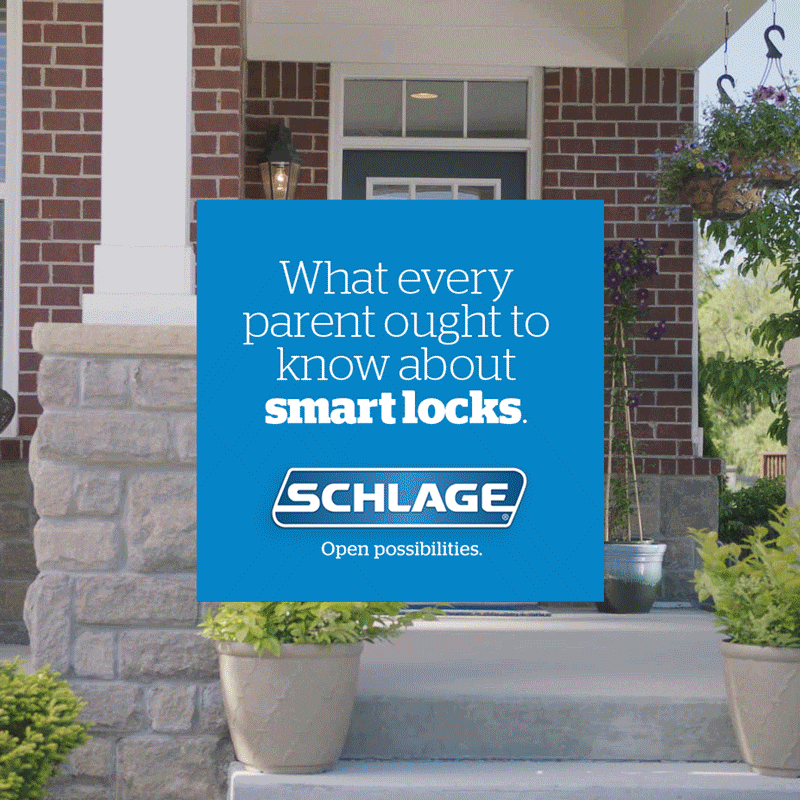 Keyless convenience
No parent wants their kids to be locked out of the house, but maybe you aren't ready to give them a key yet. They might be too young for a set of keys, or maybe just forgetful. The keys might fall out of their backpack or just never make in into it. With a lock like the Schlage Connect™ Touchscreen Deadbolt, you won't have to hide keys under doormats or worry that your kids will have to wait outside until you get home from work.
Scheduling
Scheduling can become difficult once school starts back up. Once after school activities start, no one gets home at the same time, especially if you have more than one child. When you have people coming in and out of your house at all hours of the day, a smart lock is your best friend. The Schlage Sense™ Smart Deadbolt can hold up to 30 access codes, so everyone in the family can have their own code to the front door. If you have an Apple TV or iPad in the home, you can use it to connect your Schlage Sense deadbolt to your iPhone through Apple HomeKit, and use the Schlage Sense app to unlock or lock the door even when you're not at home. Then, if there is ever a time that someone is picking your child up, or gets home before you do, you can let them in with your smartphone.
Curfew enforcer
If your kids are old enough to be going out with friends, you're probably familiar with staying up and worrying about them until they get home. Or maybe you remember how many things you got away with when you were a teenager and are determined to catch your own children in the act. This can lead to many nights sitting on the couch in the dark waiting to surprise your child as they come in late.
When you have the Schlage Sense app installed on your phone, you get notifications when the door is unlocked and which code was used. No more late nights waiting up on the couch worrying about your child, or hoping for that "gotcha" moment. Your deadbolt and smartphone can do all of that for you, and you can get some sleep.
Peace of mind
Most importantly, a smart lock can offer you peace of mind. Every parent is going to worry about their kids, and Schlage can't stop that, but we can help make it better. With the Schlage Sense app, your Schlage Sense Smart Deadbolt lets you know when your kids get home from school or practice. You'll never have to worry about whether or not they're safe at home again.
If you have babysitters or grandparents that come over to watch your kids when you can't be home immediately after school, Schlage smart locks are perfect for them as well. You can create codes on a schedule that matches when the babysitter is going to be at your house. You also don't have to worry about making multiple copies of your keys for anyone that might need access. Rest easy knowing your home is safe and easily accessible for your family with Schlage.
Check out our
Pinterest
for more ideas on how our products can fit in to your home.