Lifehacks for smart locks
By emily.bailey
Smart locks are meant to make life easier and more connected. If you have a smart lock, have you been using it to its full potential?
Smart locks are meant to make life easier and more connected. If you have a smart lock, have you been using it to its full potential? If you've been considering buying one, have you thought about all the ways it could simplify your life? Here are a few examples of how a smart lock could help your day-to-day life.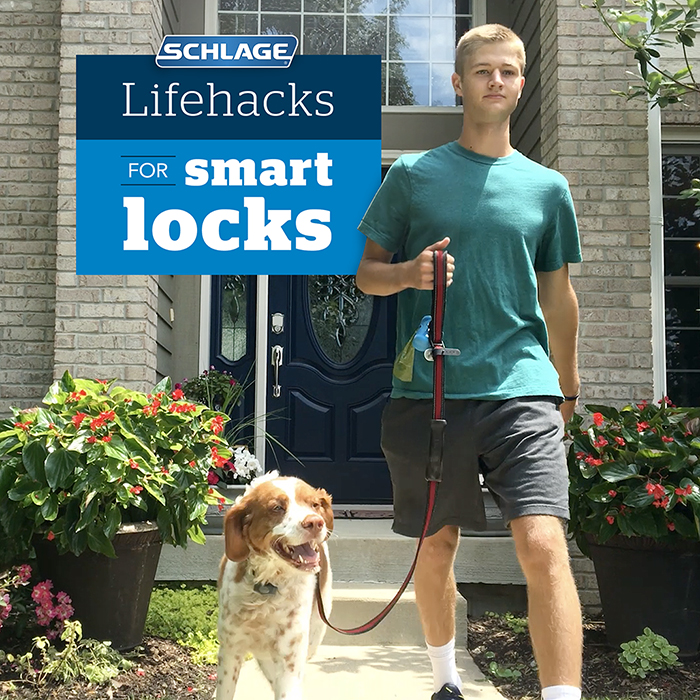 Keyless Convenience
One of the appeals of smart locks is not having to carry around your house keys. But maybe you're not sure when that would actually be useful to you. After all, you have to have your car keys, so house keys don't seem like that much of an inconvenience. From experience, we know having a keyring that is too big to fit in your pocket isn't particularly enjoyable.
But what about going running or biking from your house? Maybe you make use of the little built in pocket in work-out pants, or tie a house key to your shoes. But with a smart lock, you never have to worry about taking the key off your ring to go exercise, or losing it if do. You also don't have to worry about hiding a lock under the mat or in your mailbox for visitors. The Schlage Sense™ Smart Deadbolt can hold up to 30 access codes so anyone visiting your house can have their own code.
Maybe you have a dog walker that comes to your house regularly. Or a lot of maintenance people coming in and out. You either have to give them a key to your house, or leave one hidden for them if you aren't able to let them in every time. With a smart lock you'll never have to worry about that again. Give the dog sitter their own access code so they can get in when they need to, and you can know when their code is used. See when your pets are being taken care of instead of worrying while you're away.
Home sharing
Maybe you have been thinking about listing your home on a site like Airbnb, Home Away, VRBO or something similar. Did you know how useful smart locks can be for home sharing? Because you can set up multiple codes, you can just text your guests their code for their stay. You'll get extra host points for ease and convenience if you make their access code the last 4 digits of their phone number. That way they know it's just for them.
You can also set time frames for all of the lock's access codes. That means you can make sure a guest's access code only works for the time they have rented your house, and you don't have any strangers with 24/7 access to your home.
Smart home living
Smart locks don't have to be the extent of your smart home world. The Schlage Connect™ Touchscreen Deadbolt can connect to multiple home automation hubs such as Samsung SmartThings and the Wink Hub. When paired to your home automation hub, the Connect can work with Amazon Alexa devices. Ask Alexa if your front door is locked when you're getting into bed instead of double checking. Do you live with a child or spouse that leaves the house and never remembers to lock the door behind them? Or maybe you're the forgetful one. Now you can just ask Alexa to lock the front door.

*Update May 9, 2018: Schlage announces new Amazon Alexa voice unlocking capabilities. Get the details here.

You can start adding smart products to your home with a home automation hub. Philips Hue lights are an option for smart home lighting that allow you to control color and brightness of your lights through your phone. The Honeywell Wi-Fi Smart Thermostat is a programmable thermostat that can help you save money on your energy bills and keep your home the perfect temperature. Both of these systems work with the same home automation hubs that the Schlage Connect Touchscreen Deadbolt works with. This means that you could set up your home so that the lights and A/C turn on when you unlock your door in the afternoons. Your house will be ready and waiting for you.
Do you have other lifehack ideas? Share them on our Facebook page.