How to choose the best smart lock to protect your home
By emily.bailey
There are few things that change faster than technology and while we may not be in the age of flying cars or living on the moon, we can lock and unlock our doors from across the world. That's pretty impressive in and of itself but today's smart lock can do that and so much more. When it comes to choosing a smart lock, look for these 7 features to ensure you choose a lock with the most advanced and secure technology.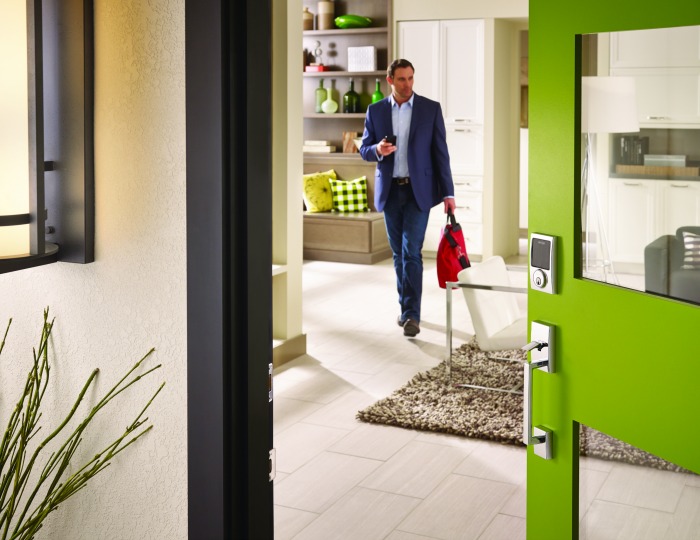 Security features
When choosing a smart lock that will protect and secure your home, look for the added benefit of extra security features. At Schlage, we have two smart locks that feature a built-in, audible alarm that triggers when someone is tampering with the lock or applying force to your door. Our locks also feature customizable auto-lock technology so you don't have to worry whether or not the door is locked.
Ease of access
While locking and unlocking your door with a phone adds major convenience to your life, you'll want a smart lock that gives you options when it comes to securing your home. Don't get locked out when your phone dies or you put off changing the battery to your lock. With our touchscreen or manual key backup, you'll never have to worry about locking yourself out again. Sharing access with guests that are constantly coming and going is also easy when you can create a custom access code instead of purchasing an ekey or having them download an app.
Remote capabilities
Installing a smart lock can provide peace of mind in knowing you can check in with your lock at any time, any place. Be sure to understand the remote access capabilities of the lock before you purchase. Most require an additional hub to allow your lock to communicate with your phone via wi-fi and integrate with other smart devices.
Battery life
You may be wondering, "Why can't my lock be powered by wi-fi so I can skip the smart hub altogether?" Having constant wi-fi access to your lock would be a major drain on the battery life. At Schlage, we have smart locks powered by Bluetooth® or Zwave technology. This saves on battery power and means the lock will need to communicate with a smart hub that can convert commands to wi-fi and vice versa. All of our locks have a low-battery alert but we recommend changing your batteries each year when you change the batteries in your smoke detector.
Manufacturer's warranty
You'll want to choose a lock that the manufacturer stands behind with a generous warranty. Warranty terms can usually be found on packaging or by viewing the manufacturer's website. At Schlage, we offer a limited lifetime mechanical and finish warranty and a limited three-year electronics warranty to the original user. Contact our customer support team for more information.
Manufacturer's with a legacy
If you value quality craftsmanship and purchasing a product that is built to last beyond the latest trends, you'll want to choose a smart lock - and any other smart home device - that is manufactured by a brand with a legacy for strength and durability, has a history of warranty support and can be counted on for ongoing development.
For more information on our smart lock offerings and a look at which smart home ecosystems our locks are compatible with, visit
schlage.com
.