Smart and safe home sharing
By emily.bailey
Eliminate worrying how your guests will make it through the front door when you home share.
Home-sharing sites like Airbnb, VRBO (Vacation Rental by Owner) and HomeAway are popular choices for travelers looking for an authentic experience in a new city or something a little more price friendly than a hotel. But as a home-share host, there are a lot of things to take into consideration before opening your home to renters. Most sites provide thorough home-hosting checklists to ensure that you will be comfortable as a host. A lot of those things revolve around making sure your guests will be comfortable and have all of the amenities they need. When hosting, it is generally smart that you include basics like bed sheets, a wi-fi password and where the extra toilet paper is. But the most important consideration is getting your guests through the front door.
Are you planning on being home to let them in? Will they need you every time they want to come in and out? Will you give them a spare key to your house? That could lead to a lot of problems, like them copying your key, guests waiting at your door, or you losing sleep. Thankfully, Schlage's keyless locks are the perfect solution for these problems.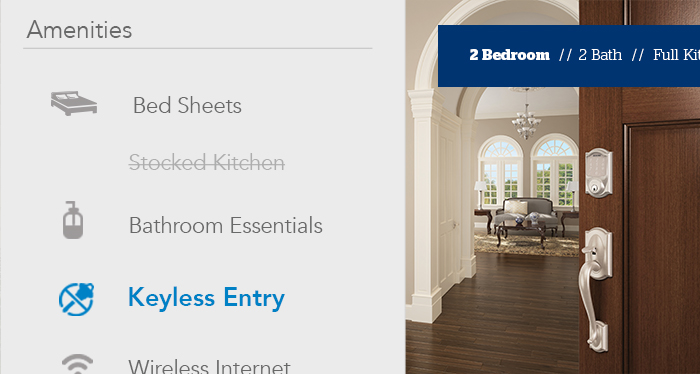 Don't worry about being home for check-in
You won't ever have to be home for your guests to check-in again. With an electronic lock, you no longer have to give your guest the keys in person. For example, with the Schlage Sense Smart DeadboltTM, you can program a different code for each guest from your smartphone. With their own personal code, your guests can get in and out without you giving them a key or needing a lock box.
Pro Hosting Tip: Using the Schlage Sense iPhone App,you can be in total control of your home using the device that's already in your pocket.
No learning curve
One of the best things about Schlage electronic locks is that there is no learning curve for your guests. You don't have to ask them to download and familiarize themselves with an app prior to arriving at your house. And you don't have to teach them any difficult technical skills to interact with your lock. With many of the Schlage locks, like the Schlage ConnectTM, all your guest needs to do to get in the door is enter their code into the illuminated touchscreen.
Pro Hosting Tip: To keep codes organized, memorable and personal, program the guest's code as the final four digits of their phone number.
Know your house is safe
The best part about using an electronic lock when putting your house on Airbnb, or similar house-sharing sites, is the added layer of safety that it brings. Locks like the Schlage TouchTM take electronic locks one step further by eliminating keys entirely. Not only will your guests feel safer in your home, knowing that you created a lock code specifically for them, but you can also feel safer knowing that with no keyhole, there is no lock for intruders to pick. Schlage electronic locks make hosting home-share guests an easy experience.
Pro Hosting Tip: With Schlage locks like the Sense and Connect, you can set time frames for each code so that as guests leave, their code will expire and they cannot get back into your house.
Have you used a wireless lock while hosting with Airbnb before? Share your hosting tips with us on Facebook.