Choosing the right security grade for your exterior deadbolts and locks
By emily.bailey
Here's what you need to know to choose the most secure, and stylish deadbolt and locks for each entry point of your home.
When it comes to exterior door hardware, quality matters for both security and aesthetics. You need to choose a lock you can trust to keep your belongings and loved ones safe and secure. A great bonus is if it happens to enhance the curb appeal of your home too! Here's what you need to know to choose the most secure, and stylish deadbolt and locks for each entry point of your home.
Door hardware grades
The first step to finding the most secure exterior door hardware for your home is to look for hardware that has been tested against the highest industry standards, like the BHMA residential grading system. BHMA is a group of industry experts who grade residential door hardware performance in the categories of Security, Durability and Finish. A grade of 'C' is good, 'B' is better, and 'A' is best. A grade of AAA is the best grade possible in all three categories.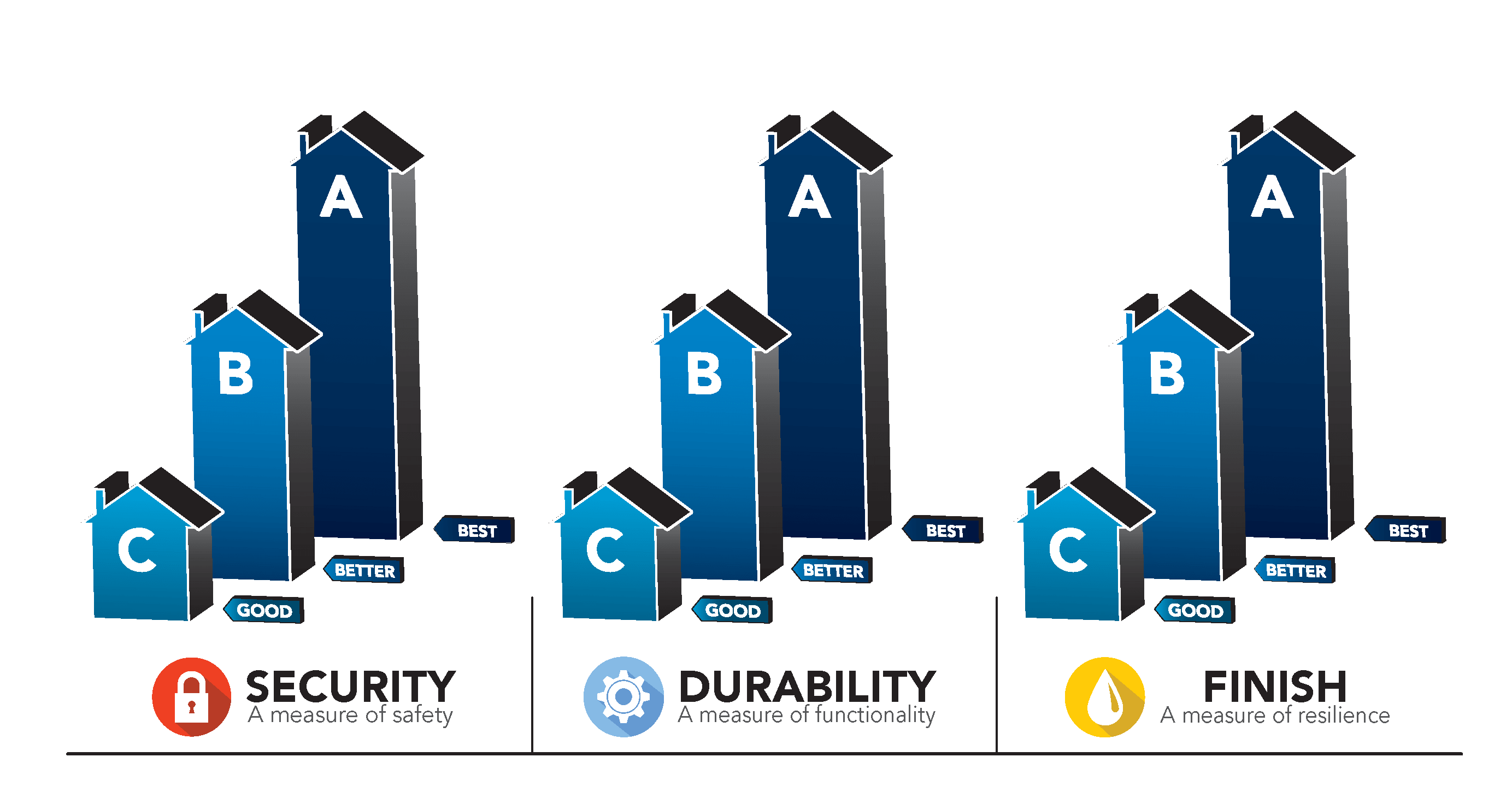 Now that you understand how to find the best possible grade (AAA) for deadbolts and locks, let's take a look at some of our recommended considerations when choosing the best exterior door hardware for each of your home's entry points.
Front door
The front door is your opportunity to make a lasting first impression. To make a great one, the door hardware definitely matters. Greeting your guests with a handleset whose finish has chipped or faded gives the impression that other details in the home will be neglected. You'll want to choose a deadbolt and handleset with the highest finish rating.
This is also a great opportunity to make sure your home is as secure as possible. You may be surprised to learn that most break-ins happen at the front door. Choose a deadbolt that's been tested for quality against bumping, picking and forced entry. At Schlage, all of our mechanical deadbolts and F-series handlesets are graded AAA for best in residential security, durability and finish.
Back door
Like many homeowners, you may find that your back door is the most frequently used by family and close friends. Finish and security definitely matter here but you may want to choose a more convenient option as well. A keyless lock at the back door ensures that everyone who needs access to the home has it without hiding a spare that can be spotted by intruders.
Both the Schlage ConnectTM Touchscreen deadbolt with alarm and the Schlage SenseTM Smart deadbolt have achieved a AAA grade.
Interior and exterior garage doors
Convenience definitely matters for garage doors, whether interior or exterior. As we get closer to summer, you may find your list of outdoor projects growing or summer activities increasing. Make it easy to come and go or move tools to and from the garage by choosing a AAA-rated keyless lock that adds convenience and an extra layer of security.
The Schlage TouchTM Keyless Touchscreen deadbolt and lever are perfect for garage doors and are rated best in security, durability and finish (AAA).
For more information about understanding residential door hardware grading and how the testing is done, visit
schlage.com
.