5 spring cleaning steps for a perfect patio
By emily.bailey
Everyone knows spring is the time to deep clean and organize, but many people overlook their outdoor spaces in favor of organizing closets and dusting the tops of the cabinets. Spring marks the time of year when you can start entertaining outdoors and having barbecues, so we think that making sure that your patio is inviting and ready for guests should be at the top of your spring cleaning list.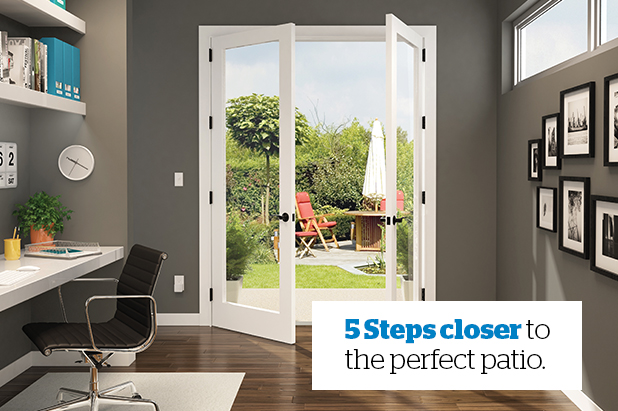 1. Furniture
Your patio furniture has been in storage for the winter, and if you're lucky, there are just a few cobwebs to dust off. More likely, it could use a good deep cleaning. Soon there will be guests sitting on those chairs. They appreciate your attention to detail and remember patio get-togethers as particularly polished when they're treated to sparkling clean patio furniture. Check out these tips on how to clean your patio furniture and get it ready for entertaining.
2. Patio
Chances are, the winter wasn't too kind to your patio. You can create a much more welcoming space by power washing your patio and cleaning off all of the dirt and grime that has built up over the past year. There are plenty of stores that allow you to rent power washers.
3. House
While you have the power washer, don't neglect your house. A clean patio is great, but pairing it with an entire exterior that's been freshly scrubbed will make your house truly stand out. Use the power washer on the exterior of the home as a quick and easy way to brighten your outdoor space.
4. Windows
Your windows are another easy way to make your space feel cleaner and more put together. The outside of your windows probably don't get cleaned regularly, especially during the winter. Spend a little bit of time wiping them down to help get the outside and inside of your house ready for warm weather and guests.
5. Door hardware
One of the easiest and quickest ways to add some flair to your outdoor area is to make sure all exterior doors are fitted with fresh, up-to-date hardware. Maybe your current hardware is outdated and doesn't fit the space, or you want to add an extra layer of security to the back entrance. It's easy to choose the perfect product for your door. Once you've decided on the hardware, you can install it on your existing door, even if it doesn't have the correct pre-existing holes, like Shavonda Gardner did on her doors.