5 times you'll wish you had a smart lock this holiday season
By emily.bailey
Thursday, November 1, 2018
Make the holiday season a little easier on yourself. Here are five times a smart lock will simplify your life.
With the hustle and bustle of the holiday season upon us, many homeowners are looking for solutions that help make life easier and more convenient. Take one more worry off your list and opt for a keyless lifestyle. Here are five moments you'll wish you had a smart lock.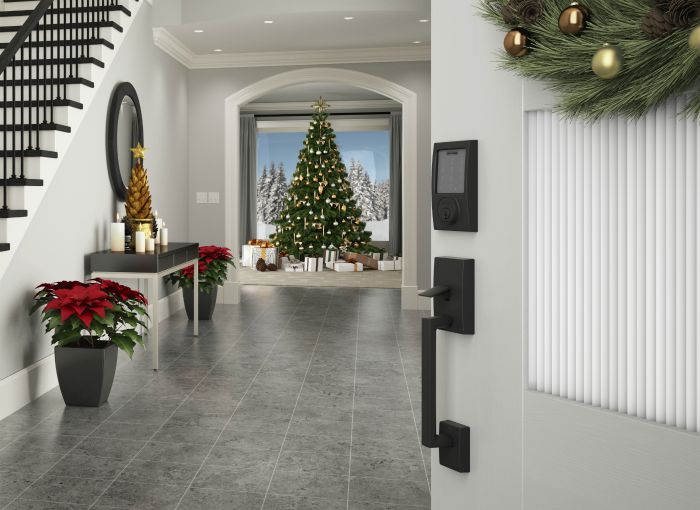 1. Keep your online orders safe
This holiday season, online sales are expected to make up 57 percent of all purchases. If you're one of these people, you're likely receiving packages while at work or travelling. Don't stress over whether these packages will be safe on your front porch. With a smart deadbolt, you can easily set up a code for a friend or family member to come over and drop your packages inside.
For Amazon Prime members that live in participating areas, you can even take advantage of Amazon Key. With a compatible smart lock, like the Zigbee-certified Schlage Connect™ Smart Deadbolt, and the Amazon Cloud Cam, you can have your online orders delivered safely inside your home.
2. Easy access for guests
Don't worry about hiding a spare key or having new copies made that could easily be lost. Make coming and going easy for your extended stay guests by giving them a custom code to unlock the door. You can even assign a period of time for that code to be active or simply disable it when they leave.
3. No more fumbling for keys
It seems like there's always something to weigh you down during the holiday seasons whether it's coming home with a car full of gifts or simply trying to juggle the groceries and the kids at the same time. Stop fumbling for your keys at the door and eliminate one more hassle by opting for a keyless lock solution. With the Schlage Sense™ Smart Ddeadbolt, you can easily use the Schlage Sense appc to lock and unlock your door when you are within Bluetooth® range (about 40 feet), or easily punch in a 4-8 digit code on any of our smart lock offerings.
4. Peace of mind
By choosing a Z-Wave, Zigbee or Bluetooth smart lock, you can add a compatible smart home hub – such as Samsung's SmartThings for Schlage Connect Smart Deadbolt – that allows you to check in on the status of your lock and control it no matter where you are. To access your Schlage Sense™ lock remotely, you'll need an Apple TV® or iPad® for HomeKit or the Schlage Sense Wi-Fi Adapter. So enjoy that holiday dinner at your grandmother's house in another state, confident that your doors are locked and your home is secure.
5. Late night convenience
A connected smart home hub will also allow you to take advantage of other whole home features from the minute you unlock your door. Don't stumble around for a light switch or adjust the thermostat when you arrive home. Simply set your smart home hub to do those things for you as soon as your door is unlocked.
Stop worrying about the little things that are easy to fix. This holiday season, you deserve more peace of mind so you can focus on the things that truly matter. To find the right smart lock for you, visit our Get Help Deciding tool to find your perfect match.