Schlage Sense™ Smart Deadbolt and the 2016 Apple WWDC
By emily.bailey
At the 2016 WWDC hosted by Apple, many announcements were made around HomeKit and iOS 10. Here's what you need to know about your Schlage Sense lock.
On June 13, Apple opened its annual Worldwide Developers Conference in San Francisco, California. The goal of this conference is to keep software developers informed of any major software updates to Apple's products. Major announcements include iOS 10, new HomeKit™ features and Apple's new Home app. Here's what you need to know and how these announcements may affect your HomeKit-enabled products, like the Schlage Sense™ Smart Deadbolt.
As Apple expands HomeKit support, so will manufacturers – which means more product categories and a better whole home experience. Apple expanded HomeKit to include support for more product types, including cameras, doorbells, air conditioners and more. You can now automate more HomeKit-enabled devices than ever with a single solution.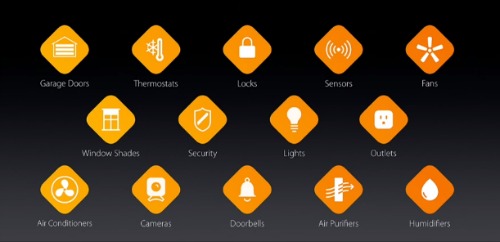 Apple also announced a
shift in builder trends
as more and more major builders choose to equip their homes with HomeKit-enabled accessories - including notable builders such as Lennar, Brookfield Residential and KB Home. That means homeowners seeking out a connected experience will have another option in the process as they choose flooring, countertops and more.
Apple's latest software update will include a new Home app to make adding, controlling and automating home accessories easier than ever. With the new app, you can control all your HomeKit-enabled accessories in one place and manage any custom scenes you've set up – like automating your lights to turn on and thermostat to adjust as soon as you've unlocked your Schlage Sense™ lock. Plus, Home will be located in the iOS 10 Control Center, so you can access it by swiping up, then left.
Here's a video
that provides a glimpse of what that user interface will look like.
What do these announcements mean for Schlage SenseTM users?
Schlage Sense owners need not worry about whether or not these iOS developments will make their locks obsolete. Every Schlage Sense deadbolt sold to-date will be supported by iOS 10, which is expected to launch in fall 2016. A
lock firmware update
later this year will be needed to make it compatible with Apple's Home app.
Once your Schlage Sense lock completes the future firmware update, you will be able to take advantage of HomeKit push notifications. When you lock or unlock your Sense deadbolt, a push notification can trigger other HomeKit-enabled devices to act, creating custom scenes and making it easier than ever to take advantage of the HomeKit ecosystem.
You may be wondering if the announcement of the Home app will replace the Schlage Sense app. Here are a few key differences to help you understand how the two apps will work together to provide the best experience with your lock.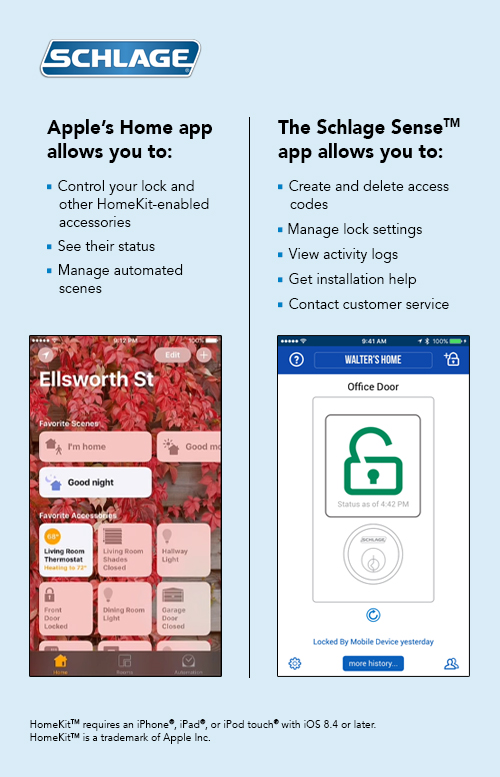 Apple's Home app gives users a dashboard interface to control their favorite accessories, see their status, and manage scenes in one place. You can use Home to lock and unlock your deadbolt, but you will still need the Schlage Sense app to control access codes, lock settings, logs and to access installation help and customer support. You can learn more about
Schlage Sense app features here
.
If you have more questions about what these new updates mean for your Schlage Sense lock, feel free to comment below or contact our
customer support team
.