Mechanical deadbolt vs. electronic lock: How to choose
By emily.bailey
Here's a breakdown of the top benefits for both mechanical and electronic deadbolts locks to help you choose the right deadbolt to secure your home.
Choosing the right deadbolt lock requires more than picking out the best deal on the shelf. Take some time to consider your lifestyle and security needs to find the perfect fit for you. Here are a few pros and cons of mechanical and electronic locks to help you choose the most stylish and secure deadbolt for your home.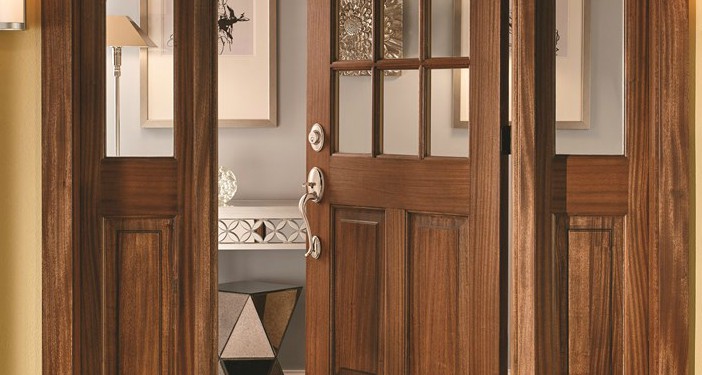 If cost is your number one barrier to a high tech lock, then a mechanical deadbolt may be best for you. You can find a large variety of mechanical deadbolts across many price points but don't forget to factor in security grades before you buy. A cheap lock could mean it's more likely to wear down, causing you to spend more in the long run on repairs and replacements.
If you have a very specific style and finish you know you want for your home, then mechanical locks and handlesets will definitely feature a wider variety to choose from. Your favorite finish may not be available in an electronic offering just yet and creating a cohesive look from the front door throughout the interior of the home is important when it comes to style and design. Check out our
Style Selector tool
to help you choose the right deadbolt and handleset combo for your home. No matter your personal style, there's a mechanical lockset that is perfect for you.
Installing a mechanical deadbolt is a lot easier than you may expect - especially when you choose a Schlage deadbolt equipped with Snap and Stay technology.
Here's a tutorial
we recently put together to show you all the steps required.
1. Easy to get locked out.
How many times have you stepped out of your home, shut the door, only to realize that sinking feeling that you left your keys inside? With mechanical locks, re-entry to your home would require an expensive call to your local locksmith or finding a creative way to breach your home. Hopefully that does not include kicking in the door or breaking a window!
2. Difficult to control access.
If you have a housekeeper, friend or other service personnel that needs to gain access to your home when you're not around requires either hiding a spare key or creating an extra key they could keep. The downside to this method is you cannot limit their access. They could come and go as often as they please. You also run the risk of a potential intruder coming across the hidden spare. The last thing you want is to give a criminal an easy way in!
If you live an active lifestyle, keys can often become a drag. It's a pain to walk the dog or go for a run and have to worry about keys weighing you down or finding a secure place to hide the key until you return. It can also be a struggle when you reach your front door with a heavy set of groceries or late at night and have to fumble around to unlock your door.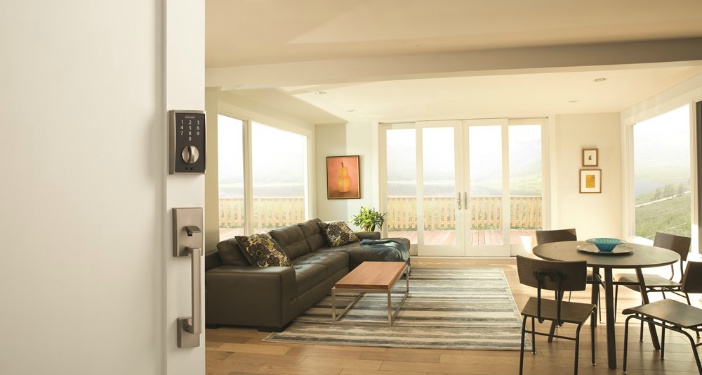 Electronic deadbolts allow you to say goodbye to that annoying key and enjoy a much simpler way to access your home with a custom access code/PIN you create. All of the cons of mechanical locks can be kissed goodbye when you choose to go keyless. Walk your dog and go for a run with peace of mind that you have an easy way to get back inside when you return. All of Schlage's electronic deadbolts are equipped with either an illuminated touchscreen or back-lit keypad so you're never left fumbling in the dark. See a comparison of
Schlage's electronic lock line-up.
2. Greater control over access.
Giving your friends and any service personnel access to your home is easy with an electronic deadbolt. All you need to do is program a unique PIN that can easily be disabled when they no longer need it. Some electronic locks, like the
Schlage Sense™ Smart deadbolt
, will even allow you to customize the time of day that PIN is valid. This is useful for a babysitter or daily dog walker that may come to your home frequently but should only be there during certain times.
Don't let the word "electronic" scare you away from installing one of these locks on your own. Schlage's electronic locks install in minutes. There's no wiring involved and the only tool you'll need is a screwdriver. Watch our
Schlage Connect™ Touchscreen deadbolt installation video
to see for yourself.
If budget is a main concern for you, then mechanical locks may be the way to go. Most electronic locks are priced anywhere from $100-$250 depending on the number of features and level of security you want most. You can save money by choosing an electronic deadbolt that does not have home automation capabilities, like the
Schlage Touch™ Keyless Touchscreen deadbolt
.
2. Must remember your PIN and change the battery.
Forgetting your PIN or letting the battery die are the only ways an electronic deadbolt will lock you out; however, with all of Schlage's electronic offerings, there's the option of using a back-up mechanical key to gain access or as with the Schlage Touch, a 9V battery. We recommend choosing a PIN that is both easy to remember and secure. Be sure to store your PIN in a safe location - hidden within your phone or written down where you won't lose it. Here are some tips on creating a
safe and secure access code
for your lock. In the event that your battery is running low, Schlage's electronic locks will issue a low battery warning well in advance so you'll have plenty of time to make the switch. To avoid the risk altogether, we recommend changing your battery once every year when you change the battery in your smoke detector.
3. Limited style options.
While many electronic locks come in sleek designs, you're often limited to just a couple of styles and only a handful of finishes. As mentioned above, there are not nearly as many style and finish options when it comes to choosing an electronic lock when compared to mechanical deadbolts and handlesets.
For more information on all our mechanical and electronic deadbolt offerings from pricing to security grades to installation tips, visit
schlage.com
.