4 reasons new door hardware should be part of your next curb appeal project
By emily.bailey
Flowers and siding aren't the only ways to add curb appeal. Here are 4 reasons why you should consider new door hardware as part of your next project.
Flowers and new siding aren't the only ways to add curb appeal to your home. Updating your front door is a project you can easily accomplish in an afternoon and with the right color choices and accessories, makes a major impact on the look of your home. Here are four reasons why you should consider new door hardware as part of your next curb appeal and front door project.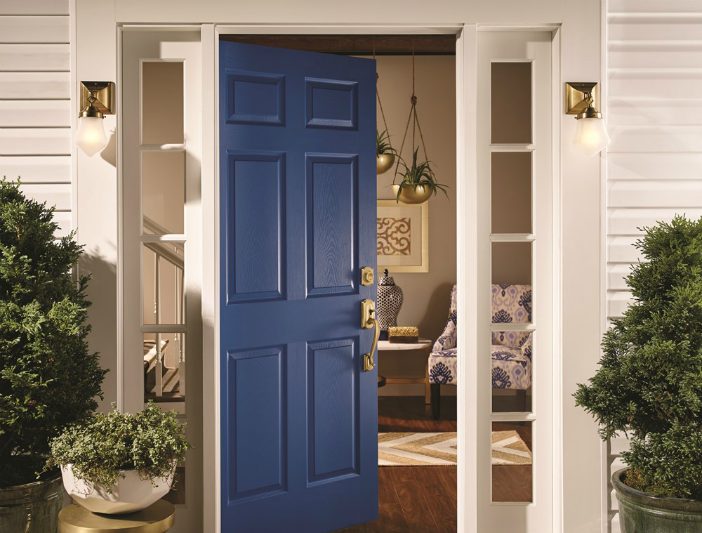 1. Make an affordable style statement
Upgrading your door hardware is a quick and affordable way to express your personal style. A simple swap from an outdated, worn out finish to a style that better reflects the style of your home is dollar for dollar, an easier way to make a bigger impact than many other weekend projects. Here at Schlage, we make it even easier to get that style upgrade with a wide variety of
designer door hardware
options for less than designer prices. Check out our
Style Selector tool
to get started.
2. Complete your interior decor
Your front door is the perfect opportunity to introduce your personal style to guests before they step inside. Make sure your exterior accurately reflects what's on the interior by choosing door hardware in a finish that matches other finishes inside the home and complements existing decor. The
Satin Brass handleset
in the image above not only plays well with the finish of the lighting and planter accessories on the front porch, but eases guests into the entry where other gold accents and shades of blue work together for a cohesive look.
3. A detail that can't be missed
Studies show that people interact with door hardware about 34 times per day. It's the first thing you'll touch when you get home and the last when you leave. Make sure the impression is lasting by choosing a style and finish you can be proud of.
5. Wide selection of styles and finishes
With advances in both design and technology, you no longer need to sacrifice style to gain security or convenience. Both of Schlage's mechanical and electronic product lines draw inspiration from architectural and design schools to create a collection that is rooted in design trends. From
traditional to contemporary
and everything in between, you're bound to find the perfect handleset that reflects your unique tastes and lifestyle.
Don't let an outdated handleset and mismatched hardware drag your curb appeal down anymore. With minimal tools and time, you can be on your way to a stylish look in no time. If you're planning a front door refresh this weekend, be sure to share your before and after photos with us on Facebook and Instagram.