A curb appeal upgrade that really pays off
By emily.bailey
Upgrade your curb appeal and home's marketability with these makeover ideas. Here are 5 curb appeal projects that will add resale value to your home.
Updating the curb appeal of your home can often feel like an impossible project. With so many options available, it's easy to get in over your head and outside of your budget. Whether you're looking to add curb appeal for resale value or to reflect your personal style, it helps to take a step back and consider the value you'll be adding to your home. Here are five curb appeal upgrades that are truly worth the investment and add to your home's marketability.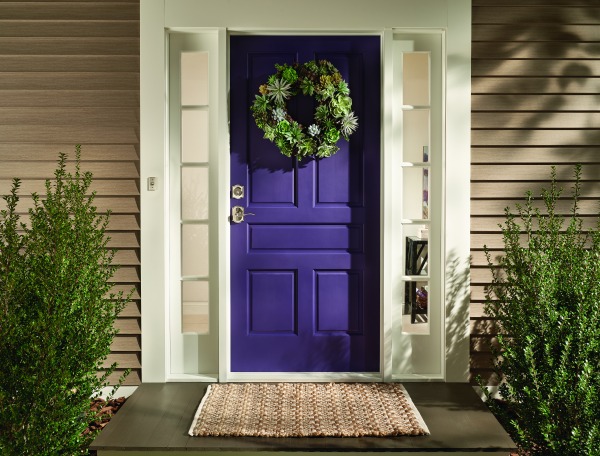 Your front door is often the first thing guests and potential buyers will notice about your home so it pays to make a good impression here first. According to Hanley Wood's
2015 Cost vs. Value report
, replacing your front entry door can recoup up to 101.8% of the costs, making sure this project will pay you back in full. If a complete door replacement is out of budget, consider adding a fresh coat of paint and a new
handleset
to spiff things up in no time.
Make it easier for guests to find your home by placing a unique house number that will catch their eye. With so many DIY projects across the Web, it's easy to create something that goes beyond boring numbers and reflects your personal style. Check out
our boards on Pinterest
for inspiration.
3. Well-designed landscaping
There's no denying that beautiful, well-thought landscaping can add tremendous value while enhancing the style of your home. The good news is, if you already have the basics, this project may be as simple as pulling a few weeds and trimming a few plants. If you're starting from scratch, be sure to pick a single theme and stick with it. Opt for plants that coordinate and are best suited for your climate.
Place lighting in areas that show off the most beautiful aspects of your home and all your hard work. Line walkways with solar lighting and add overhead lighting to all entry doors. You'll also reap the reward of added security from a well-lit home.
Give your home a facelift with a fresh pressure wash and keep your gutters free and clear of weeds and debris. Failing to take care of the smallest details can tip off to potential buyers that the home was not well cared for. Also take the time to clean your windows inside and out, taking note of any screens that need repaired or replaced. Here are even more
tips for giving the exterior of your home the spring clean it deserves
.
What areas of your home are you looking to improve this spring? Comment below to let us know!