How to prep your home's exterior for spring
By emily.bailey
Ready to enjoy that beautiful spring weather? Make sure your home is too. Follow these steps to prep your home's exterior for spring.
As the temperature moves up and the days draw longer, you're likely itching to go outside and enjoy some fresh air this spring. It also means it's time to check your home's exterior any make any upgrades or repairs after a long, gloomy winter. Here's a few quick steps you should take this weekend to clean up around your home and get ready for a beautiful spring.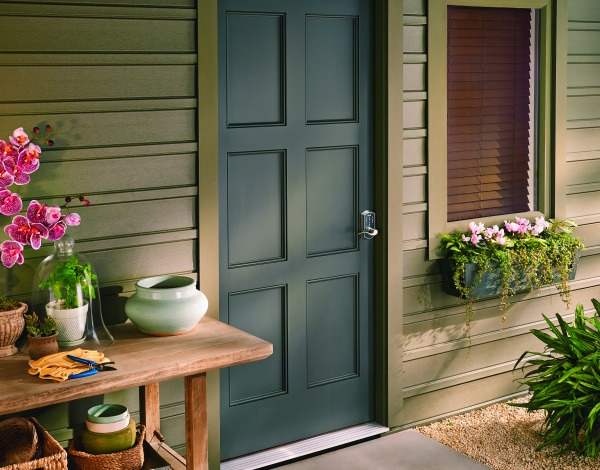 Fall and winter commonly mean falling leaves and harsh weather conditions. It doesn't take long for your gutters to fill up with debris. If neglected, you could prevent your gutters from functioning properly during the spring rain and cause a greater mess around your home. This is a project that only takes a couple hours and will save you a major headache later in the year.
2. Pressure wash the exterior
Now is a great time to refresh the exterior of your house and remove any dirt and mildew that built up in the the last year. If you don't own a pressure washer, there's no need to go out and buy a brand new one. Simply contact your local tool rental facility to see if they have one in stock.
If you weren't able to clean up your landscaping before the cold weather hit, you may be left with brown and dead plants that are causing a major eyesore. Make room for new growth and cut these down and shape up any bushes or trees that need a quick trim.
4. Clean up front porch accessories
Time to get your cute outdoor accessories out of storage and on display! Take some time to give them a quick wash as it's likely they've built up with dust and cobwebs while in storage. You'll be glad once you set out your chairs, rugs, tables and planters that you took a few extra minutes to make them look as good as new.
5. Care for your hardware
Your door hardware can really take a beating through the seasons. Make it a habit to dedicate the beginning of spring to taking proper precautions so your finish lasts for years to come. Now is also a great time to make sure your doors are aligned properly and all hardware is in perfect working order.
6. Touch up paint or re-stain
Notice any blemishes in the paint on your home or porch? Could your deck use a refresh? Take a small amount of paint and brush around with you and fill in any chips in your home's paint. Taking the time to care for it now will ensure you don't end up with a bigger blemish (and bill!) later in the year.
7. Look for wear and tear
Some years, winter can be unforgiving with your home. Take some time this weekend to walk around the exterior and look for other signs of wear and tear. Are there any cracks in your foundation? Holes in any window screens? Loose boards on your deck? Just like with the paint above, now is the time to repair those small projects before they become a bigger headache.
8. Refresh gravel or seal cracks in the driveway
Over time, your gravel will start to thin or concrete begin to crack when it comes to wear and tear on your driveway. Replenish that gravel before spring hits you with a muddy mess or seal any cracks before weeds take up residence in your driveway.
What spring projects are you planning to accomplish this weekend? Comment below to let us know.