Create a designer front door look without the designer price tag
By emily.bailey
Giving your front door a spring refresh doesn't have to cost a fortune. Follow these tips for a designer front door look without paying the designer price.
Whether your winter was mild or brutal, your home's curb appeal often takes a major hit during these long gloomy months. With the start of spring, it's time to start thinking about giving your curb appeal a refresh and we think you should start with the front door. Here are six steps you should take to get a designer front door look within your budget.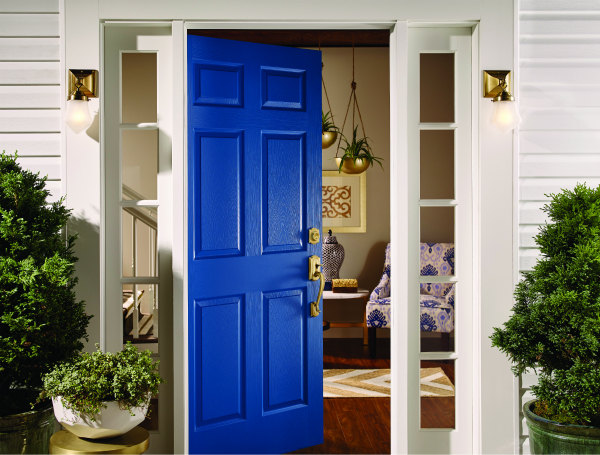 After a long winter, your home's curb appeal can really take a beating. Take some time this week to clean up the last of winter's dead vegetation and spruce up your front porch with a quick rinse of the hose or pressure washer. This is also a great time to clean out your gutters to make sure they continue working properly during the spring showers. Taking the time to clean up around your home will go a long way as you make updates to the curb appeal.
2. Choose your color scheme.
An easy way to refresh your home is by choosing a new color for your front door. Opt for something more neutral to let any accessories shine or make it the focal point with something bold and interesting. If you're not sure where to start, try thinking about the interior of your home and choose a color scheme that complements your personal style.
3. Select complementing hardware.
Next, give the look a polishing touch by choosing a new door hardware style and finish. You can choose to match existing hardware or opt for a unique touch by
mixing finishes
.
4. Install stylish lighting.
Once your hardware is in place, try adding a new and stylish light fixture to take things up a notch. Over time, light fixtures become dingy and worn from year's of wear and tear and exposure to the elements. New lighting is an affordable way to freshen things up.
5. Place a welcoming mat.
Once the harder part is over, opt for something easy by placing a new welcome mat. Choose one that matches the color scheme or opt for a funny or welcoming phrase. For plenty of ideas to make your own, unique statement, check out our
Warm Welcomes Pinterest board
for inspiration.
Finally, you're ready to add a lively touch to your home's curb appeal. Add a couple of planters with flowers and greenery to really bring your home back to life. If you're planning on doing this early in the spring and you live in a climate where temperatures are not done fluctuating, be sure to research which types of plants are best when you're at risk for another overnight freeze.
How are you planning on refreshing your curb appeal this spring? Comment below to let us know!